As the second round of the 2022 Savannah Junior City Amateur teed off on Tuesday morning at Bacon Park Golf Course, Braylon Royal trailed by four strokes in th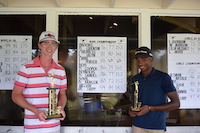 e Boys Championship division and Hal Dollander trailed by two strokes in the Boys 13-14 age group.
Both staged dramatic comebacks to capture victories.
Royal carded a round of 1-over par 72 to overtake first round leaders Quentin Brooks and Samuel Reynolds and claim the victory. Royal withstood watching both Reynolds and Brooks attempt bir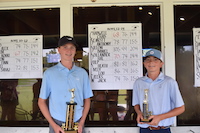 die putts on the 18th hole that would have forced a playoff.
In the Boys 13-14 age group, Dollander trailed by two strokes on the final hole but made a birdie to post a second round score of 3-over 74 and force a sudden death playoff with first round leader Chad Chadwell. On the playoff hole, D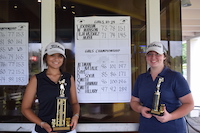 ollander stuck his approach shot to less than a foot from the hole for a tap-in birdie that sealed the come from behind win.
In the Girls Championship division, Sofia Ray continued her solid play with a second-round score of 86 to earn the victory. And in Girls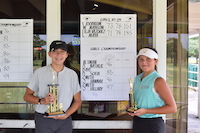 10-12, Maya Vazquez-Lilja carded a 3-over par 74 to withstand a charge from Madison Woodrum and earn a 6-stroke win.
In the Boys 10-12 age group, Kohki Maeda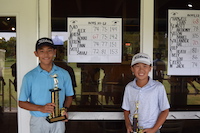 followed his opening round of 4-under par 67 with a 4-over par 75 to finish the tournament at Even par and win by seven strokes over runner up Alex Dao. And in the Boys 15-18 age group, Bowen Kicklighter's secon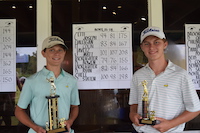 d-round score of 5-over 76 made him the only player to record two scores in the 70s and earned him an 11-stroke win over his brother, Ryan Kicklighter.
Scores from all age groups at the 2022 Savannah Junior City Amateur:
Boys Championship
Braylon Royal - 80-72
Quentin Brooks - 76-77
Samuel Reynolds - 76-77
Taylyn Childress - 81-80
Cooper Reid - 86-79
Tripp Melvin - 94-89
Girls Championship
Sophia Ray - 85-86
Hillary Smith - 97-92
Hannah Smith - 96-100
Natalie Altman - 96-101
Boys 15-18
Bowen Kicklighter - 79-76
Ryan Kickligher - 82-84
Collin Halligan - 83-84
Joseph Cetti - 94-81
Staten Shell - 100-98
Matt Javetz - 101-107
Boys 13-14
Hal Dollander - 70-74*
Chad Chadwell - 68-76
Jack Weeks - 74-76
Anthony Demott - 78-77
Heath Kulp - 81-81
Lou Lively - 86-79
Daniel Dillon - 105-99
Girls 10-14
Maya Lilja - 71
Madison Woodrum - 73
Boys 10-12
Kohki Maeda - 67-75
Alex Dao - 74-75
Finn Nixon - 74-77
Sahaj Patel - 72-81