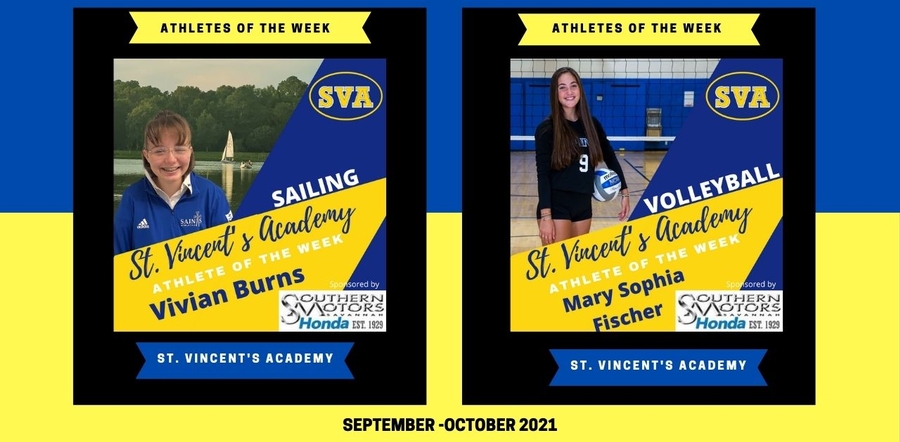 Two Lady Saints Bump & Sail away with the St. Vincent's Athlete of the Week
By Special to the Prep Sports Report | October 12, 2021
Share This Story
St. Vincent's Academy honors its athletes every week, and here is the SVA's Southern Motors Athlete of the Week for the past two weeks.
The St. Vincent's Athlete of the Week for October 4 to October 8 was volleyball player Mary Sophia Fischer!
Mary Sophia Fischer helped SVA go 4-2 over their big six-game week last week. She earned 20 kills, 80 assists, 13 aces, 29 digs, and four blocks for the week, helping the Saints take down Savannah Country Day, South Effingham, Woodville-Tompkins, and Aquinas.
"Mary Sophia is an all-around player willing to take on any role to support the team. She came to us last year as a setter but found herself taking on a six rotation right side position because that's what the team needed from her. She did this with 100% effort and not a moment of hesitation. This year, she has stepped back into her role as a setter and has also played three rotations as a hitter. She is a natural leader on the team and plays with experience well beyond her years." -Nichols St Louis, SVA Head Volleyball Coach
______________________________________________________________
The St. Vincent's Athlete of the Week for September 27 to October 1 was Saints Sailor Vivian Burns!
When a new sailor joins the team, she has to do a swim test and capsize drill. Vivian volunteered to be the other sailor in the boat and help capsize the boat in Lake Mayer and support our newest member in passing her test. She also took over as skipper of another sailor's boat. She is an excellent addition to our team and takes being a great teammate to another level.
"She always is willing to help rig and launch the boats and never has to be asked to help." - Coach Karye Moreau, Head Coach of SVA's Sailing Team.
Optim Orthopedics supports St. Vincent's Academy athletics. Dr. Thomas Alexander is the team doctor for St. Vincent's Academy. Remember, Optim Orthopedics gets you back into the game!