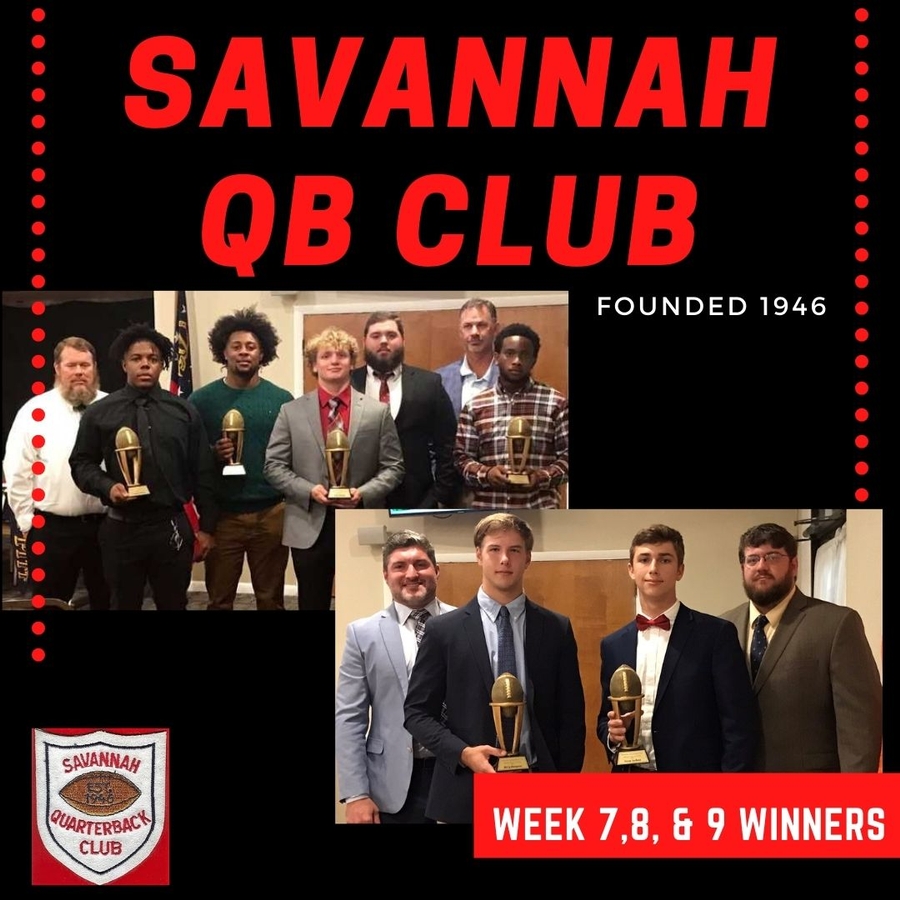 Running Down Six more Savannah Quarterback Club Football Players of the Week
By Prep Sports Report Staff | October 26, 2021
Share This Story
The Savannah Quarterback Club has honored six more prep football standouts for their remarkable performances over the last three weeks. The Prep Sports Report has the award winners roundup.
Week Nine
Savannah Country Day Barry Kleinpeter quarterback Offensive Player of the Week
For the fourth time in his high school career, Kleinpeter has won this award. Barry recently verbally committed to the University of New Hampshire to continue his football career.
Kleinpeter was recognized for his performance versus Aquinas. In the contest, the Hornet senior had over 250 yards of total offense and three touchdowns.
Memorial Day Corey Jackson Cornerback Defensive Player of the Week.
Jackson was all over the field for the Matadors against Pinewood Christian. From his cornerback position, he registered eight tackles, three for a loss, forced two fumbles and had a fumble recovery. If that wasn't enough, Jackson also had two interceptions.
Week Eight
Windsor Forest's Mike Cabellero Running Back Offensive Player of the Week
In a 12-6 win over Liberty County, the senior running back rushed for 182 yards on 29 carries. Mike carried for more than 180 yards for the second week in a row. Windsor Forest is now in the driver's seat for the area title. Mike was previously selected offensive player of the week in 2020, so this is his second time getting recognized.
Savannah Christian Caleb Womble Linebacker Defensive Player of the Week
In Savannah Christian's 35-13 win over Screven County, the senior linebacker had an outstanding performance. Caleb was a disruptive presence in the backfield all night, racking up nine tackles, two sacks, and a blocked extra point.
Week Seven
New Hampstead Samari Dowdy Running Back Offensive Player of the Week
In The Phoenix's win over Windsor Forest, the junior running back had a fantastic game. In New Hampstead's win over The Knights, Samari carried for 327 yards and two touchdowns. His touchdown runs covered 84 and 63 yards, respectively. Samari rushed 16 times for an average of over 20 yards per carry.
Windsor Forest Trayvon Savage Linebacker Defensive Player of the Week
In his effort against New Hampstead, the senior linebacker redefined the term "ballhawk." Trayvon had eleven tackles, two assists, two tackles for a loss, and one pass breakup on the season. His two interceptions returned for touchdowns, one for six yards and the other for 80 yards, were the most astounding stats of the evening.
Optim Orthopedics supports Benedictine Military School, Richmond Hill High School, Savannah Country Day and South Effingham High School athletics. Benedictine Military School's team doctor is Dr. David Sedory. The team doctor for South Effingham, and Richmond Hill is Dr. David Palmer. Savannah Country Day's team doctor is Dr. Thomas Alexander. Remember, Optim Orthopedics gets you back into the game!