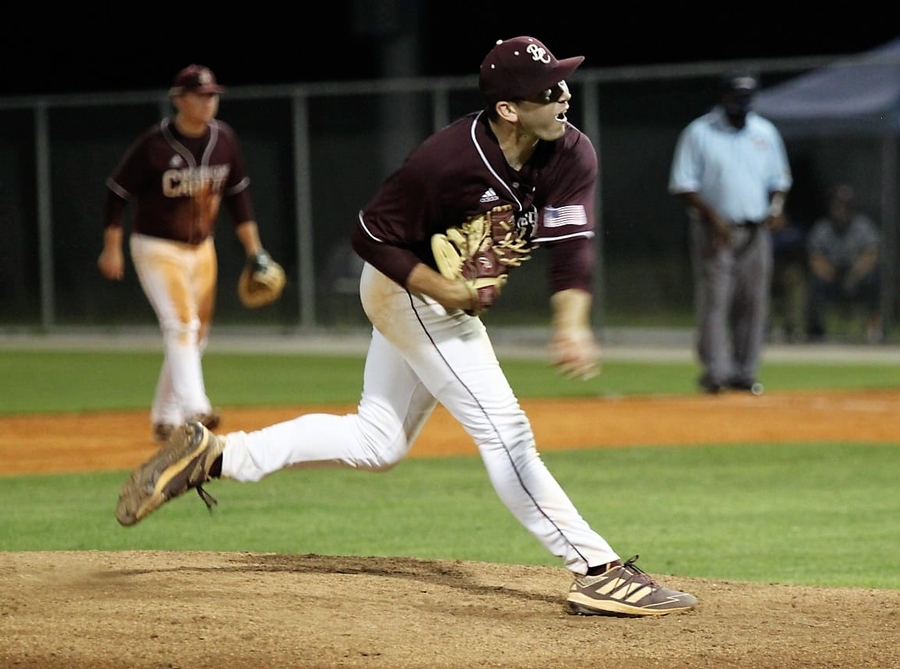 Benedictine bats quiet, Holton wraps historic career & Marist wins 4A state championship
By Travis Jaudon/For the Prep Sports Report | May 21, 2021
Share This Story
High school baseball fans at Coolray Field in Lawrenceville Thursday night were treated to a terrific twin-bill between two of the best teams in all of Georgia — Marist and Benedictine — playing for all the marbles in a matchup worthy of a championship.
Marist swept the series, winning 5-0 and 2-1 for a historic 14th state championship in baseball. Benedictine's offense went quiet in the series, as the Cadets managed just one run in six hits in both games combined.
In the season's final regular season poll for Class 4A, Georgia Dugout Club had Marist ranked No. 1 and the Cadets No. 2. The two heavyweights did little to discredit those rankings in their routes to the title series at the home of the Atlanta Braves Triple-A affiliate in Lawrenceville.
Marist had lost just once since April 20 and BC were winners of 16 straight, losing last on April 6.
Game 1
MARIST 5,
BENEDICTINE 0
Marist's opening game performance put the Cadets on their heels early as Benedictine lost for the first time in its last 16 games to go down 1-0 in the Best-of-3 Georgia High School Association's Class 4A state championship.
Marist (32-9) scored three times on four hits in the first inning off of Benedictine starter Trent Markiton. All three runs came after two outs were recorded and Tyler Hare's two-run homer set a tone early for the War Eagles.
Markiton was gutsy after the rocky first frame, but he was already outdueled by Marist's ace, Preston Larmore, who earned the win for head coach Mike Stricklin and company. While Markiton went five innings of five-run ball, he allowed Marist to earn five of its seven hits with two outs in an inning. Against Larmore, Benedictine (33-5) was just 1-6 with two outs. He tossed six innings of shutout ball, surrendering no walks while striking out a pair.
Andre Williams closed the door in the seventh to seal the victory. BC did not draw a walk in the contest and no Cadet managed an extra-base-hit while the team scattered four singles in total. Carter Holton singled from the leadoff spot and Justin Thomas had a knock and a stolen base from the 3-hole.
Cody Cowan and George Mullen also notched hits for head coach Kevin Farmer's Cadets.
MA -- 300 - 0200 -- 5 - 7 - 1
BC -- 000 - 0000 -- 0 - 4 - 0
W -- Preston Larmore.
L -- Trent Markiton.
Game 2
MARIST 2,
BENEDICTINE 1
The evening's second game was an eventful pitcher's duel featuring excellent starting efforts on the mound from Carter Holton and Ryan McTighe.
Marist won in walk-off fashion in the bottom of the seventh when Grey Taylor's two-out single scored Champ Davis to clinch the state championship in a sweep. Andrew Williams earned the win for Marist in relief of a brilliant McTighe.
Benedictine (33-6) jumped ahead 1-0 in the first inning, even without the benefit of a hit. Kam Edge walked, then stole a base, then advanced to third on a groundout then scored on a wild pitch.
Marist (33-9) tied things up at 1-1 with a tally in the third and the score remained there until the game-winner from Taylor.
The War Eagles finished with a 9-0 record in one-run games this season. They loaded the bases in the bottom of the first with one out, Holton wiggled out of it without allowing damage thanks to a pair of strikeouts.
Only Holton, the leadoff hitter, and George Mullen, the No. 9 hitter, managed to muster singles for Benedictine in Game 2. Mullen surrendered the winning hit to Taylor, the only batter of the contest that an equally brilliant Holton did not face.
In the top of the seventh, with Cadets on first and second and two outs, Mullen was at the dish with Holton standing on deck, prepping for a potential bases-loaded at-bat to give his club the lead. Mullen struck out against Williams after a tough fought at-bat. In the bottom half of the frame, Holton had to exit after 6.2 innings due to reaching the 120 pitch maximum.
Holton allowed six hits, three walks and two runs (one earned) to a potent Marist attack. Even without his A+ stuff, Holton still managed to strike out 12 in what was the finale to a remarkable Cadet career.
Considered by most talent evaluators as the state's top left-handed pitcher, Holton is committed to play at Vanderbilt next season. His prospects in the upcoming 2021 MLB Amateur Draft will likely cause a change to those collegiate plans, however. He is expected to be selected in the early rounds of next month's draft, and he is nearly certain to opt for the professional route over Vandy.
In three playoff starts before Thursday, Holton had tossed 16.1 innings of scoreless ball while racking up 35 strikeouts against just three walks.
His (unofficial) career numbers on the mound are historically impressive regardless of context.
He leaves with a 31-4 record across 213 ⅓ innings pitched. 452 K; 18 ER; Holton struck out 452 batters while allowing just 18 earned runs in four years. His 0.59 career earned run average is an all-time state record for GHSA (qualifying) pitchers.
One of his wins came as a freshman in the 2018 Class 2A state championship clincher against Berrien at Grayson Stadium. It was the third baseball state championship in Benedictine's program history (1961, 2014, 2018) and a notch in Holton's belt in the beginning despite a painful conclusion.
The War Eagles 14 state titles came in 1947, 1977, 1981, 1983, 1984, 1985, 1990, 1993, 2002, 2003, 2010, 2011, 2017, and 2021.
BC — 100 - 0000 — 1 - 2 - 1
MA — 001 - 0001 — 2 - 7 - 0
W — Andrew Williams.
L — Carter Holton.
Follow Travis Jaudon on Twitter & Instagram @JaudonSports and contact him at travisLjaudon@gmail.com.
Photo - Benedictine Military School
Optim Orthopedics supports the Prep Sports Report and the following schools, Benedictine Military School, South Effingham High School, Richmond Hill High School, St. Vincent's and Savannah Country Day School athletics. Benedictine Military School's team doctor is Dr. David Sedory. The team doctor for Richmond Hill and South Effingham is Dr. David Palmer and Dr. Thomas Alexander is the team doctor for Savannah Country Day and St. Vincent's. Remember, Optim Orthopedics gets you back into the game!