Love means never having to say you're sorry for dragging your little brother out of bed at 6 in the morning to go work out.
Zayden Edwards, a sophomore at St. Andrew's School, will protest then follow his early rising big brother, Zyere, a senior. They also stayed late after basketball team practices for more work despite their exhaustion, like shooting 100 free throws.
"He makes me better," said Zayden, 17. "At some point, I feel like I make him better. In practice, we're always going after each other, going back and forth verbally. That's something we like to do, talk trash. But at the end of the day, we know it's all love."
So Zayden wasn't surprised when Zyere made two foul shots in the final seconds, then sealed the win with a steal as the Lions beat Heritage of Newnan 44-42 on March 4 for the GIAA Class 3A state championship at Mercer University in Macon.
"That's something he does, and I'll have to carry on when he leaves," Zayden said Tuesday. "His hard work ethic has definitely rubbed off on me a lot."
That's two consecutive state crowns for St. Andrew's, Coach of the Year honors for Mel Abrams and Player of the Year awards for Zyere Edwards. In the two seasons the Edwards brothers played together, the Lions went 53-5, including 28-1 in 2022-23.
"I think that's a testament to how hard we've worked to be able to accomplish what we've accomplished, humbly," said Zyere, 18, who talked about the team's chemistry and resiliency to pull out close games.
He led the Lions with 22.5 points, 4.4 assists and 4.0 steals per game. Zayden averaged 11.3 points, 4.2 assists, 3.5 steals and a team-high 6.9 rebounds.
Humility has its place, so leave it up to Abrams -- who just completed his eighth season with the fourth final-four appearances in five years -- to laud the Edwards brothers.
He called Zayden a natural leader and probable future coach. Zyere, who transferred from Bethesda Academy in January of his sophomore season, has elevated the team culture with his dedication. When the best player works so hard, it's easier for others to follow, Abrams said.
"They work hard at everything," Abrams said. "They're competitive with one another, but that's what this world is about. If you don't compete and wake up every day looking to compete at life, you will struggle. They're good, solid people, good foundation. Their parents have raised them well. I'm more impressed with how they are as people and as students beyond the athletes."
Parents Tranise and Harold "Zion" Edwards have backgrounds in sports. Zion has coached his sons in basketball and currently is the SAS middle school head football coach and a varsity football assistant coach.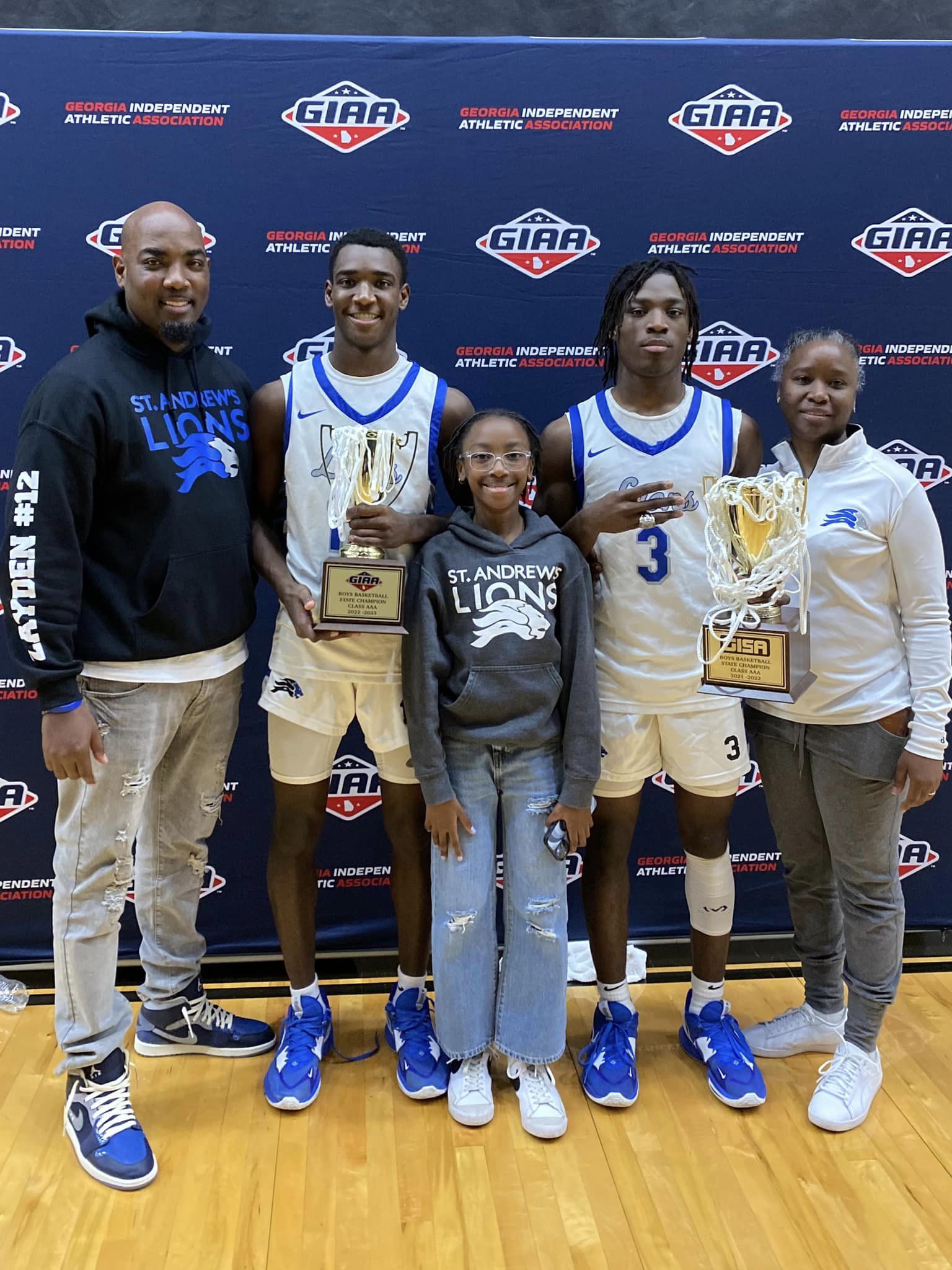 Photo (l-r): The Edwards Family - Harold, Zayden, Zyona, Zyere, Tranise
St. Andrew's is a high academic school, with Zyere enrolled in the International Baccalaureate program and Zayden not eligible until his junior year. They each take honors classes and are honor students.
They also have starred on the football field, with 6-footer Zayden at quarterback and 5-9 Zyere receiving and rushing as well as playing defensive back.
There's another sibling, their sister Zyona, 10, involved in volleyball, basketball, soccer and track. She's only in the fifth grade, so the high school teams will have to wait.
"She's ahead of schedule," Abrams said. "She also has a work ethic."
Zyere has signed to play basketball for Augusta University, a Division II power, and is excited about gaining a college education as well as playing for "an insanely good team," he said.
"Even more so, the chemistry they have together when I went on my (campus) visit," Zyere said. "Just seeing how much they bond is something I want to be a part of, and I can't wait to go."
Teammates feel like family, and some teammates actually are family. Zyere understands it will be different on a team without Zayden.
"That's my right-hand man," Zyere said. "I'm going to definitely embrace going to college and being with a new group of guys, new coaches. But also I'm definitely going to reminisce about being with my brother and being with my teammates here."
PHOTO CREDIT: Banks Fana Photography and St. Andrew's Commication Department