A rivalry which began brewing years ago on the soccer pitch between two Savannah high school boy's programs delivered once again on Saturday, March 27 at Father Albert G. Bickerstaff Field on the campus of Benedictine.
Islands (6-1) edged BC (5-5-2) in the pivotal Region 3-4A matchup, winning by a 5-4 margin in penalty kicks after the game was tied at 1-1 through 80 minutes of regulation, plus 20 more minutes of extra time. The two schools each sent five shooters and a goalkeeper for penalty kicks to settle the first of two scheduled meetings between the two clubs in 2021.
Benedictine began the alternating PK affair with an unsuccessful attempt, thanks to a great save from outstretched IHS keeper James Shippy. The next nine penalty kicks all were made, and IHS was victorious by the slimmest of margins.
As the Savannah Morning News reported earlier in the week, Islands was without senior star Brittain Gottlieb as he was training with Tormenta FC and BC's Carter Smith was also absent due to Tormenta obligations.
Still, talent was aplenty for both coaching staffs.
Islands got its only goal from Jack Schoeffler and its assist via Dodge Brooks. Benedictine, led by its fiery head coach Charlie Moore, scored by way of a sophomore pairing. Ryan Fabrizio was the goal culprit, assisted by a Mo Blackburn cross.
The second half didn't disappoint the large crowd on hand at the new turf-topped home of the Cadets. Despite it being a goal-less contest after the early minutes, each side had opportunities to close it out in the 20-minute extra time session (two, 10-minute halves).
IHS junior John Hughes hammered home the decisive fifth penalty kick for the Sharks and head coach Dante Casagrande to ice the victory. Hughes had limped off the pitch earlier in the contest due to an apparent injury, then was subbed out late in regulation time after receiving a Yellow Card to settle down after becoming visibly (and audibly) agitated with a referee's call (or no call in this instance). He was front-and-center when it mattered most, however.
BC too, had legitimate threats on goal late, especially so from its best group of scorers. Moore was seen facing the opposite direction each time his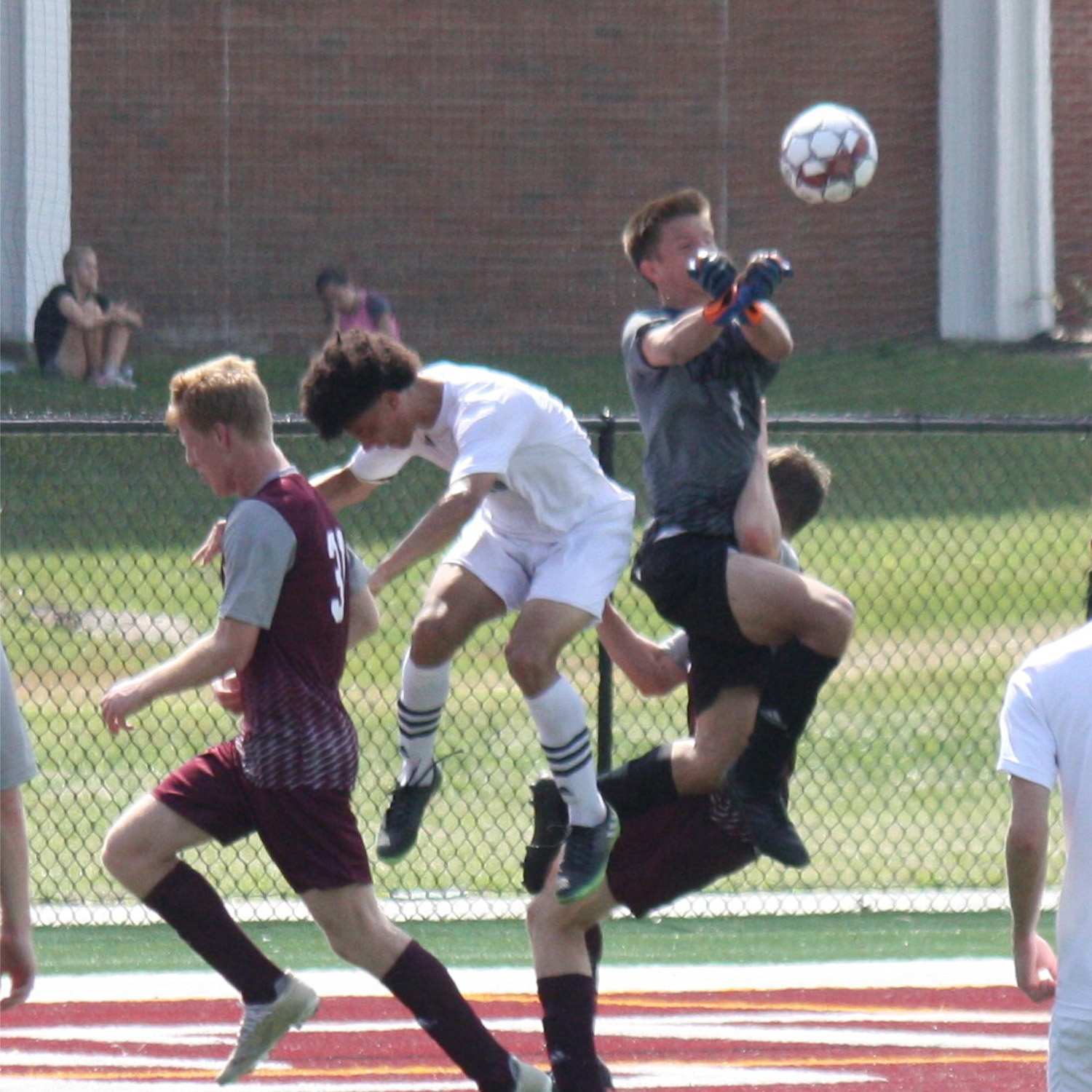 Cadets took to the PK mark, be it superstition or anxiety, he didn't see any of his team's five attempts, including the original save from Shippy.
Early in the extra-time's final half, a near-winner was served up perfectly from senior Jackson Hudgins across the box to a sprinting Johnathan Middleton and the junior got a good foot on it for a one-touch shot attempt.
Unfortunately for Middleton and the hosts, the shot sailed high and just above the crossbar to effectively end the threat, and BC did not have another shot on goal the rest of the extra-time (six-seven minutes).
A second installment of the rivalry is slated for April 16 at Islands Stadium.
ISLANDS 1, BENEDICTINE 1 (IHS wins 5-4 in penalty kicks)
GOALS -- IHS, Jack Schoeffler; BEN, Ryan Fabrizio.
ASSISTS -- IHS, Dodge Brooks; BEN, Mo Blackburn.
SAVES -- IHS, James Shippy 8.
RECORDS -- IHS 6-1; BEN 5-5-2.
Follow Travis on Twitter @JaudonSports and contact him at travisLjaudon@gmail.com.
Picture Credit - Heidi Bristol
Optim Orthopedics supports Benedictine Military School athletics. Benedictine Military School's team doctor is Dr. David Sedory. Remember, Optim Orthopedics gets you back into the game!