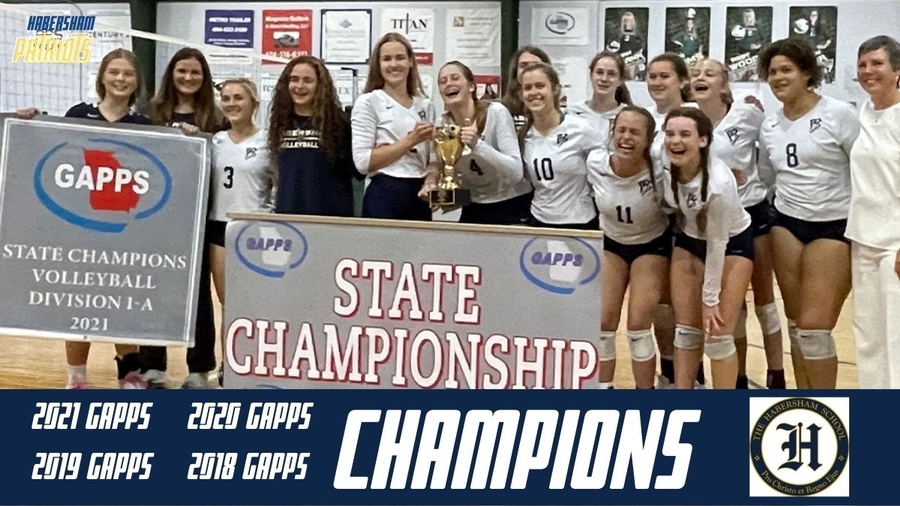 The Habersham School Volleyball Program Kills Fourth Straight Championship - Can you say Dynasty!
By Prep Sports Report Staff | October 18, 2021
Share This Story
The Habersham School Lady Patriots volleyball team are the GAPPS state champions for the fourth year in a row and the sixth time in the previous seven years. This year, Habersham won the 2021 Georgia Association of Private & Parochial School (GAPPS) DI-A championship, defeating Oakwood Christian Academy 3-0 in a very close semi-final match with scores of 25-23, 25-23, 25-23, and then Veritas Academy from Savannah, Georgia 3-0 by scores of 25-19, 25-13, 25-15, in the finals.
Anna Thompsons led the way in the semi-finals with 16 kills, 14 digs, three aces; Jenna Kate Welch added six kills, seven digs; Maddie Viles had four blocks, Anna Livingood 15 digs, and Lucy Kelly 2 kills, 20 assists, and five digs.
In the championship match, the Lady Patriots defeated Veritas and again were led by Thompson with 19 kills, 13 digs, one block; Welch with ten kills, three aces, 17 digs; Faith-Tuesday Jones with three kills, one block and Lucy Kelly with two kills and 25 assists.
"This season was an example of why process matters more than wins or losses. We started with a young group of girls in terms of age and volleyball experience, and they put forth the effort required to overcome their weaknesses and let their strengths come to light," said Habersham Head Coach Susan Barry. "We finished this season 20-22 but, in the process, we became a truly winning team. I could not be more proud of or happy for a group of girls than I am right now, and I am especially proud of our seniors, Anna Thompson and Jenna Kate Welch. They stepped up in every way to become the leaders of this team, and they came into their own and led this team beautifully down the stretch. In addition, sophomore setter Lucy Kelly did an amazing job directing the team and was a constant source of steadiness throughout the season."