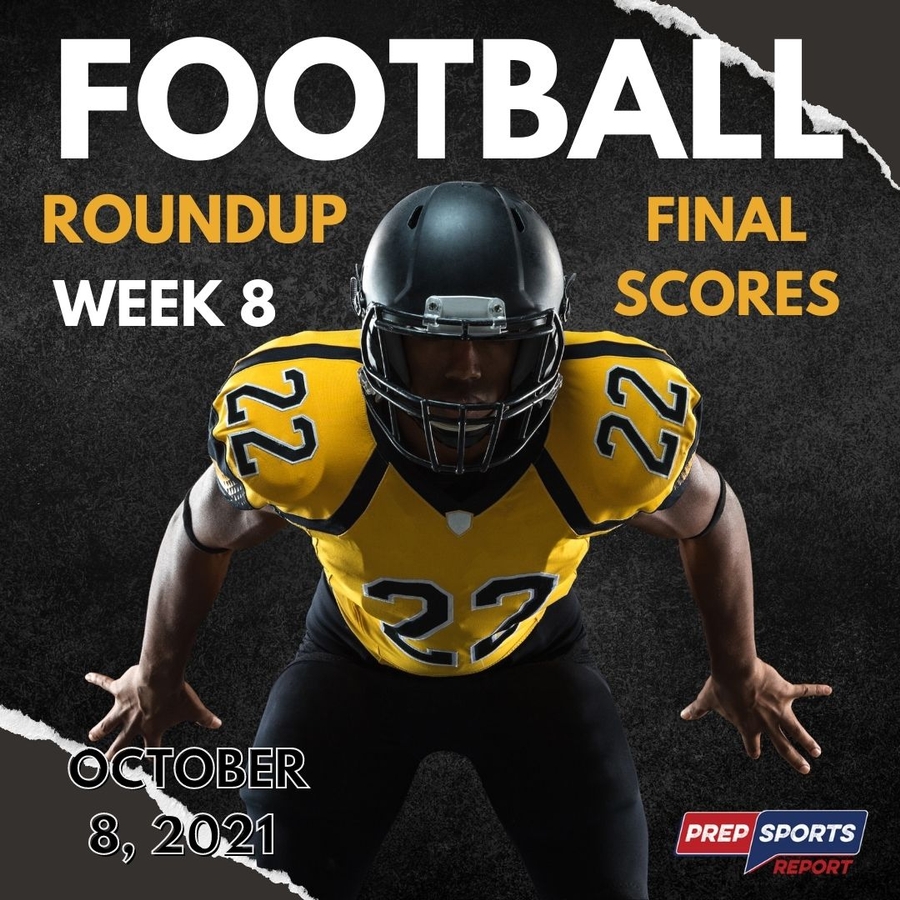 Week 8 Roundup & Final Scores: Richmond Hill Upsets Effingham & BC, SCPS Win Big
By Travis Jaudon/For the Prep Sports Report | October 9, 2021
Share This Story
Catch up on all the action from Savannah area teams competing during Georgia High School Football's eighth week of games.
THURSDAY
SAVANNAH CHRISTIAN 35, SCREVEN CO. 13
Senior SCPS (4-3) receiver George Futch had three catches for 81 yards and a touchdown and the Raiders won handily over visiting Screven County (0-6) even without the Raiders' usual starting quarterback, Paulus Zittrauer.
Ely Brown threw a 44-yard TD pass to Futch and Futch later added a return touchdown to pace head coach Baker Woodward's team in the non-region win at Pooler Stadium. The receiver has 28 catches, 469 yards and six touchdowns in seven games this season.
Savannah Christian begins its three-game stretch through Region 3-A Private next week, when the Raiders play at No. 2 Calvary Day (7-0, 0-0) on October 15.
FRIDAY
BENEDICTINE 49, JENKINS 6
The Region 3-4A opener for both squads, Benedictine hammered the Warriors in the first meeting between the two Savannah schools since 2019. BC led 35-0 at halftime before taking its foot off of the proverbial gas for the entire second half.
Class 4A No. 3 Benedictine (5-2, 1-0) took a 28-0 lead with 5:23 remaining in the second quarter thanks to quarterback Holden Geriner's 63 yard touchdown pass to senior Justin Thomas.
The Cadets have won five consecutive games since beginning the year at 0-2.
Geriner threw three first half touchdown passes and Thomas was on the receiving end for two of those. A baseball commit heading to the University of Georgia next year, Thomas also added two rushing touchdowns for a total of four in the game.
Jenkins (3-4, 0-1) has now lost two straight games and the Warriors will look to get back in rhythm against Region 3-4A foe Islands on October 22 at Islands Stadium.
RICHMOND HILL 28, EFFINGHAM COUNTY 6
The Wildcats (2-4, 2-1) led 7-0 after one quarter and 21-0 at halftime of the Region 2-6A clash in Richmond Hill. Effingham County (3-2, 1-1) entered the game with one of the best defenses in all of Class 6A, allowing opponents to score just 7.5 points per game (No. 2 in Class 6A).
Richmond Hill quarterback Ty Goldrick threw two first half touchdown passes to Ravon Grant, giving Grant four TD catches on the season and Goldrick eight TD tosses.
In the third quarter, Caleb Easterling's long touchdown run gave the host Wildcats a 28-0 lead and essentially iced the game for Richmond Hill. Effingham scored on a 47-yard TD pass later in the third as the score was 28-6 entering the fourth.
Easterling had two rushing scores and an interception on defense. Goldrick was 15-of-23 passing for 248 yards and two scores.
EC — 0 - 0 - 6 - 0 — 6
RH — 7 - 14 - 7 - 0 — 28
PINEWOOD CHRISTIAN 50, ST. ANDREW'S 19
Pinewood jumped out to a big early lead and never looked back on Wilmington Island in the GISA 2-3A opener for both squads.
Mic Wasson's 15-yard touchdown run put the Patriots (5-1, 1-0) up 14-0 and a two-point rushing conversion made it 16-0 briefly in the first stanza.
St. Andrew's (3-2, 0-1) got its first quarter touchdown off a one-yard rush by Anthony Kusilka and the Pinewood lead was cut to 16-7, but that's as close as the Lions would come as Pinewood outscored the home team 20-0 in the second quarter.
PC — 24 - 20 - 6 - 0 — 50
SA — 7 - 0 - 6 - 6 — 19
FINAL SCORES
WEEK 8 - THE SCHEDULE
OCT. 7, THURSDAY
GHSA NON-REGION
Screven Co. 7 at Savannah Christian 28
OCT. 8, FRIDAY
GHSA 6A Region 2
Effingham County 7 at Richmond Hill 28
South Effingham 0 at Glynn Academy 38
GHSA 4A REGION 3
Benedictine 49 at Jenkins 6
New Hampstead 50 at Beach 12
GHSA 3A REGION 3
Liberty County 6 at Windsor Forest 12
SE Bulloch 48 at Savannah High 7
GISA/SCISA
Pinewood Christian 50 at St. Andrew's 19
Memorial Day 6 at Frederica Academy 53
Bethesda 8 at Hilton Head Christian 41
FOLLOW Travis Jaudon on Twitter/Instagram @JaudonSports. Email him at travisLjaudon@gmail.com.
Optim Orthopedics supports Benedictine Military School, Richmond Hill High School, Savannah Country Day and South Effingham High School athletics. Benedictine Military School's team doctor is Dr. David Sedory. The team doctor for South Effingham, and Richmond Hill is Dr. David Palmer. Savannah Country Day's team doctor is Dr. Thomas Alexander. Remember, Optim Orthopedics gets you back into the game!