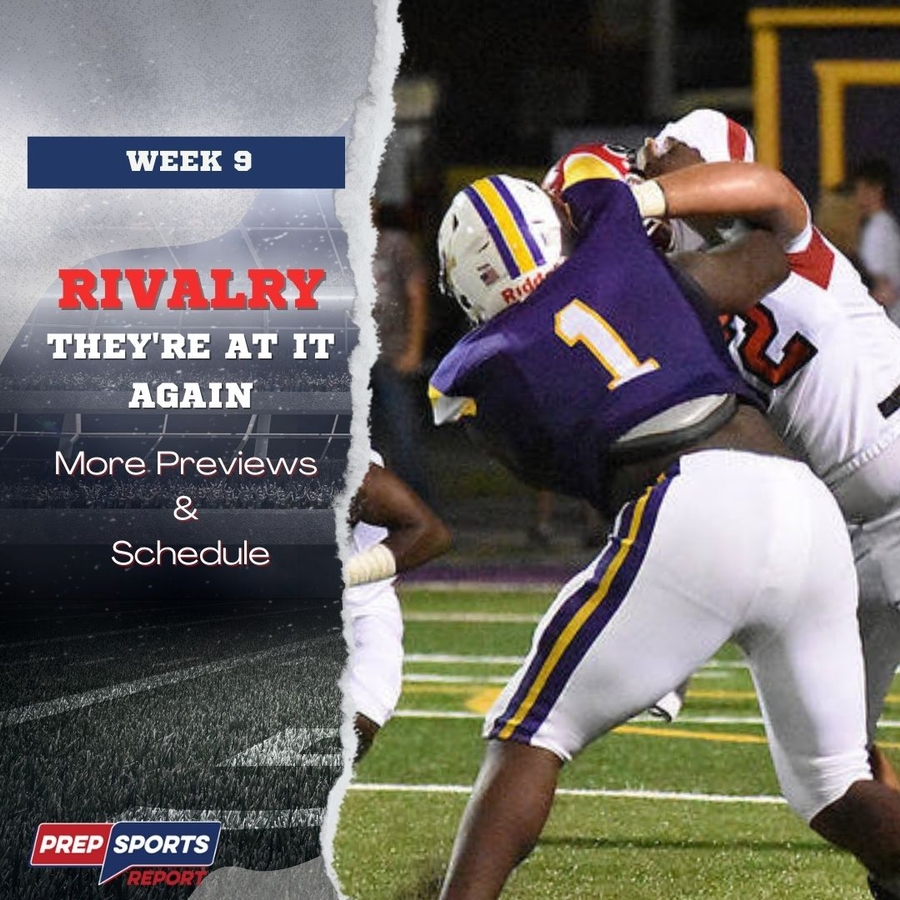 WEEK 9 PREVIEW: Rivalry renewed as No. 2 Calvary hosts Savannah Christian; Richmond Hill travels to undefeated Brunswick
By Travis Jaudon/For the Prep Sports Report | October 14, 2021
Share This Story
Savannah's fiercest rivalry is renewed Friday night, October 15 at Calvary Day's Specialty Sports Complex. The Cavs host Savannah Christian this week and that game headlines PSR's Week 9 preview.
SAVANNAH CHRISTIAN (4-3, 0-0 in 3-A Private) at 2 CALVARY DAY (7-0, 0-0)
The Cavs are ranked No. 2 in the AJC Class A Private poll and the offense led by sophomore quarterback Jake Merklinger is averaging 33.7 points per game (6th in A Private). The MaxPreps computer rankings also have Calvary at No. 2 while Savannah Christian comes in ranked No. 17 in Class A Private.
It's the Region 3-A Private opener for both teams.
Savannah Christian is coming off a lopsided victory over Screven County last week, its first game without injured starting quarterback Paulus Zittrauer. In his absence, David Bucey and Ely Brown are expected to take the majority of snaps behind center for head coach Baker Woodward's club.
The Raiders score an average of 25.7 points per game.
Bucey rushed for 118 yards and two touchdowns while passing for 78 more yards against Screven County. On the season, SCPS has three runners with more than 200 rushing yards. Carter Allen (268 rushing yards), Zo Smalls (226) and Brown (219) have all eclipsed the 200-yard mark. Senior receiver George Futch has 28 catches for 469 yards and six touchdowns.
For Calvary, Merklinger has been as good as can be through the first seven games. He has thrown for 1,413 yards and 13 touchdowns while completing nearly 74% of his passes. Freshman running back Donovan Johnson has rushed for 736 yards and six touchdowns, averaging nearly eight yards per carry.
Six different Cavs have at least 12 catches on the season and sophomore tight end Michael Smith leads the team with five touchdown catches.
RICHMOND HILL (2-4, 2-1 Region 2-6A) at 4 BRUNSWICK (7-0, 3-0)
The Pirates are No. 4 by the AJC this week among Class 6A teams and Brunswick is fourth in Class 6A in scoring offense (35.7 points per game). At 7-0, it's the best start for a Brunswick team in at least 20 seasons.
Richmond Hill is coming off a big time Region 2-6A victory over Effingham County last week while Brunswick beat Statesboro on the road.
With a win, Richmond Hill would move into a tie for first place in the region. A Brunswick win would clinch a playoff bid for the host Pirates. The Wildcats are 0-4 on the road this season and 2-0 at home.
Brunswick is 6-3 all-time versus Richmond Hill, but the Wildcats have won three straight over the Pirates.
The last time Brunswick beat Richmond Hill was in 2017. RHHS quarterback Ty Goldrick averages 203 passing yards per game. Brunswick's defense gives up an average of 11.1 points per game to opponents. The Pirates average 222.7 rushing yards per game.
NEW HAMPSTEAD (6-1, 0-0 in 3-4A) at ISLANDS (4-2, 0-0)
A critical Region 3-4A opener for both New Hampsteasd and Islands, this game is scheduled for play at Islands Stadium.
NHHS quarterback Pauly Seeley has thrown for 1,300 yards and 18 touchdowns (six interceptions) on 81-of-138 passing (59%). His leading receiving target is senior Toriano Bias, who has caught 21 balls for 354 yards and six scores. Kaden Sonnabend has 14 catches for 236 yards and three touchdowns.
The Phoenix average 43.6 points per game. Islands has allowed an average of 11.8 points per game to opponents through six games this season. The Sharks have won two straight while the Phoenix are winners of three consecutive games.
Islands knocked off New Hampstead 26-14 last season, but the Phoenix had won the previous three games in the series prior to 2020.
The Sharks are led by running back Jamari Sanders (63 carries, 249 yards, three touchdowns) and receiver Langston Lewis (15 catches, 162 yards, one touchdown). Lewis, a Central Michigan commit at WR, also has five interceptions in six games played this season.
SAVANNAH COUNTRY DAY (2-4, 0-0 in 3-A Private) at AQUINAS (5-3, 0-0)
The Hornets will look to end their four-game losing streak on the road at Region 3-A Private opponent Aquinas. It's the region opener for both schools. Country Day will be coming off its bye week, and figures to continue leaning heavily on its go-to player on offense in Augusta.
Senior SCDS quarterback Barry Kleinpeter has passed for six touchdowns and 783 yards this season while running for 395 yards and four touchdowns. Junior running back Michael Grandy leads the team with 83 carries for 496 yards and six rushing touchdowns.
Linebacker Dalton Spivey is expected to miss the game with injury. The SCDS senior has 33 tackles this season.
WEEK 9 SCHEDULE
STADIUM KEY
MS — Memorial Stadium; P — Pooler Stadium; I — Islands; GC — Garden City Stadium.
Times: Thursday and Saturday games are 7 p.m.; all other kickoffs are 7:30 p.m. unless noted.
FRIDAY OCT. 15
GHSA Region 2-6A
Glynn Academy at Effingham County
Richmond Hill at Brunswick
GHSA Class 6A/4A Non-Region Game
Benedictine at South Effingham
GHSA Region 3-4A
New Hampstead at Islands (I)
GHSA Region 3-3A
Groves at Windsor Forest (MS)
Johnson at SE Bulloch
Savannah High at Liberty County
GHSA Region 3-A Public
Jenkins County at Bryan County
GHSA Region 23-A Private
Savannah Christian at Calvary Day
Savannah Country Day at Aquinas
GISA
St. Andrew's at Trinity Christian
Memorial Day at Pinewood Christian
SCISA
Bethesda at Greenwood Christian
FOLLOW Travis Jaudon on Twitter/Instagram @JaudonSports. Email him at travisLjaudon@gmail.com.
Optim Orthopedics supports Benedictine Military School, Richmond Hill High School, Savannah Country Day and South Effingham High School athletics. Benedictine Military School's team doctor is Dr. David Sedory. The team doctor for South Effingham, and Richmond Hill is Dr. David Palmer. Savannah Country Day's team doctor is Dr. Thomas Alexander. Remember, Optim Orthopedics gets you back into the game!