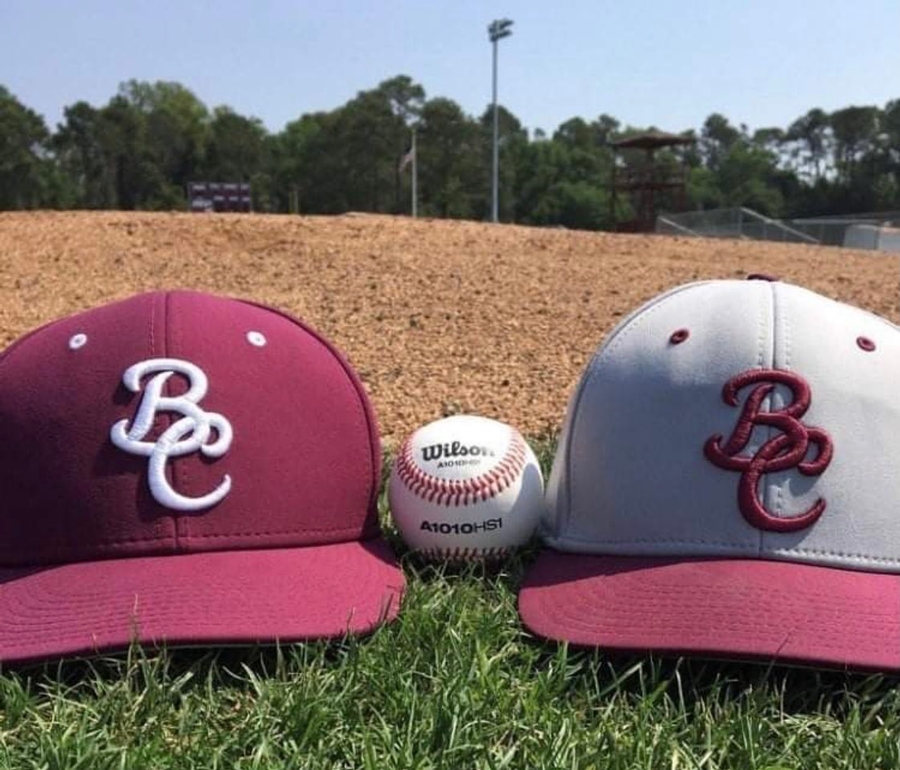 CADETS SWEEP TO THE 'SHIP
By Travis Jaudon | May 15, 2021
Share This Story
On Saturday in Bogart, Benedictine's baseball team continued its red-hot playoff run with a decisive sweep of the host North Oconee Titans in the Georgia High School Association Class 4A Final series (best-of-3).
The Cadets won a back-and-forth affair in Game 1, 6-5, before flexing its considerable muscle behind star pitcher Carter Holton in Game 2 with a runaway 9-0 victory. BC has swept all four playoff series en route to the title series next week. In six previous playoff games before matching up with BC, North Oconee allowed a total of five runs.
The Cadets trotted 15 runs across the plate in their 14 innings of action versus the Titans.
Now, Benedictine will play in the best-of-3 state championship series versus Marist at Gwinnett's CoolRay Field beginning with Game 1 on Thursday, May 20 at 5 p.m. The second game will begin 30 minutes following the conclusion of Game 1 and, should the teams split, a Game 3 is scheduled for noon on Friday (May 21).
The Gwinnett Stripers, a minor league franchise, plays its host games at CoolRay Field. The venue will also host the title series for Class A-Private and Class 3A.
Game 1
BENEDICTINE 6, NORTH OCONEE 5
Benedictine took the lead late and defeated North Oconee Varsity Titans 6-5 on Saturday. The game was tied at three with Benedictine Cadets Varsity batting in the top of the sixth when Carter Holton singled on a 0-1 count, scoring one run.
North Oconee took an early 3-0 lead in the second inning thanks to RBIs from Titan hitters Justin Byrd (two) and David Wiley.
Benedictine, not accustomed to trailing, pulled even in the fourth when Holton's 2-out double to the outfield wall cleared the once loaded bases and made the score 3-3. Holton drove in the go-ahead run in the sixth and later in the frame, Will Walker's 2 RBI double cushioned the lead even further.
A Clemson commit, North Oconee Game 1 starter Bubba Chandler is one of the best right-handers in the state. He allowed five runs, four of which were driven in by Holton who finished 2-for-5, scattered six hits and struck out 14 across 5 ⅓ innings of work.
Chandler struck out every batter in the BC lineup at least once, including Holton twice, but he wasn't good enough to outmatch a steady Cadet lineup and diet of solid pitching arms.
George Mullen (3 IP, H, 2 R, 1 ER, 3 BB, 4 K) earned the win in relief for BC, but the game was started by Trent Markiton (3.1 IP, 6 H 3 R, 2 BB, K) and saved by junior Justin Thomas (.2 IP, H, 0 R, 0 BB, 0 K).
Phillip Ard went 2-for-3 to lead the hosts offensively. Four of BC's seven hits came off the bats of Holton and Mullen.
BEN — 000 - 3030 — 6 - 7 - 1
NOC — 030 - 0002 — 5 - 8 - 1
W — George Mullen.
L — Bubba Chandler.
S — Justin Thomas.
Game 2
BENEDICTINE 9, NORTH OCONEE 0
Holton hurled a complete game shutout for the win, turning in another marvelous performance on the bump for BC and head coach Kevin Farmer. In the series-clincher, the lefty committed to play at Vanderbilt next year struck out 14 batters while allowing just one hit and two walks.
He threw 102 pitches, 71 for strikes, and faced 23 total batters. Offensively, Cody Cowan led the way for the visitors. The Cadet catcher was 3-for-4 at the dish, showing resilience after striking out four times in Game 1.
Hitting between Holton and Thomas in the 2-hole, Kameron Edge was on base all four trips to the dish, going 2-for-2 with two walks, two runs batted in and two runs scored. He also stole a base. Walker roped another double and Thomas drove in two in a 2-for-4 effort.
Chandler's sixth inning single was the lone hit allowed by Holton. BC's defense was flawless behind its ace, committing no errors from start to finish.
Andrew Arnold took the loss for North Oconee on the mound. He was roughed up in three-plus innings of work, allowing six runs and seven hits.
NOC — 000 - 0000 — 0 - 1 - 3
BEN — 301 - 230X — 9 - 12 - 0
W — Carter Holton (7 IP, H, 2 BB, 14 K).
L — Andrew Arnold.
Follow Travis Jaudon on Twitter & Instagram @JaudonSports. Reach him at travisLjaudon@gmail.com.