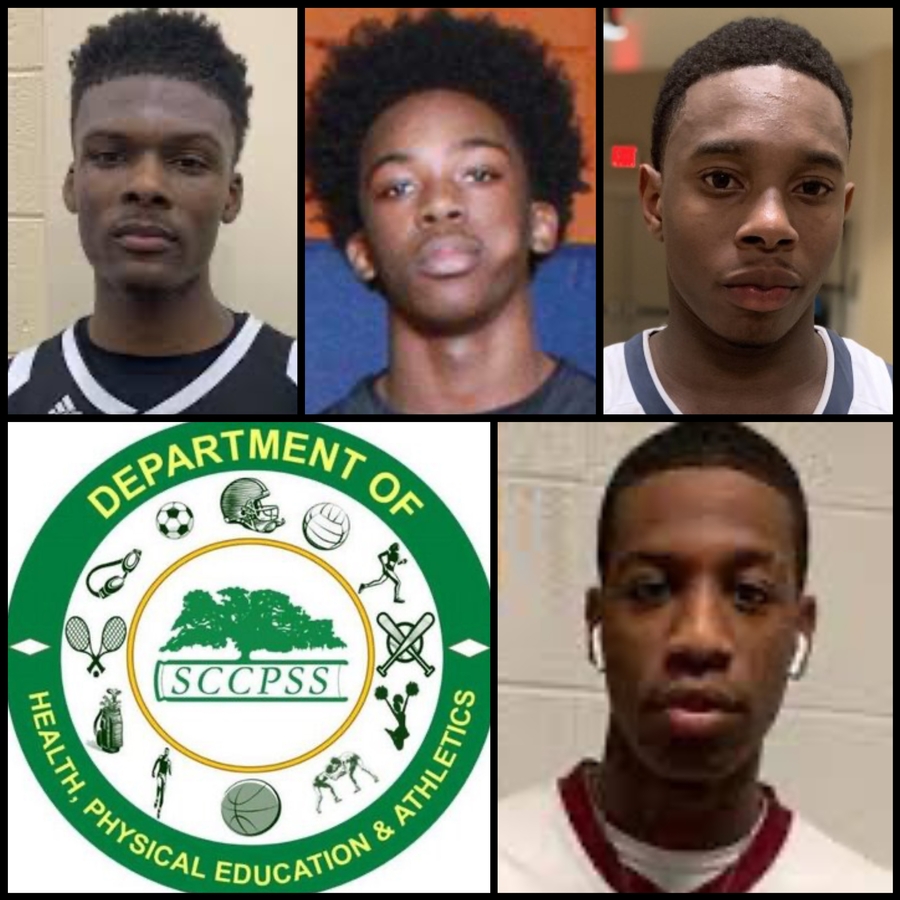 Five Things to Know & More about Savannah Public High School Basketball 2020-21
By Travis Jaudon/For the Prep Sports Report | November 26, 2020
Share This Story
Preview of regions with SCCPSS teams and a look at Savannah's top players, most anticipated games and key storylines entering the 2020-21 boy's high school basketball season
REGION PREVIEWS
REGION 3-4A
SCCPSS teams: New Hampstead, Islands, Jenkins
All four teams (SCCPSS schools and Benedictine) in this region will have new head coaches in 2020.
Terry Hines leads Kyle Sandy's preseason No. 7 team in Class 4A, Jenkins (13-13, 8-8 Region 3-3A in 2019) into a season with high expectations for the Warriors. HVJ has a plethora of scoring options in Jarrell Floyd, Charles Williams, Amonte Rivers and Juwan Boggs.
Jeffrey Williams takes over at New Hampstead (12-10, 4-4 Region 2-5A) and the Phoenix figure to battle with Jenkins for the region crown all season. NHHS has a Player of the Year candidate in DeAndre Smart and he is considered as one of the top big-men in the area entering his senior campaign.
Karl DeMasi returns to coach Islands, which will feature a rotation of Jadon Adams, Freddie Brown, Jeremiah Gabriel, Russell Wright and Jordan Cave.
REGION 3-3A
SCCPSS teams: Johnson, Windsor Forest, Beach, Savannah High, Groves
This region will likely be dictated by a pair of teams ranked in the Class 3A Top-3 in the state entering the year.
Windsor Forest begins the season as the No. 2 team in Kyle Sandy's Class 3A rankings — Johnson checks in at No. 3. Both schools boast senior point guards who are leading candidates to win various Player of the Year awards by season's end.
The Knights (25-5, 14-2 Region 3-3A) were 12-0 at home last season under veteran coach Aaron Clark. Clark's squad will return star senior guard Shamar Norman and junior forward D'ante Bass to lead a team with state championship expectations in 2020-21.
First-year head coach Derrick "Chuck" Campbell takes over a Johnson program which has returned to state prominence in recent years. Aaron Clark returns to lead WF. Campbell is the third SCJ head coach in as many years after Rico Campbell and Utaff Gordon led SCJ in previous seasons. Chuck Campbell was an assistant under Gordon last year and previously won a state championship at Jenkins (2016) as an assistant under then HVJ head coach Bakari Bryant.
Johnson (23-8, 14-2 Region 3-3A) figures to feature a rotation of Larry Pounds (G, So.), Antonio Baker (G, So.) Micah Johnson (G, Sr.) and Jaheim Robinson (PF, Sr.) around its star point guard, Emondre Bowles.
Beach was 20-10 (11-5 Region 3-3A) last season in head coach Simon Heyward's first season but the Bulldogs, like Groves and Savannah High, have a lot to replace after losing key contributors from 2019.
REGION 2-2A
SCCPSS teams: Woodville-Tompkins
Woodville-Tompkins and head coach Lenny Williams have grown accustomed to being a solo SCCPSS team in a loaded Class 2A and Williams has built a program worthy of admiring regardless of class.
Entering his fourth season as the head coach for the Wolverines (15-14, 9-5 Region 2-2A), Williams has a record of 69-19 (.784).
This year, WT will try and replace the scoring and playmaking of the now-graduated Bernard Pelote. Woodville will feature a rotation based around Zion Powers, Antonio Hunt, Alfonzo Ross and Larry Chapman.
SCCPSS PLAYERS TO WATCH
Emondre Bowles, Johnson, G, Sr.
The Savannah Morning News' Boys Basketball Player of the Year last season and helped lead the Atom Smashers to the GHSA Class 3A Final Four in head coach Utaff Gordon's final season.
As a junior, Bowles averaged 21.4 points, 8.1 rebounds, 4.7 assists and two steals per game.
Shamar Norman, Windsor Forest, G, Sr.
The Region 3-3A Co-Player of the Year along with Bowles, he helped lead Windsor to its second straight Region 3-3A title as the Knights advanced to the GHSA Class 3A state Elite 8.
He averaged 16.8 points, four assists, two steals and 1.9 rebounds per game.
D'ante Bass, Windsor Forest, F, Jr.
The 6-foot-7 junior transferred to Windsor Forest prior to last season (his sophomore year) after starring as a freshman at Bethesda. Bass did not miss a beat playing for the state title contender on Savannah's southside. He was a first-team selection on the All-Region 3-A team and showed his unique ability to impact the game in every way.
He posted per-game averages of 13.1 points, 8.5 rebounds, two assists, two blocks and 1.4 steals. He has college scholarship offers from Georgia and Xavier.
DeAndre Smart, New Hampstead, Sr.
Smart averaged 15 points per game for the Phoenix through a difficult Class 5A schedule last season as a junior. He excelled around the rim, shooting 70 percent from the field in 26 games played.
The athletic big man will look to lead New Hampstead again this season, the first ever for NHHS playing in a region with other SCCPSS teams.
KEY GAMES
Nov. 24 -- Jenkins at Johnson
Dec. 11 -- Windsor Forest at Johnson
Dec. 18 -- Johnson at Jenkins
Dec. 21 -- Woodville-Tompkins at Johnson
Jan. 5 -- Jenkins at New Hampstead
Jan. 8 -- Windsor Forest at Jenkins
Jan. 16 -- Johnson at New Hampstead
Jan. 19 -- Swainsboro at Woodville-Tompkins
Jan. 23 -- Johnson at Woodville-Tompkins
Jan. 26 -- Johnson at Windsor Forest
KEY STORYLINES
NEW COACHES EVERYWHERE
Schools across the city will be breaking in new coaches this season. Some of the coaches have prior head coaching experience and others are beginning their first ever as a head man.
Campbell is at Johnson for his first ever head coaching gig and DeMasi returns after two seasons off to be the head coach at Islands after being the first head coach in the Sharks' program history.
Williams is at New Hampstead and Hines is now at Jenkins.
Kevin Evans takes over at Groves after serving as the Rebels assistant for the last few seasons.
FINAL GO 'ROUND FOR TWO STAR SENIOR GUARDS
Emondre Bowles and Shamar Norman won't soon be forgotten at their respective schools, and that's for good reason.
The two senior guards have been mainstays on the hardcourt for their respective teams over the last three seasons. Bowles and Norman are the likely front-runners for City Player of the Year entering the 2020-21 season.
SAME GAME, NEW START
Several GHSA changes were made to the rules since hoops concluded last season and they may, at least slightly, alter the look of HS basketball games this winter. Due to COVID-19, there won't be any standard jump ball at mid-court to start. The home team will begin each game by inbounding the ball from the sideline and the possession arrow will start with the visiting team.
Follow Travis Jaudon on Twitter @JaudonSports and contact him at travisLjaudon@gmail.com.