Adjectives associated with the game of golf are challenging, skillful, competitive, recreational, intimidating, frustrating and fun.
First Tee – Savannah put fun atop the leaderboard, outpacing the field as it were, at the first session of the LB3 Foundation's seventh annual golf camp for children on June 5 at The Savannah Golf Club.
"We're specifically designing everything out here for fun," said John Parker, program director for First Tee – Savannah, a chapter of the national youth development organization which integrates character education through golf.
"Golf is just the vehicle for us," Parker said before the first of the free sessions each Monday in June. "Right now, we really want to hit home with respect and integrity -- the two things that we're going to try to hit on really hard today. If they can make contact with the ball and get it going in the general direction, we're doing well."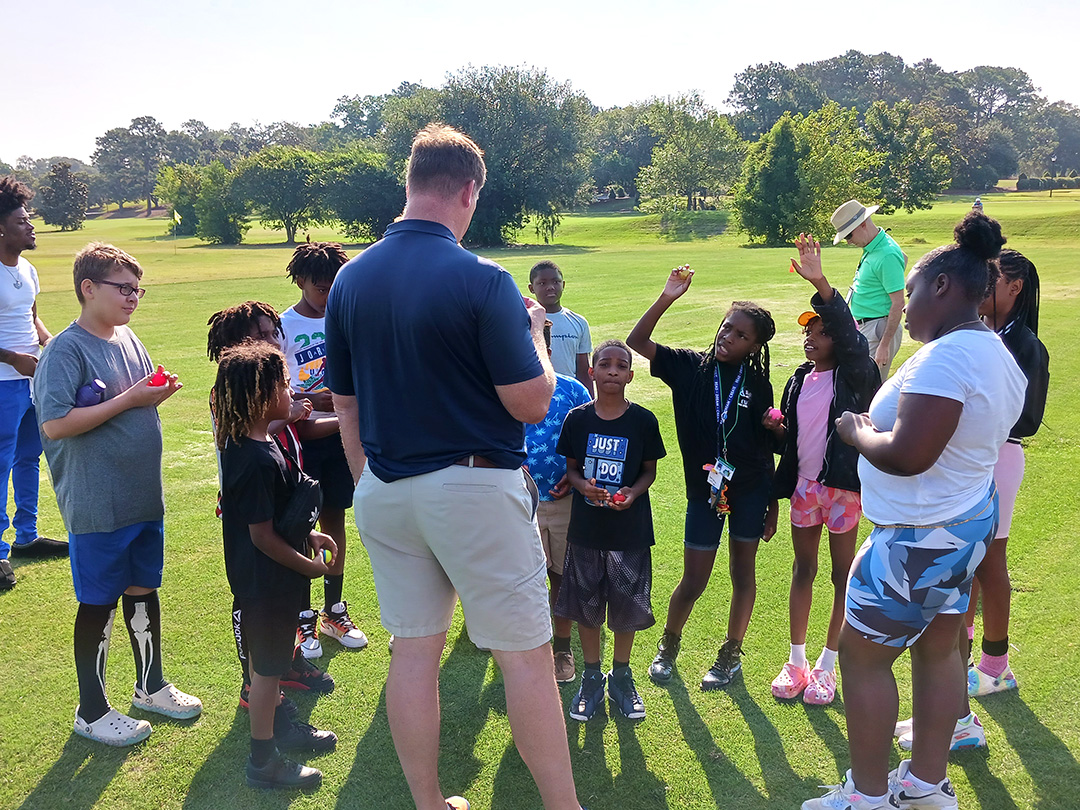 John Parker, program director of First Tee -- Savannah, talks to campers at the LB3 Foundation's seventh annual golf camp on June 5 at The Savannah Golf Club.
It's the first year First Tee is partnering with the LB3 Foundation, a local nonprofit organization for community programming and advocacy. Led by its president, Lawrence Bryan III, the foundation has provided access to golf to children ages 9-12 from underserved areas.
Other programs include the Celebration of Life each August, when thousands of bags of school supplies and personal-care products are distributed to those in need.
"We're a firm believer that it's easier to raise young children than it is to repair broken men," Bryan said. "These inner-city kids that are less fortunate, they are underserved and they are at-risk. We want to save lives. We want to teach them life skills."
When Parker asked the group of 14 children participating from Windsor Forest Regional Center if they've never played golf before, let alone touched a golf club, many hands went up.
Life skills and golf skills meshed, and it was just the start.
Bryan noted that in past years, these one-day clinics were "more technical" at the introductory level as children took swings at the ball on a tee and got one-on-one instruction on the proper grip, stance and ball-striking at the putting green.
Parker bookended a more traditional golf lesson by first having the campers hit water balloons instead of golf balls, and they finished the morning with a game of golf baseball – a hybrid of T-ball with a tennis ball on a golf tee and a golf club instead of a baseball bat.
Parker explained in an interview that the children are learning "the fundamental movement of the swing," and because it's a water balloon exploding, it doesn't matter where they hit it.
So, zero pressure to hit a ball squarely in front of friends and peers.
Bryan, whose organization supplies donated golf equipment for the camps, said the session "eased the children into golf."
"When the kids swing the club and miss the ball, they're intimidated," he said. "We explain to them before we even start, never laugh at somebody that doesn't hit the ball. We're out here to have fun. We stress respect."
Bryan said the foundation is "blessed" to have First Tee join the camp this summer. That sentiment was shared by Peter Maierhofer, Assistant Director of the City of Savannah Recreation and Leisure Services Department. The campers attend summer camps at various city community centers and spend a Monday morning at The Savannah Golf Club, which has supported the camps from the start.
"It's a nice partnership for our kids," Maierhofer said. "It gives them an opportunity to learn the game of golf. Some of them probably have never gotten to play golf. You can tell by watching them and listening to them how excited they are to be out here today. It's a fun event."
Maierhofer noted how the children were shown golf basics and stayed focused throughout the morning while enjoying themselves.
Nicholas Scarano is in his second year as a volunteer instructor, saying, "It's a good time every time. Why not come back here?"
Scarano, 18, has been playing the game since age 2. He appreciated the campers' perspective.
"They're just trying it out," said the 2023 Benedictine graduate joined at the camp by sixth-year instructor Clay Massey, a BC alumnus going into his second year at the University of Georgia. "They're not necessarily going to play golf for the rest of their lives, but they're seeing what it's like, seeing what it can teach them. It's cool to be part of that."
Most importantly, the children had a good time.
Amarya Burkes, 9, said she really liked being out in the sunshine.
"It's really calling to me because I love nature," said Burkes, who plans to get into the sport eventually. "The next time I'll probably play golf is like when I'm 11 -- and I'm 9 right now. For my older ages, I'll start playing golf again at 40 because those are old days."
Alannah Manigo, 12, has played miniature golf a few times and particularly enjoyed trying to toss water balloons back and forth without getting wet.
As for golf, she said, "It is a sport you can play for a long time, but for me, no."
She already participates in basketball, gymnastics, track, flag football and dance.
Both girls said they listened to Parker's messages about respect around the golf course, from properly and safely handling the equipment to treating your fellow golfers.
"If they come out and say it's not for them, to me it's OK," said Parker, who noted the local chapter worked with about 10,000 students in schools last year and about 400 on golf courses this year. "We want to not just continue in golf, but we're going to develop other things with First Tee. If they're interested in STEM, we're going to go in that direction. If they're interested in visual arts, we can help them with that. We're not just about golf."
PHOTO CREDIT: Nathan Dominitz