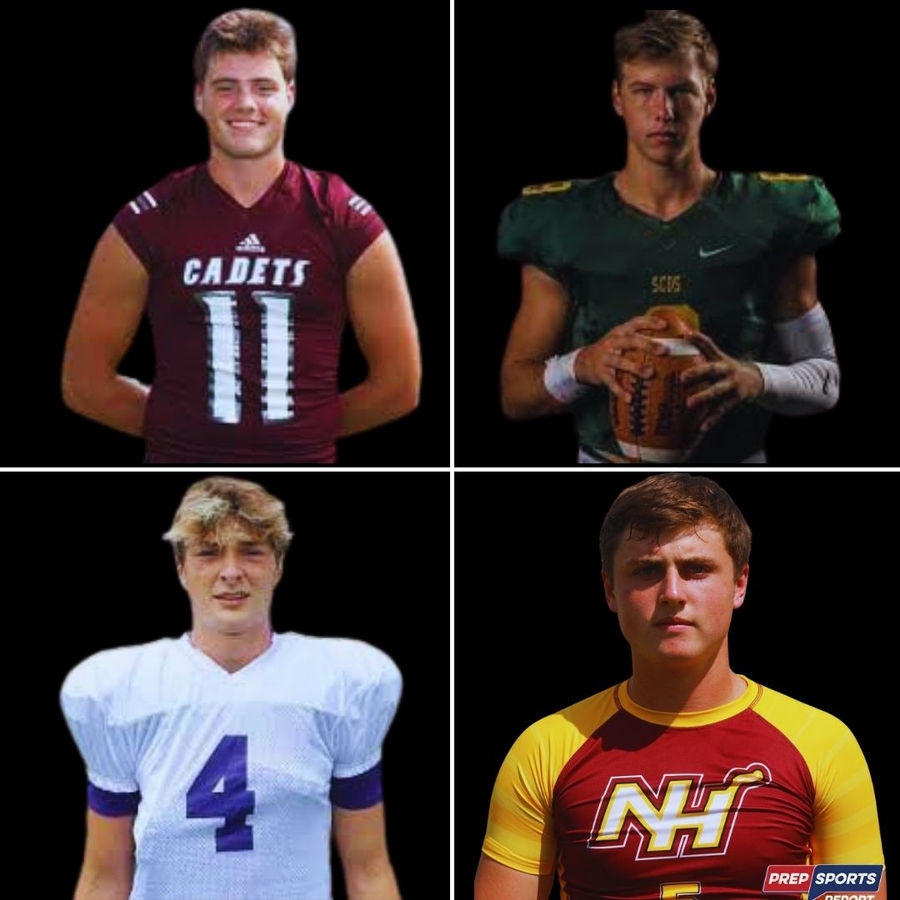 Qb Watch: Savannah's 'Big 4' Quarterbacks at Season's Midpoint
By Travis Jaudon/For the Prep Sports Report | October 11, 2021
Share This Story
Just over halfway through the 2021 high school football season, Savannah's top quarterbacks have lived up to their lofty preseason expectations.
Four of the city's best QB's have produced through the air and on the ground this season, and each has a legitimate claim as the best QB in the S.A.V. The Prep Sports Report takes a closer look at each of these four quarterbacks so far this year, and in their careers.
(All statistics compiled through MaxPreps archives. Quarterbacks listed alphabetically by last name.)
HOLDEN GERINER -- BENEDICTINE -- SENIOR
CAREER STATS
GAMES STARTED (W-L): 30 (21-9)
PASSING YARDS: 5,634
PASSING TOUCHDOWNS (Interceptions): 51 (17)
COMPLETIONS-ATTEMPTS (%): 404-678 (60%)
RUSHING YARDS: 210
RUSHING TOUCHDOWNS: 12
TOTAL YARDS: 5,844
TOTAL TOUCHDOWNS: 63
An Auburn commit now in his third full year starting for head coach Danny Britt and the Cadets, Geriner has been everything he was projected to be since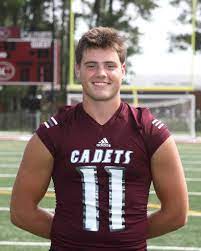 arriving on the Benedictine campus four years ago.
His sophomore season was his first as a starter in high school, and Geriner understandably went through some growing pains, throwing 12 interceptions (14 touchdowns) in 12 games. He completed just 47-percent of his throws (109-234). But Geriner's so-so start to his prep career was quickly forgotten in 2020 when the junior shined throughout Benedictine's season, which ended in the Class 4A Final Four.
Geriner's growth from Year 1 to Year 2 was evident in his final stat line for 2020. In the same amount of games (12), Geriner threw for 2,770 yards and 25 touchdowns (three interceptions) while completing 179 of 264 passes (68%). He increased his completion percentage by 21-percent in one year. He tallied 1,360 more yards and nine more touchdowns (11 fewer interceptions).
As a senior this season, Geriner's Cadets are 4-2, ranked No. 3 in Class 4A and winners of four straight games entering Region 3-4A play versus Jenkins on October 8. The future Auburn Tiger is currently on the shortlist for most any Player of the Year Award he is eligible for. With the help of talented running back Justin Thomas and dependable receivers Za'Quan Bryan (Class 4A's leader in receiving yards) and Kam Edge, Geriner is 115-of-176 (65%), throwing for 12 touchdowns against just two interceptions. His 1,451 yards are the most in Class 4A and 12th in the state across all classifications.
BARRY KLEINPETER -- SAVANNAH COUNTRY DAY -- SENIOR
CAREER STATS
GAMES (W-L): 37 (22-15)
PASSING YARDS: 6,161
PASSING TOUCHDOWNS (Interceptions): 67 (26)
COMPLETIONS-ATTEMPTS (%):
RUSHING YARDS: 1,251
RUSHING TOUCHDOWNS: 16
TOTAL YARDS: 7,412
TOTAL TOUCHDOWNS: 84 (67 passing, 16 rushing, 1 kick return)
Savannah Country Day's Barry Kleinpeter is closing in on several notable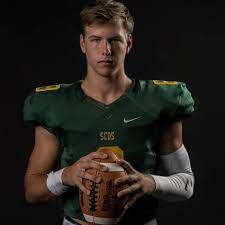 milestones for recent Savannah area quarterbacks in their prep careers. Although SCDS has transitioned its offensive philosophy from a pass-heavy attack in years past to a ground-focused offense under John Mohring this year, Kleinpeter has remained steady for the Hornets throwing and running in his final high school season.
He holds a career record of 22-15 overall, and Kleinpeter's excellent sophomore campaign in 2019 helped lead Country Day to the program's first Region Championship since 1980 after an incredible 10-0 regular season. A 2019 All-Region 3-A East first-team selection, Kleinpeter threw for 2,203 yards and 24 touchdowns (six interceptions) while completing 61-percent of his passes. He rushed for eight touchdowns and 466 yards rushing as well.
Through October 8, 2021, Kleinpeter had engineered eight fourth-quarter comebacks (roughly 36% of his total wins as starter). This season, Kleinpeter's Hornets are 2-4 overall, as the QB has thrown for six touchdowns and 783 yards while rushing for 395 yards and four more scores.
Kleinpeter is being recruited by several colleges and has taken unofficial visits to multiple schools including North Dakota State this past summer. Akron, Jacksonville State, Austin Peay and Samford have offered him a scholarship, according to 247sports.com.
He will surpass two recent Savannah quarterback stars in his next few games on the city's (unofficial) career leaders list. Kleinpeter has accounted for 7,412 offensive yards (6,161 passing, 1,251 rushing) and he trails former Jenkins QB Javonte Middleton (7,425 total yards) by just 13 total yards. Middleton's mark is the most by a Savannah quarterback since at least 2005.
Former Calvary quarterback Thomas Carver threw for 6,261 yards in a fantastic four-year career. His passing yards mark is also the most for a Savannah quarterback since at least 2005, and Kleinpeter needs just 101 yards to take the lead on that list. Kleinpeter has already set career marks for SCDS program history in passing touchdowns (67), total touchdowns (84), passing yards (6,161) and passing touchdowns (67)
JAKE MERKLINGER -- CALVARY DAY -- SOPHOMORE
CAREER STATS
GAMES (W-L): 20 (16-4)
PASSING YARDS: 3,520
PASSING TOUCHDOWNS (Interceptions): 31 (15)
COMPLETIONS-ATTEMPTS (%): 266-391 (68%)
RUSHING YARDS: 314
RUSHING TOUCHDOWNS: 12
TOTAL YARDS: 3,834
TOTAL TOUCHDOWNS: 43
The superb sophomore has guided Calvary to a 7-0 start to begin the 2021 season. He ranks 13th in the state, regardless of classification, in passing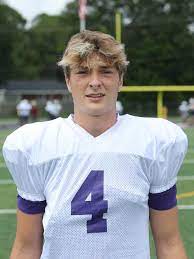 yards with 1,413.
Last year, as a freshman starting for head coach Mark Stroud and the Cavs, Merklinger withstood early growing pains and improved each week. He eventually led Calvary (9-4 in 2020) to the Class A Private Final Four before being eliminated one step from the state title game. In 2021, No. 2 Calvary has a real shot at winning the whole thing, and that has a lot to do with Merklinger.
At his current rate, Merklinger would shatter passing records among recent Savannah quarterbacks (since at least 2005) and he is on pace to throw 88 career TD's. Through seven games this season, Merklinger has thrown for 13 touchdowns and rushed for 204 yards and seven more scores.
He has a 16-4 record as a starter through his first 20 prep games, and Merklinger has showed no signs of slowing down. Quite the opposite, actually.
Over a five-game stretch from September 3 to October 1, Merklinger has completed 80-percent of his passes (82-102), throwing for 12 touchdowns (0 interceptions) and 1,069 yards.
PAULY SEELEY -- NEW HAMPSTEAD -- JUNIOR
CAREER STATS
GAMES (W-L): 14 (11-3)
PASSING YARDS: 2,175
PASSING TOUCHDOWNS (Interceptions): 25 (6)
In his second season starting for the Phoenix, Seeley has emerged as one of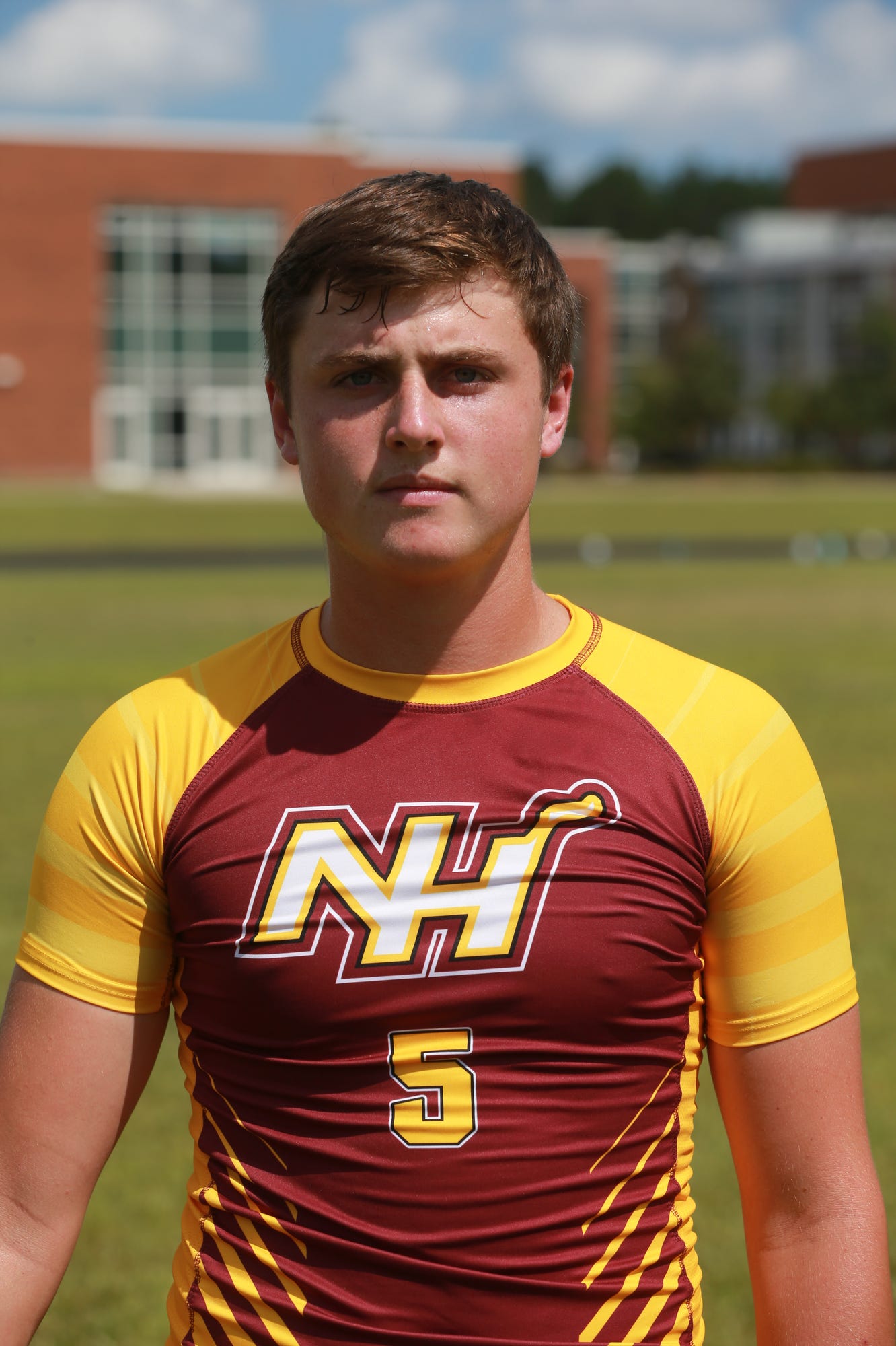 the best quarterbacks in the area regardless of class. His New Hampstead team has begun the year at 5-1, at one point reaching the AJC Top-10 (No. 10 Class 4A) for the first time in program history before losing at No. 5 Brunswick on September 10.
Last year as a sophomore, Seeley showed plenty of poise and gobs of potential while New Hampstead posted an overall record of 6-2 with Seeley and Randy Jarrell splitting time behind center. Seeley, who has college offers (class of 2023) from Bowling Green, Western Kentucky, Middle Tennessee and Elon, threw for 1,100 yards and 10 touchdowns while throwing zero interceptions across eight games.
Through five games this season, the Alma, Michigan native is 63-of-111 passing (57%) for 1,075 yards and 15 touchdowns (six interceptions).
He'll get the chance to add upon those numbers this year and next year. Seeley's Phoenix line up against Holden Geriner's Cadets in a much-anticipated Region 3-4A game later this year on October 22 at Memorial Stadium.
Seeley has compiled an impressive 11-3 record through his first 14 games as a starter or primary quarterback.
FOLLOW Travis Jaudon on Twitter/Instagram @JaudonSports. Email him at travisLjaudon@gmail.com.
Optim Orthopedics supports Benedictine Military School and Savannah Country Day athletics. Benedictine Military School's team doctor is Dr. David Sedory. Savannah Country Day's team doctor is Dr. Thomas Alexander. Remember, Optim Orthopedics gets you back into the game!