CARROLLTON, GA. - Hard work was the name of the game for the Savannah Arts girls cross country team this season, as they had their eye on a state podium finish from the very beginning. "From the get-go, the girls were on a mission. We started the season with a serious meeting defining our goals, and they were immediately on board as we had unfinished and similar goals last season." Commented Head Coach Steven Riccardi.

The Savannah Arts academy girl's cross country team finished second this past weekend at the state championship race in Carrollton, Georgia. The class 3A Lady Panthers averaged a time of 21 minutes and 11 seconds, a mere 23 seconds behind the first place Westminster. Leading the way for the Panthers was Junior Margaret Wade who finished third overall in the race with a time of 20:01.51. Wade was followed closely by teammates Lyric Olsen in sixth, Ava Coffey in eighth, Elle Harward-Grant in twelfth, and finished off by Camille Arango, Ava Thomas, and Rosie Knudsen, placing thirty-second, forty-sixth, and seventy-ninth.
The picture-perfect goal and fairy tale ending do not describe the whole story, however. When asked about the adversity faced by the girls, Coach Riccardi did not hide that tough times and injuries were not absent during the season but had nothing but praise for how the girls handled it. "A few of the top runners battled injuries throughout the year and needed supplemental physical therapy. We had to make some changes on the fly, but they responded in amazing fashion, never missing a race or a step for that matter."
With leadership from Coach Riccardi and Margaret Wade, the Panthers were certainly able to power through. Not only did the girls get to hear of real experiences from their Coach which gave them greater trust in their practice system, they also had Wade to lead by word and example. Ricardi's response to questions on student leadership highlighted Wade as a "phenomenal leader for her team. She was well poised, a great presence, spoke with confidence to them, and most importantly she put the team first. She is incredibly mature and measured and is one of the best leaders I've had the pleasure to coach within my career."
While the Lady Panthers certainly have time to celebrate this win, a team with no seniors promises more hard work to be put in next year by a group of girls that know what it takes to come out on top. They finished their state race with a total score of 61. This leaves no doubt that after three years of pushing for the state podium, this year's success will not satisfy the athletes of the Lady Panthers cross country team, but rather serve as another motivator for seasons to come.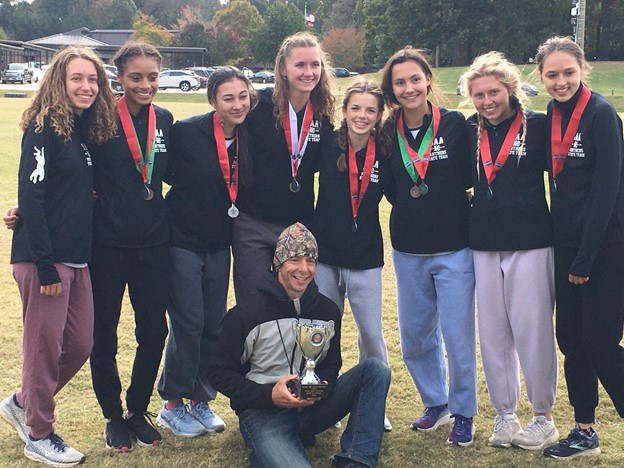 Girls in picture from R to L:Julia Grabowski- 9th (alternate), Lyric Olson - 11th (6th in state individually), Camille Arango- 11th , Margaret Wade - 11th (3rd in state individually), Elle Harward-Grant - 9th grade, Ava Coffey - 11th grade (8th in state individually), Ava Thomas - 9th grade, Rosie Knudsen -11th grade