The Savannah Country Day clay target team, which made its debut in 2019 with about 20 boys and girls, quickly contended for state titles.
"We came in second place in the second year we were competing, third place in our third year and first place in our fourth year," Hornets coach Eric Haas said. "The kids are such good shooters in the area."
A lot of the SCD team members compete during the fall high school season as well as year-round for the Forest City Gun Club Juniors program, which draws from many schools in the Savannah area and has won four consecutive national titles in the Scholastic Clay Target Program.
"These kids are the best in the country," Haas said while mentioning Savannah Country Day as well as Benedictine, Savannah Christian and St. Vincent's Academy. "They all get together in the spring and shoot on the club team and they go to nationals. We've won four national championships in a row. The kids here dominate the country. It's a small town."
The target in the fall is the state championship in the Georgia Independent Athletic Association, a division of the Georgia Independent School Association. The Forest City Gun Club is hosting the state tournament on Nov. 2-4.
Country Day has gotten off to a strong start this fall with a second place in the first qualifier on Aug. 26 and winning the second qualifier on Sept. 9, with the third qualifier scheduled for this weekend at Forest City Gun Club.
Haas said while the shooters see their results and standings at the qualifiers, they don't get trophies or ribbons. That's saved for "states."
"It puts the school on the map. It puts the kids on the map on how well they've done in Georgia," said Haas, in his fifth year as a community coach with the program and second as the head coach.
Country Day won the 2022 GIAA General Division state crown with a score of 1,384 out of 1,500 targets (500 in sporting clays, 500 in skeet, 500 in trap). Savannah Christian was just six clays behind in second (1,378 total) and Benedictine was third (1,367).
The team's first head coach, John Porter, started the Country Day clay target program, which featured his son, Nathan, and Eric and Jeannine Haas' son, Owen.
"John was doing all of it by himself and I asked him if he needed a little help," said Jeannine Haas, who was offered the role of team manager to handle logistics, communications, finances, uniforms and more. "I was happy to help."
Eric Haas, a retired school social worker, also volunteered as an assistant coach. All of the coaches are volunteers.
"We knew absolutely nothing of this sport -- nothing of it. There's a steep learning curve and it's very fast," said Eric Haas, who became a certified coach in skeet and sporting clays.
The team, which is coed, has grown to 37, with the coaching staff having to increase (it's now 10) to keep up a 6:1 ratio for safety reasons, Eric Haas explained. It's "safety first, fun second," he said of the emphasis on safety and training required.
"It was a small team the first year," Eric Haas said. "Now I have to turn people away because it's a safety issue that I can only take so many kids and I only have so many fields that we can shoot on. The sport in Savannah is booming."
Owen Haas, who was the GIAA individual state champion, graduated in the Class of 2023 and now attends Florida State University, where he competes on the clay shooting club.
His sister, Ella Haas, is a Country Day junior who has won national awards in competitive cheerleading and is a member of the school squad. She is not on the clay target team.
Their parents continue to volunteer to coach and manage the team without a Haas competing. That doesn't make them unusual on the staff, Jeannine Haas said. Coaches who used to have children on the team, or those who never did, volunteer because they love the sport, she said.
The program has been successful in part because of the coaches and the school's support.
"Our community is second to none," Jeannine Haas said. "We have a lot of parents who give a lot of time and effort and support. There is sportsmanship and camaraderie in this sport like none I've ever seen. People do say that over and over again. Even when you're competing with another team, everybody wants to see everybody do well."
Eric Haas added: "The kids will help each other shoot better. Everybody wants to beat the best. They don't want somebody to mess up so they can win. It's a unique culture."
2023 season highlights to date
At the season's first qualifier on Aug. 26 at Forest City Gun Club, the Hornets finished second of nine teams with a score of 894 out of 1,000. Team co-captain Chase Buerger posted the highest overall score in the tournament at 193 out of 200 clays. He either won or tied for first in skeet (50/50), trap (50/50) and sporting clays (93/100).
Co-captain Miles Carson finished seventh overall (180) and Jackson Ezelle was ninth (178). The team score of the top five Hornets also included Dan Bradley (172) and co-captain Ericka Ann McKeever (171).
McKeever finished third among female shooters, with teammate Gracen Garceau seventh (161/200) and Anna Loren Dekle in 10th (149/200).
Buerger, Ezelle and McKeever were part of a six-way tie for first on the skeet fields at 50 out of 50, while Carson tied for seventh (49/50).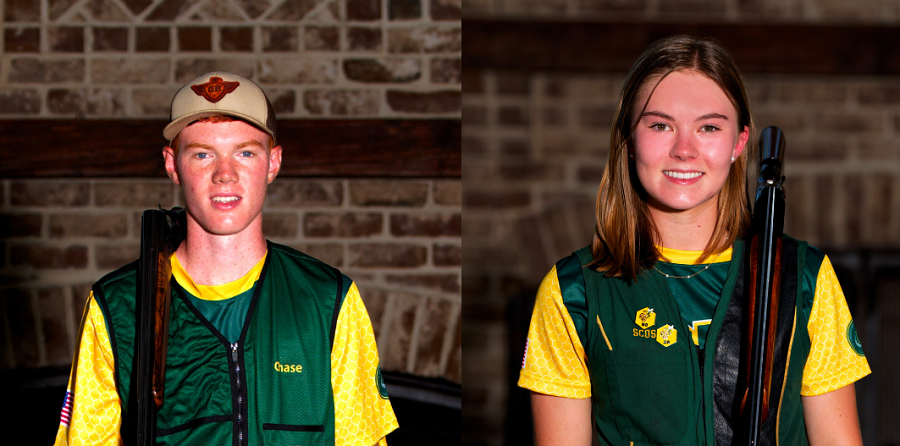 PHOTO (L_R): Chase Buerger & Ericka Ann McKeever
The Hornets fared even better at the second qualifier, placing first of 11 teams on Sept. 9 at Pinetucky Gun Club in Blythe near Augusta.
Country Day won by 31 clays over the next-closest team with an overall score of 840/1,000. The top five shooters were McKeever (178/200), Carson (176), Buerger (164), Garceau (162) and Drew Salyer (160).
McKeever was second individually, one clay behind the highest overall scorer. She won skeet (49/50), was second in trap (47/50) and tied for eighth in sporting clays (82/100).
Carson was third overall and Buerger tied for seventh.
McKeever had the highest female score, with Garceau third and Jacqueline Bunger fifth (138/200).
Of note in the different disciplines, Grant Hunter (46/50) tied for fourth in skeet with Buerger and Garceau tied for seventh (each at 45). In trap, Carson was third (46/50), Hunter seventh (42) and Buerger tied for eighth (41).
In sporting clays, Carson was second (93/100), Salyer tied for third (86) and McKeever and Walker Peters tied for eighth (82).
That was a personal-best score in sporting clays turned in by Peters, as it was for Andrew Wilkes (74), Caleb Vo (74), Frank Kamaleson (72), Sterling Recicar (71) and Tripp Milling (70).
PHOTO CREDIT: Savannah County Day Athletic Department
FOLLOW the Prep Sports Report on Twitter @PrepSav, Instgram savannahsportsreport, or got a story or recap contact PSR at https://prepsportsreport.com/Contact
Optim Orthopedics supports the Prep Sports Report and Savannah Country athletics. Savannah Country Day's team doctor is Dr. Thomas Alexander. Remember, Optim Orthopedics gets you back into the game.