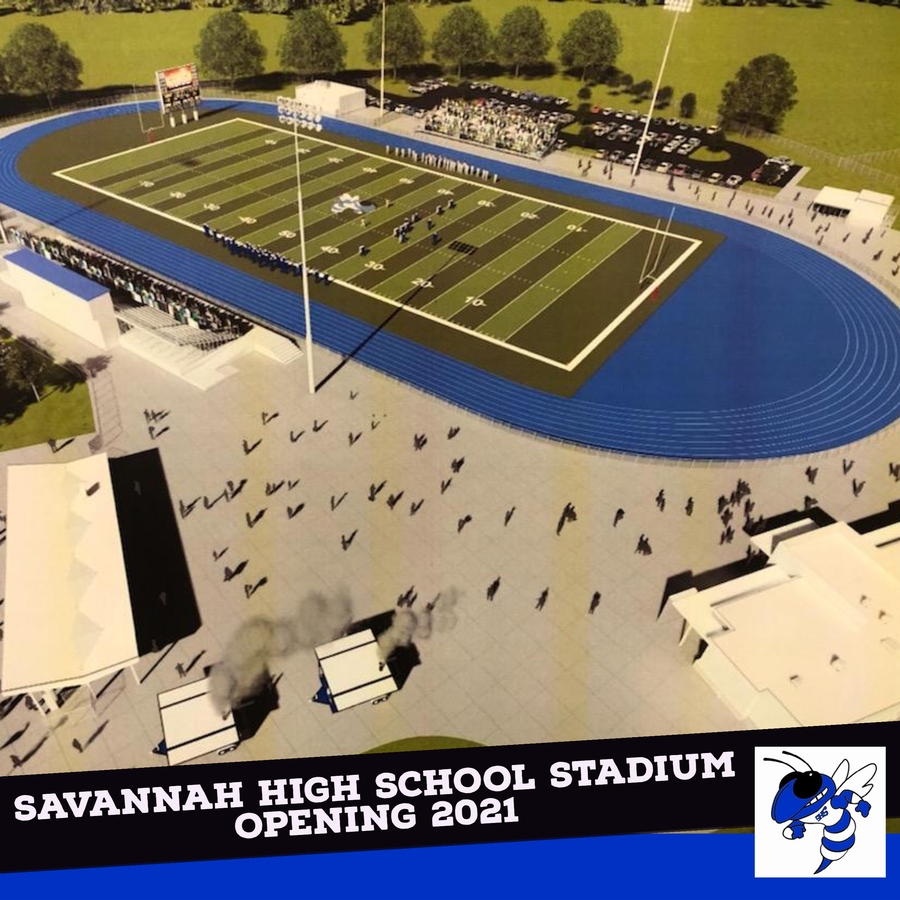 SCCPSS Buzzing over Savannah High's Football/Track Stadium for Fall 2021 Opening
By Travis Jaudon/For the Prep Sports Report | June 15, 2021
Share This Story
In 2018, Chatham County opened the rebuilt version of Memorial Stadium. Islands Stadium, built on the campus of Islands High School by the city's public school system, was utilized for the first time in 2020. And, if everything stays as is, Savannah's public school football teams will have yet another new venue in 2021.
The Savannah High Stadium being erected on the SHS campus located off of Pennsylvania Avenue is scheduled for an August unveiling, the Savannah Chatham County Public School System (SCCPSS) Athletics Director confirmed to The Prep Sports Report earlier last week.
"Things could change, but right now, if things stay as is, we are planning on opening the stadium in August for the (football) season," said John Sanders, the Director of Health, Physical Education and Athletics for SCCPSS, in a phone call with PSR on Wednesday, June 9.
"It'll be similar to the Islands Stadium (built in 2020) in terms of size. It's a different set-up as far as locker rooms and concessions and that kind of thing."
The Savannah High stadium will have a capacity of roughly 2,000, making it not eligible to host GHSA state playoff games. The same is true for Islands Stadium.
The newly rebuilt Memorial Stadium — located off of Skidaway Road on Savannah's southside — has a capacity of 5,000 and has traditionally served as a primary playoff venue for SCCPSS teams as well as Benedictine in recent years.
Locker rooms will be at each end zone of the Savannah High stadium. A third building will contain the public restrooms and concessions areas.
At a cost of $5.2 million, the Savannah High stadium will have synthetic turf field striped for high school football and soccer; a press box; a fully HD scoreboard and field lighting (84 LED lights on four, 80-foot concrete polls).
It will also include a full 8-lane track around the field. The lighting for the stadium cost $544,565, according to SCCPSS meeting documents from May 5, 2021.
Follow Travis Jaudon on Twitter and Instagram @JaudonSports and contact him at travisLjaudon@gmail.com.