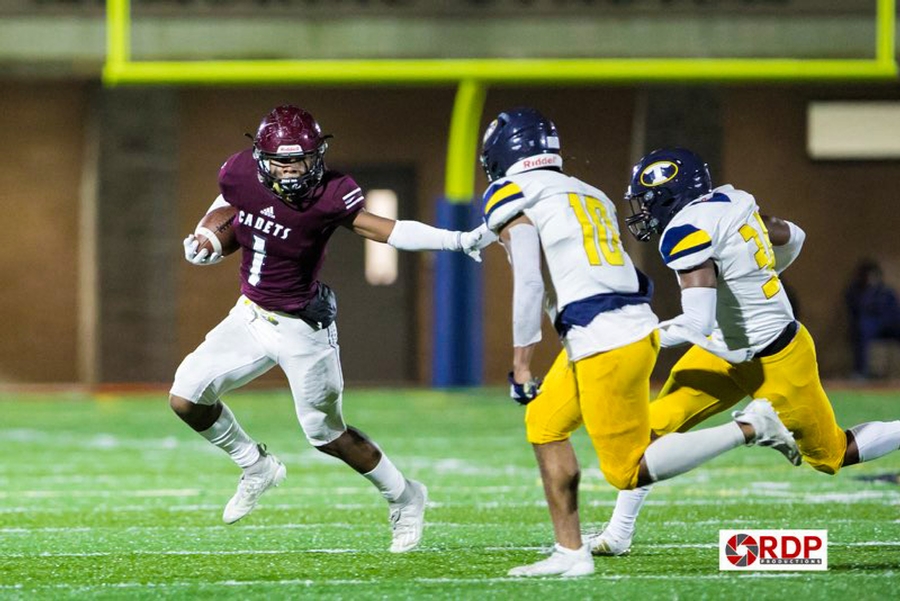 Second Round Preview: Five Savannah Area Schools Stiff Arm into GHSA State Playoffs
By Travis Jaudon/For The Prep Sports Report | December 2, 2020
Share This Story
Get ready for the second round of the GHSA football playoffs taking place this weekend by reading these preview capsules below.
Only one Savannah public school, Islands, advanced to the second round set for this Friday, December 4. However, Richmond Hill High School and private schools Benedictine, Calvary and Savannah Christian are all still alive.
The Cadets and Raiders are at home Friday while Islands, RHHS and the Cavs will have to travel.
Here's a look at each second round playoff game involving local schools this weekend across the state.
CLASS 6A
Richmond Hill at Westlake (Friday; 7:30 pm; Atlanta)
Reaching the Class 6A Final 4 last season, Richmond Hill beat up on Lakeside-Evans 56-0 in last week's first round to clinch the program's third consecutive appearance in a GHSA State playoff second round game.
It's a battle of top-10 teams, as Westlake finished the regular season ranked No. 3 in Class 6A by the AJC and Richmond Hill is slotted at No. 9.
Under head coach Matt LeZotte, RHHS has become a haven for 1,000-yard rushing seasons for running backs. Senior Wildcat running back Ashaud Roberson has 1,463 yards and 16 touchdowns on the ground this year. He has eclipsed the 100-yard mark in every game but one (last week).
Richmond Hill (9-2) averages 37.5 points per game behind Roberson, senior receiver Jordan Clark (25 catches, 628 yards, five touchdowns) and senior quarterback Tyler Coleman (1,504 passing yards, 12 touchdowns). The defense is led by defensive end Nathan Vickers (65 tackles, nine sacks).
Westlake (9-1) is the highest scoring team in all of Class 6A (40.7 points per game) and the Lions are led by one of the better quarterbacks in the state, sophomore RJ Johnson.
The Lions won Region 4-6A and have won seven straight region championships after winning six straight in multiple classifications before this year. Johnson has thrown for 2,664 yards and 20 touchdowns (four interceptions) in 10 games this season.
CLASS 4A
Cairo at Benedictine (Friday; 7:30 pm; Memorial Stadium)
In its 42-35 win over visiting Troup County last week, Benedictine unleashed its many weapons on offense as the Cadets scored 35 points in the first half to set the tone early and pave the way for the program's ninth consecutive win in first-round state playoff games.
Benedictine (7-2) is ranked No. 4 in Class 4A by the AJC and, as the Region 3-4A champ, is a 1-seed in the bracket. The top seeds are assured a minimum of two home playoff games.
Cairo (5-4) is a 2-seed from Region 1. By handling West Laurens in the first round, 37-0, Cairo earned its chance to meet the Cadets in Savannah this week.
The Syrupmakers have won five straight after losing their first four games of the season. Each team's last loss came on October 16.
BC junior quarterback Holden Geriner has passed for 1,996 yards and 19 touchdowns while throwing just one interception over 183 attempts. He leads an offense which is averaging 37.6 points through nine games.
The Syrupmakers are led on offense by quarterback Kevin Speed and playmaker Tay Solomon (433 rushing yards, six TD's), but it has been the defense which has kept the Cairo winning streak alive.
On the year, the Cairo defense is allowing 18.1 points per game, but during the streak, the unit has played even better, allowing 13.1 points per game over that span.
Senior kicker Noah Jones is committed to the University of Georgia and is 11 of 14 this season with a long of 54.
Islands at Bainbridge (Friday; 7:30 pm; Bainbridge)
Islands (7-1) is coming off a historic comeback win over Hardaway in last Saturday's first round game at Memorial Stadium. It was the first playoff win in Islands' program history; the milestone was achieved in grand style by first-year head coach DeShawn Printup and his Sharks.
Trailing 18-0 entering the fourth quarter, the Sharks scored 22 unanswered points over the next 10 minutes to earn their way into the second round of the state playoffs for the first time ever.
Senior IHS quarterback Jadon Adams threw the game-winning touchdown pass to Langston Lewis with just over two minutes left and John Dickerson clinched the win for IHS when he swiped his third interception of the game on Hardaway's final drive of the contest.
IHS was unranked in the final AJC poll, but the Sharks are the No. 10 team in Class 4A on MaxPreps. The offense averages 32.6 points per game and the defense is among the state leaders in scoring, allowing just 8.25 points.
A junior, Lewis leads the team with 25 catches for 293 yards and six touchdowns while the senior Dickerson has 23 for 343 and four. Adams has thrown for 995 yards and 12 touchdowns in eight games.
He has also been dynamic in the running game, racking up 379 yards and nine touchdowns on 93 carries. Senior running back Donovan Davelaar has run for 442 yards and five scores. Combined, the duo has scored 14 of the 15 IHS rushing touchdowns this season.
Bainbridge (8-3) is No. 6 in Class 4A (No. 3 on MaxPreps) and won the GHSA Class 5A state championship two years ago. The Bearcat throttling of visiting Westside-Macon (42-0) last week pushes their home record this season to 5-1 and keeps their winning streak rolling into the second round. BHS has won seven straight since starting the season at 1-3.
Senior quarterback Quayde Hawkins (1,563 passing yards, 18 TD's) and senior running back Rashad Broadnax (1,119 rushing yards, 15 TD's) lead a balanced BHS offense averaging 30.5 points per game.
Led by star junior playmaker Braxton Johnson (38 catches, 707 yards, 8 TD's), Hawkins has one of the deepest receiving units in the state at his disposal. Five Bainbridge receivers have at least 15 catches this season and seven have at least six grabs.
CLASS A-PRIVATE
St. Anne-Pacelli at Savannah Christian (Friday; 7:30 pm; Pooler Stadium)
Savannah Christian won Region 3-A and was treated to a bye in last week's A-Private first round. The Raiders (9-1) finished the season on a hot streak and ranked as the No. 8 in the final AJC Class A-Private poll.
Pacelli (8-3) is ranked No. 15 by the MaxPreps computers and the Vikings are coming off a first round victory over Mount De Sales, 37-3 last week to advance to this week.
It is Pacelli's first appearance in the second round since 2006.
SCPS also beat MDSA, 40-11, earlier this season. The Raiders are 5-1 at home and will enter having won six straight games thanks to excellent play down the stretch from many of head coach Baker Woodward's best players.
Quarterback Spencer Robicheaux has passed for 1,686 yards and 20 touchdowns while rushing for 546 and four. Carter Allen has rushed for 424 yards and eight scores while do-it-all guy Ely Brown has run for 430 yards and eight scores to go along with his 21 receptions for 462 yards and five TD's.
Linebacker Peyton Cromwell has 128 tackles and 10 TFL's.
The Raiders have posted a plus-177 scoring margin, scoring an average of 35.8 points per game while allowing opponents an average of 18.1 points.
Calvary Day at First Presbyterian
The Cavs have navigated their way through a difficult 2020 schedule and have found their way into a second round state playoff game behind senior running back Greg Daniel and a host of other offensive contributors.
A 2-seed in the Class A-Private bracket, Calvary (7-4) earned a de facto bye last week after Landmark Christian forfeited, citing COVID-19 concerns within the program.
An Army commit, Daniel has rushed for 1,173 yards and 12 touchdowns on 186 carries this year. Six Calvary receivers have at least 10 catches, including Brogan Korta and his team-high 37 receptions, 529 yards and seven TD's.
First Presbyterian (9-4) last played a second round state playoff game in 2017. The Cavs made it to the Class A-Private second round in 2018.
Boasting similar offensive numbers coming into the game, both FP and CDS average 25.4 points per game.
Follow Travis on Twitter @JaudonSports and email him at travisLjaudon@gmail.com.
Benedicitne Military School, Calvary Day School, & Richmond Hill High School, are supported by Optim Orthopedics. The team doctors are Dr. David Palmer and David Sedory. Dr. Palmer is the team physician for Calvary Day School and Richmond Hill High School. Dr. Sedory is Benedictine's team doctor. Remember, Optim Orthopedics gets you back into the game!
Photo by Kyunnie Shuman (HV Jenkins Warrior Alum) Sports Photography Savannah, GA at rdpproductions.com