The Stem Academy (12-0) team advanced to the Savannah Chatham County Public School System (SCCPSS) Middle School Championship undefeated and won the SCCPSS Championship over Godley Station 2-0 (20-6, 20-15)!
The Ravens swept Godley Station Middle School (10-1) in the tournament finals, who also came into the match undefeated. According to Co-Head Coach William Buckley, the Stem Academy did not drop one game all year and in the championship tournament. The Ravens had six out of the fifteen girls on the team returning.
"We had a great group of girls returning from last year, and I knew we had something special coming back," said Buckley. "The team had great leadership, especially our captains, Katelyn Mundy, Kit Thompson, and Adeline DeLashmet. They kept the team together and led them to work hard throughout the season."
The Ravens defeated DeRenne Middle school in the first round 2-0 and, in the semi-finals, also swept Charles Ellis 2-0. The SCCPSS BOE Athletics Department staff chose a Most Valuable Player from the two final teams. From the runner-up team, the Stallions of Godley Station was Sheyra Moreno-Ramirez. For Stem Academy, the MVP was Katelyn Mundy.


Coach Buckley said, "Kaitlyn does well in the classroom as she does on the court. Besides being captain of the volleyball team she was captain of our softball team and she was just elected the captain of the basketball team. She led the team through thick and thin even through the hard times. She is a three-star athlete at stem Academy and she is an A+ student. She is a great role model for the other students at school."
Stem Academy 2022 Volleyball Championship Roster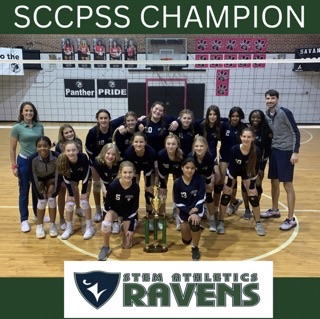 #1 Sophie Heisler
#2 Krish Bodalia
#3 Mia Whitmore
#5 McKay Bennett
#6Delanie Lanier
#7 Aaliyah Arndt
#8 Krystin Dixon
#9 Adeline DeLashment
#10 Emily Carter
#11 Katelyn Mundy
#12 Alex Mackowiak
#13 Alyssa Gibson
#14 Macey Watkins
#15 Isabella Jaqua
#20 Kit Thompson
Co-Head Coaches: Lauren Kelly and William Buckley
Godley Station 2022 Volleyball Championship Runner-up Roster

#1 Paris, Mobbly
#2 Ada-Katherine Sasser
#3 London Wright
#4 Wayanna Vickerie
#5 Nia Mills
#6 Kristen Ramsey
#7 Sabanati Hassan
#8 Lyleigh Bradshaw
#9 Mila Kramer
#10 Isabella Martinez
#11 Sheyra Moreno-Ramirez
#12 Kadence Jordan
#13 Esam Ezziat
#14 Amiya Jordan
#15 Peyton Giles
#16 Emani Purvis
#18 Angalika Clemmons
Head Coach: Heather Gillespie
PHOTO CREDIT - SCCPSS BOE Athletics Department & Stem Academy