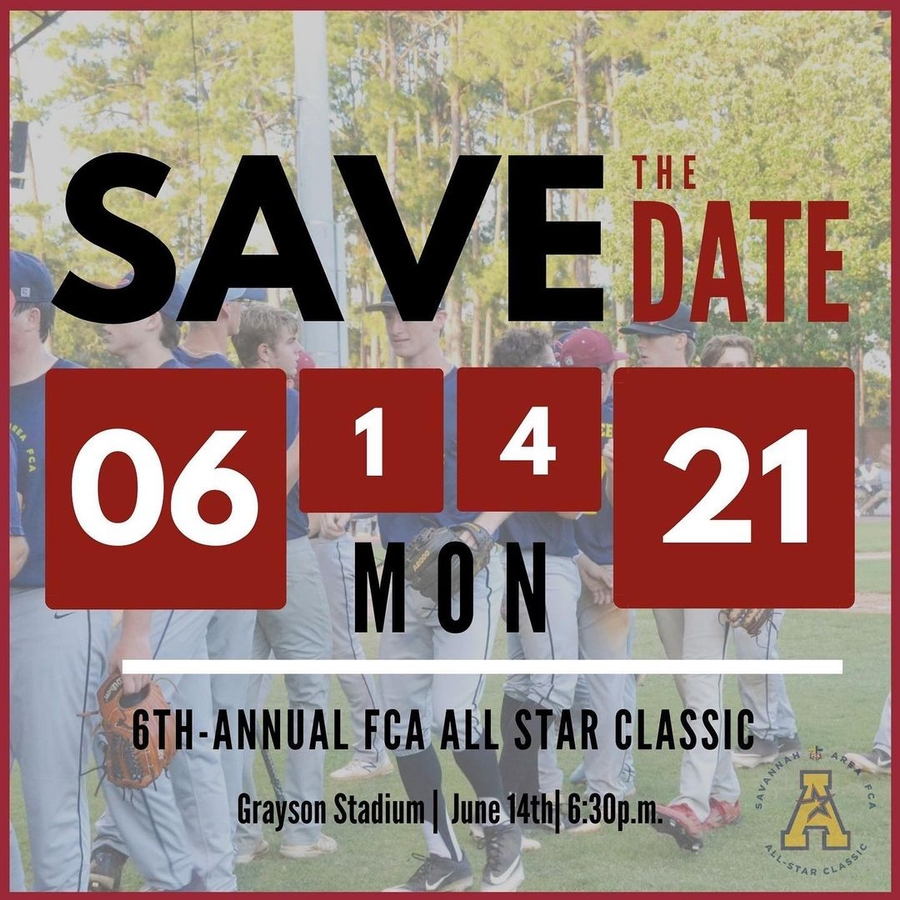 The Baseball Stars Come Out Monday Night June 14 at Grayson Stadium
By Travis Jaudon/For the Prep Sports Report | June 10, 2021
Share This Story
The 6th annual Savannah Fellowship of Christian Athletes All-Star Baseball Classic is set for Monday, June 14 at Grayson Stadium in Savannah. First pitch between the County team and the City team is slated for 6:30 p.m. and the City squad will be the designated home team.
Since 1954, the Fellowship of Christian Athletes has been challenging coaches and athletes on the professional, college, high school, junior high, and youth levels to use the powerful medium of athletics to impact the world for Jesus Christ," reads the Association's website. "FCA focuses on serving local communities by equipping, empowering, and encouraging people to make a difference for Christ."
Richmond Hill's Scott Strickland will be the head coach for the City team while The Habersham School's Tim Rowland coaches the county team.
Players from around Savannah and Chatham County -- at both public and private schools -- are selected to the game annually and assigned to teams based on their school's location. City players this year were chosen from the following schools: Islands, St. Andrew's, Windsor Forest, Memorial Day, Benedictine, Calvary Day, Habersham School and Jenkins.
County team members come from Richmond Hill High School, Savannah Christian, Effingham, South Effingham, Bryan County, New Hampstead and Coastal Homeschool.
Full rosters are listed below. For more information about the FCA, the game and its history, visit Savannah Area FCA on Facebook or at the web address, www.savfca.org. Purchase tickets in advance at https://fca.regfox.com/2021gaallstarclassic.
Concessions will be sold at the game and Bananas Public Address Announcer Mark "Shark" Edis will be on the mic. The game will be broadcast on the radio live on www.LowCountryRadio.com.
Follow Travis Jaudon on Twitter & Instagram @JaudonSports for live updates from the game. Contact him at travisLjaudon@gmail.com.
ALL_STAR ROSTERS
COUNTY TEAM -- SCOTT STRICKLAND -- HEAD COACH -- RICHMOND HILL
Hunter Legas 1 Richmond Hill P/INF
Ely Brown 2 Savannah Christian OF/P
Evan Cowan 4 Richmond Hill P/OF
Ethan Riley 5 New Hampstead OF
Cooper George 7 Savannah Christian OF/P
Luke Boone 8 Richmond Hill P/OF
J.D. Coleman 9 Effingham C
Leighton Finley 10 Richmond Hill P/SS
Joey White 11 Savannah Christian P/INF
Daegan Strickland 12 Savannah Christian C
Joey Marshall 13 New Hampstead C
Kaleb Johnson 14 S Effingham OF
Aaron Benton 15 S Effingham C
Hunter Waltour 17 S Effingham UTIL
Konnor Leggett 18 Bryan Co OF
Mitch Cowan 19 Richmond Hill 3B
Aaron Bailey 20 Bryan Co 1B
Trent Newberry 22 Effingham OF
Nick Milbrant 23 S. Effingham P/1B
Spencer McKee 25 Coastal Homeschool 3B/2B
Jackson Byrom 26 Coastal Homeschool RHP
Robbie Harper 27 Coastal Homeschool RHP
Matthew Ford 28 Effingham 1B
COACHING STAFF
Scott Strickland 21 Richmond Hill Head Coach
Jesse Osborne 16 Richmond Hill Pitching Coach
Matt Oglesby 6 Savannah Christian 3rd Base Coach
Chaise Parker 5 Richmond Hill 1st Base Coach
Kyle Farmer 3 BC Bench Coach
CITY TEAM -- TIM ROWLAND -- HEAD COACH -- THE HABERSHAM SCHOOL
Devin Willman Islands 1B/P
Chase Williams Islands 3B/P
Langston Lewis Islands OF/MINF
Anthony Kusilka St. Andrew's OF
Gabe Barnhill St. Andrew's INF
Will Livingston St. Andrew's OF
Moises Mejia Windsor Forest INF
Dalen Jacobs Windsor Forest OF
Khani Turnbull Windsor Forest 2B/SS
Carson Lane Memorial RHP
Patrick Blake Jenkins P/UTIL
Josh Bieber Jenkins P/OF
Preston James Jenkins P/UTIL
Brooks Dawson Calvary C/OF
Brandon Exley Calvary P/INF
Will Hampton Calvary LHP/1B
Thomas Tift Habersham SS
Henderson Hughes Habersham C
Jack Hogan Habersham 3B
Reeder Chambers Habersham OF
Dalton Brown Country Day
Ty Schneider Country Day
Parker McCoy BC 3B/P
Charles Pulaski BC OF
Will Walker BC 1B/P
Trent Warren BC C
COACHING STAFF
Tim Rowland - Head Coach Habersham School
Scott Abernathy - 3rd base coach St. Andrew's
Seth Gaspin - Pitching Coach Jenkins
Tyler Helmly - Bench Coach Memorial Day School
Chaston Hart - 1st base coach Habersham School
Bruce Fussell - Official scorekeeper Coastal Homeschool
Optim Orthopedics supports Benedictine Military School, South Effingham High School, Richmond Hill High School, St. Vincent's and Savannah Country Day School athletics. Benedictine Military School's team doctor is Dr. David Sedory. The team doctor for Richmond Hill and South Effingham is Dr. David Palmer and Dr. Thomas Alexander is the team doctor for Savannah Country Day and St. Vincent's. Remember, Optim Orthopedics gets you back into the game!