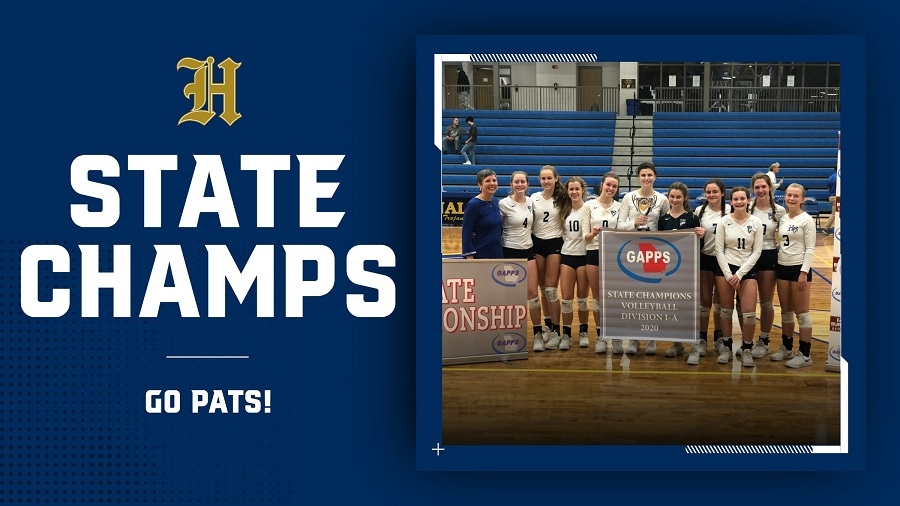 The Habersham School Volleyball Team Three Peats GAPP State Title!
By Special for the Prep Sports Report | October 19, 2020
Share This Story
For the 5th time in the last 6 years and the third year in a row, The Habersham School is volleyball state champions. The Lady Patriots defeated Alleluia Christian in the semifinals and Oakwood Christian in the finals to claim the Georgia Association of Private & Parochial School D IA State Championship.
The Patriots defeated Alleluia 25-21, 25-17. Jordan Christy led the way with 18 kills and 3 aces, Lucy Kelly had 22 assists, Makenzie Sparks had 2 kills and a block, and Peyton Burnsed had 7 digs. In a tightly contested championship match, Habersham defeated Oakwood Christian 25-17, 24-26, 25-22, 25-21. Again it was Christy with 35 kills, 4 aces, 2 blocks and 9 digs, Kelly had 44 assists and 8 digs, Sparks had 6 kills, 2 blocks and 11 digs, Anna Thompson had 8 kills, 2 blocks and Peyton Burnsed had 18 digs.
Photo by The Habersahm School