During the last few weeks, defending National Football Champions Georgia Bulldog football players decided to give back to their communities. One of the Georgia Bulldogs is a defensive linemen from Savannah, Warren Brinson, did the same this past weekend.
Before Christmas, quarterback Stetson Bennett took ten kids shopping for a $200 shopping spree each. Safety Malaki Starks and tight end Brock Bowers went shopping with 16 kids at Dick's Sporting Goods as part of a charity event. Micah Morris, an offensive lineman, used money from his Name Image Likeness (NIL) deals to buy 100 Christmas gifts and handed them out through the Boys and Girls Club in Athens.
Savannah's Warren Brinson also gave back to his community as he spent time with four Savannah siblings, spending over $1000+ to make this a wonderful Christmas for some special kids. As posted on Twitter through former Savannah standout athlete Javonte Middleton couldn't have been told any better. Read the post below from Christmas Eve, 12.24.2022.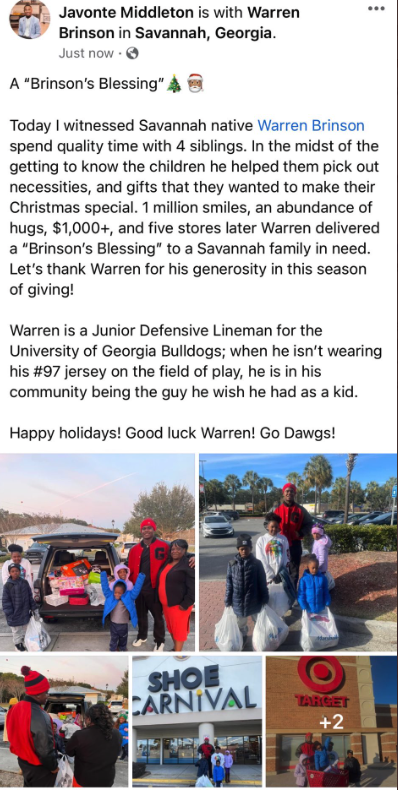 Remembering your community is what it is all about, not receiving but giving back when you can. If this isn't special, a young man, Warren Brinson, from his hometown being the guy that made Christmas special for others. A job well done Warren!
PHOTO CREDIT: Javonte Middleton's twitter page