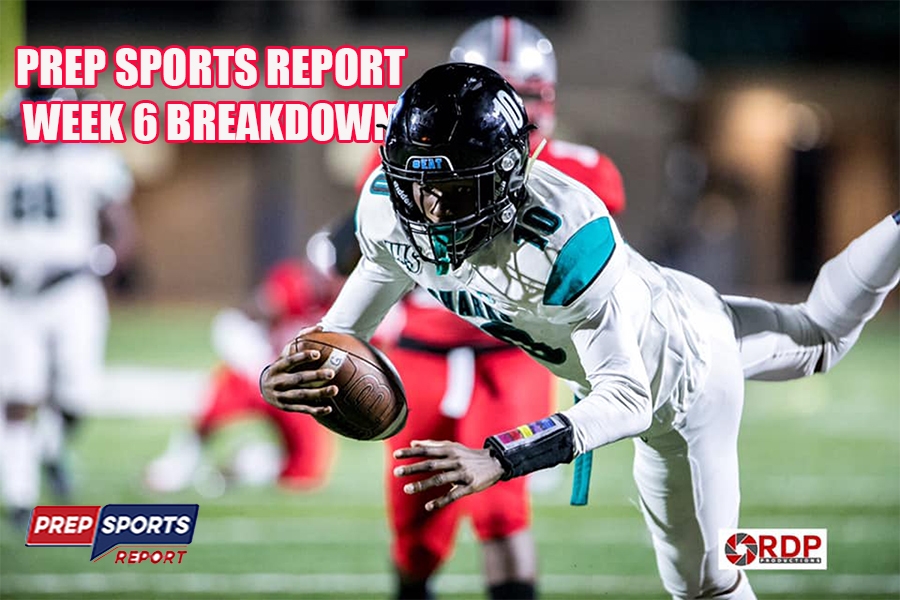 Week 6 Preview Capsules for Savannah Area High School Football
By Travis Jaudon/For the Prep Sports Report | October 9, 2020
Share This Story
The Savannah Chatham County Public School System conducted its first week of games in the GHSA's fifth week of action on Friday, Oct. 1 around the city. Islands earned its first ever win over a top-10 ranked team in the state, knocking off Class 4A No. 6 Jenkins, 26-8.
Now ranked as the Atlanta Journal-Constitution's No. 10 team in Class 4A, the Sharks (1-0) open the local Week 6 action with its first ever game at the new SCCPSS Islands Stadium on Thursday at 7 p.m. against Johnson (1-0). Jenkins will also need to rebound on a short week, as the Warriors (0-1) take on Beach Thursday at Memorial Stadium (7 p.m.).
But, despite the public schools returning, it was Savannah's private schools who stole the spotlight in Week 5. Savannah Country Day, Calvary, Savannah Christian and Benedictine all won last week.
Here's a look at some of the best games in the area for Week 6.
A full schedule for games this week can be found below.
BENEDICTINE at WARE COUNTY
The long awaited showdown between top-3 teams in their respective classifications is finally here.
Kickoff between the Atlanta Journal-Constitution's Class 4A No. 3 Cadets (5-0) and Class 5A No. 3 Gators (4-0) is set for 7:30 p.m. in Waycross. The game will be broadcast on WSAV-CW as well as being live online for free, streaming at WSAV.com.
Benedictine is coming off of a road win at Wayne County last week in Jesup. The Cadets won 41-29 as Holden Geriner was 16 of 20 passing for 215 yards and four touchdowns. Senior receiver Trent Broadnax, a Duke commit, had six receptions for 95 yards and three touchdowns.
Last week, Ware knocked off Bainbridge 35-30 after trailing 23-14 in the third quarter. Junior quarterback Thomas Castellanos rushed for 166 yards and a touchdown and was 16 of 26 passing for 296 yards and three touchdowns.
It was the eighth win for Castellanos against a top-10 team and the dual-threat being recruited by Georgia Tech and Kansas (among others) has 3,265 yards passing and 2,264 rushing in his career as a Gator. He is a state player of the year candidate and was named the Georgia state player of the week by Georgia High School Football Daily for Week 5.
STRATFORD ACADEMY at SAVANNAH COUNTRY DAY
What a way to enter Week 6 for the Hornets.
Last week in Macon, Country Day (1-2) overcame a 21-0 deficit after three quarters to win 28-24 over previously undefeated Tattnall Square (3-1).
SCDS went on a 28-point scoring spree in the fourth quarter and took the lead for good with a Barry Kleinpeter rushing touchdown with 11 seconds left on the clock. Kleinpeter also tossed a TD to Kenny Odom earlier in the contest.
The Hornets trailed 24-14 with 3:44 remaining, scoring two touchdowns thanks to an onside kick recovery in the middle of the scores.
Stratford Academy now comes south to Savannah for a revenge game of sorts for the city of Macon. It'll be the first home game of the season for head coach Jim Collins and Country Day.
The Eagles are entering with a record of 1-1 on the season and SCDS knocked them off last year in Macon.
CALVARY DAY at STRONG ROCK CHRISTIAN
Senior running back Greg Daniel rushed for 179 yards and four touchdowns in last week's 42-17 Calvary victory over visiting First Presbyterian.
The Cavs (3-2) have lost twice on the season, both times to Class A-Private top-10 teams.
Calvary fell in Week 1 at No. 2 Prince Avenue Christian (4-1) before losing two weeks ago at No. 7 North Cobb Christian.
MT. DE SALES ACADEMY at SAVANNAH CHRISTIAN
SCPS enters this week's game at Pooler Stadium with a record of 4-1 after a road win last week in Albany. The Raiders knocked off Deerfield-Windsor in impressive fashion, winning SCORE.
Spencer Robicheaux has thrown for 1,048 yards and 11 touchdowns (three interceptions) and George Futch has 23 catches for 498 yards to lead the Raider offense. Futch received a scholarship offer, his first, from Savannah State this week.
Mount De Sales (2-1) is ranked No. 10 among class A Private schools in the Georgia Public Broadcasting (GPB) poll for this week. SCPS is ranked No. 10 according to the computer generated Maxwell Ratings.
Follow Travis Jaudon on Twitter @JaudonSports and contact him at travisLjaudon@gmail.com.
Full Week 6 Schedule
(All kickoffs 7:30 p.m. unless otherwise noted)
Thursday, Oct. 8
Beach at Jenkins (Memorial Stadium), 7 p.m.
Johnson at Islands (Islands Stadium), 7 p.m.
Friday, Oct. 9
Richmond Hill at Bradwell Institute
South Effingham at Effingham County
Benedictine at Ware County
Savannah High at Windsor Forest (Islands)
New Hampstead at Groves (Garden City Stadium)
Screven County at Bryan County
Calvary Day at Strong Rock Christian
Mount de Sales at Savannah Christian (Pooler Stadium)
Stratford Academy at Savannah Country Day
Hilton Head Christian at Bethesda (Memorial Stadium)
Memorial Day at Thomas Jefferson
Photo - Kyunnie Shuman RDP Productions