Some things in life are given, and Benedictine baseball teams winning in the state playoffs are one of them lately in Savannah, Georgia, prep high school baseball. The Cadets won 7-3 over visiting Troup County in Game 3 on Tuesday, winning the GHSA Class 4A quarterfinal series (best-of-three), and clinching their spot in the state semifinals this weekend.
The No. 3 ranked team in 4A entering the playoffs, Benedictine (30-6), split Monday's doubleheader with the No. 5 Tigers (26-12) to set up the deciding Tuesday matinee.
Excluding the 2020 season (canceled for COVID-19 concerns), BC has been in the state semifinals three times in the last four seasons. The run began with a state championship in 2018, and last season, Farmer's team fell just short of winning it all, losing in the state championship.
Revenge may be on the docket. The Cadets host No. 1 North Oconee in a best-of-three semifinal series beginning Saturday, May 14, for the right to get back in the championship series for a second straight year.
In Tuesday's Game 3 win, Benedictine wasted no time setting the tone in front of a packed home crowd at Brian Parker Field. The Cadets scored four runs in the first inning and two more in the second before cruising to victory.
Justin Thomas led off the bottom of the first with a single before advancing to second on a wild pitch. Parker McCoy's double drove home Thomas for an early 1-0 lead, and McCoy would later score alongside Ben Hollerbach thanks to Charles Pulaski's two-run single to left field. Pulaski also scored in the first to make it 4-0. Three consecutive second inning hits by McCoy, Hollaback, and Carter Welch sparked a two-run second inning tally for the Region 3-4A champion Cadets.
Kam Edge earned the win on the mound, giving up two runs and scattering four hits over 4 ⅔ innings. He struck out seven Tiger batters and threw 93 pitches in a gutsy performance by the senior. Junior Kaden Tuten went 2 ⅔ to earn the save and protect the lead handed to him.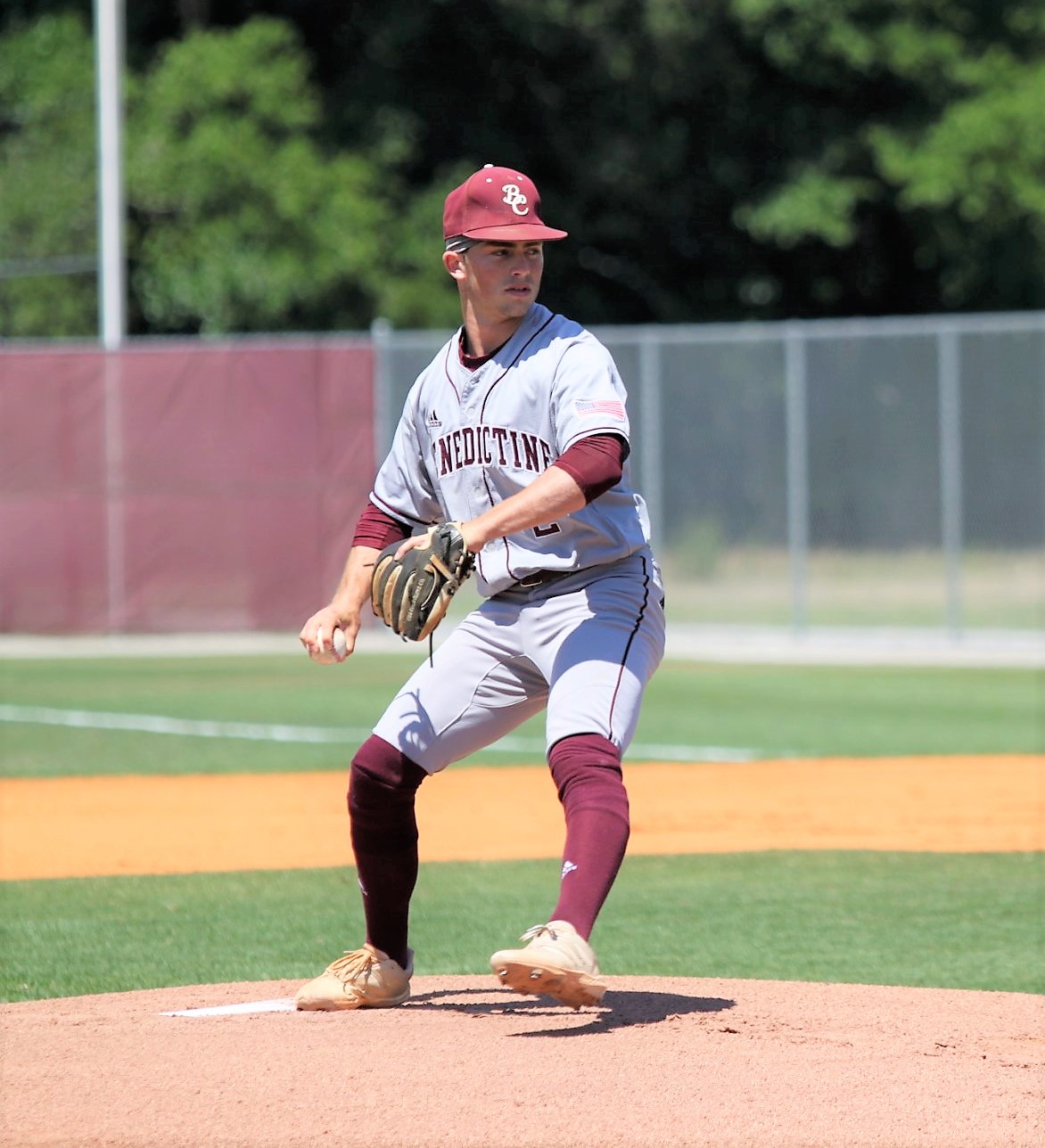 BC Starting Pitcher - Kam Edge
For the Tigers, Tripp Cummings absorbed the loss on the mound after surrendering three runs in the first inning without recording an out. He faced four Cadet batters before being pulled, allowing two hits, a walk, and a hit batter.
McCoy was 2-for-3 with a walk and a double out of the 2-hole in Farmer's lineup. He drove in one and scored twice, as did Hollerbach (1-2, two walks). BC had eight hits and earned six free passes, showing patience at the plate, a staple trait for seemingly every Cadet player.
TC – 0000 - 210 – 3 - 5 - 0
BC – 4200 - 10X – 7 - 8 - 1
W – Kam Edge
L – Tripp Cummings
S – Kaden Tuten
CLASS A-PRIVATE QUARTERFINAL (BEST-OF-3)
GAME 1
SAVANNAH CHRISTIAN 4, FELLOWSHIP CHRISTIAN 3
The No. 6 ranked Raiders scored four runs in the final three innings to erase a 3-0 deficit and shock the visiting Paladins in the series opener at Raider Field.
With the game tied at 3-3 in the bottom of the seventh, SCPS junior Daegan Strickland stepped to the plate and roped a double to score sophomore Luke Rowland, who pinch ran for Ethan Macklin after Macklin had reached second on a two-base error by the freshly inserted Fellowship pitcher, Griffin Guinther.
Josh Gates' single in the sixth inning scored two Raider runs, tying the game at 3-3. The junior also stole a base, his sixth of the season. The Raiders did not commit a single error in the contest, while the Paladins tallied four blunders.
Jayden White (4-1) got the win for SCPS, but it was Macklin (7-2, 2.72 ERA) who started on the mound for head coach Matt Oglesby's club, and the junior right-hander kept his team in it the whole way. Macklin threw 108 pitches (69 strikes) across six innings of three-run ball while striking out five and walking three in a no-decision.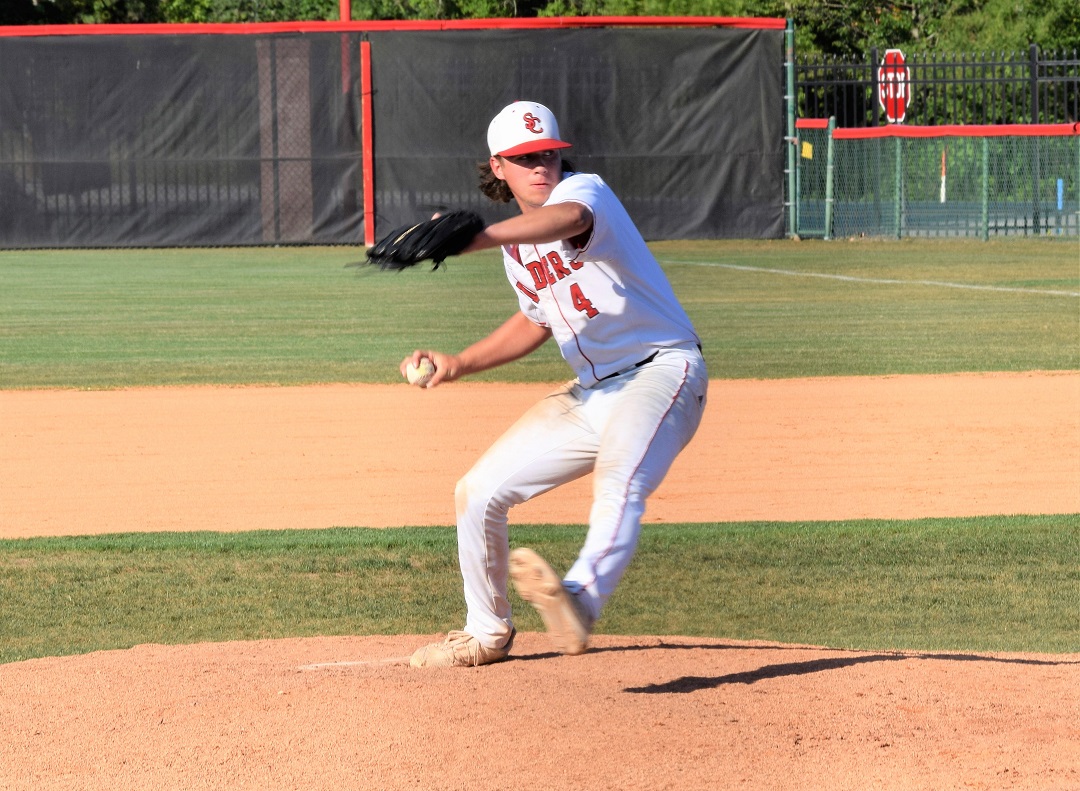 SCPS - Pitcher Ethan Macklin
Daniel Powell's solid start was wasted in the loss for Fellowship. He threw six innings, allowing just one earned run and five hits with six punchouts against a tough Raider offense.
FC – 1100 - 100 – 3 - 6 - 4
SC – 0000 - 121 – 4 - 6 - 0
W – Jayden White (4-1).
L – Griffin Guinther.
GAME 2
FELLOWSHIP CHRISTIAN 6, SAVANNAH CHRISTIAN 0
The Paladins returned the favor in the nightcap of the doubleheader, shutting out the Raiders while holding the Savannah Christian offense to just three hits.
Bowen Hudson was sensational as the winning pitcher for the Paladins. Hudson threw a complete-game shutout, allowing just three hits and one walk while striking out 10 Raider batters. He threw 99 pitches (70 for strikes) and faced 25 batters to record 21 outs.
Daegan Strickland (7-4) was the losing pitcher for the Raiders. He went four innings and allowed six runs (five earned), including four in the second inning. Prior to the four-spot, Strickland had pitched 12 straight scoreless innings dating back two games.
Evan Lowrimore collected two of the three SCPS hits. Ely Brown's single accounted for the other.
Game three is set for Wednesday at 1:30 p.m. at Carl Carter Field on the campus of Savannah Christian.
SC – 0000 - 000 – 0 - 3 - 2
FC – 0402 - 00X – 6 - 5 - 0
W – Bowen Hudson.
L – Daegan Strickland (7-4).
Photos - Story cover & SCPS pitcher - Prep Sports Report
Kam Edge picture BC Communications Director Noell Barnidge
FOLLOW Travis Jaudon on Twitter/Instagram @JaudonSports. Email him at travisLjaudon@gmail.com.
Optim Orthopedics supports Benedictine Military School athletics. Benedictine Military School's team doctor is Dr. David Sedory. Remember, Optim Orthopedics gets you back into the game!