Robert Price, CEO at Elite Minds LLC, has worked with hundreds of athletes in a diverse variety of sports to set goals, problem solve and create lifelong success strategies.
Price began working with University of Notre Dame fencer Nicole Pustilnik in December 2021, initially to help her overcome feelings of burnout that prevented her from performing at her peak in high caliber international events.
Pustilnik aspires to qualify for the Israeli Olympic fencing team in 2024, and her list of accomplishments at 19 years old is remarkable. Her weapon of choice is the foil, and she finished 6th in her discipline in the 2022 NCAA Championship as a freshman as Notre Dame won its second consecutive national championship.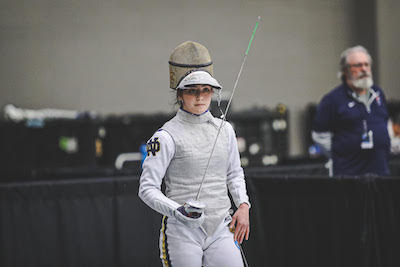 To close the 2020-21 season, Pustilnik was ranked No. 1 in the world for Junior Women's Foil and placed 2nd in Junior Women's Foil at the 2021 Junior World Championships in Cairo, Egypt as well as 2nd in Junior Women's Foil at the 2020 San Jose World Cup.
But driving herself to attempt to qualify for the Tokyo Olympic games and the grueling schedule of collegiate fencing had eroded her passion for the sport.
"I was not enjoying the sport anymore, and I knew I couldn't fix it on my own," said Pustilnik, whose mother discovered Price and Elite Minds, LLC online. (Price) quickly brought me back from hating fencing to being excited to go back to practice. He quickly helped me understand that the journey and progress should be the most exciting thing."
Price said he and Pustilnik walked through establishing the correct mindset and setting different types of goals. He said the fencing phenom made incredible strides in a very short amount of time.
"A lot of the work I do with elite or potentially elite athletes is trusting the process," Price said. "I know what we work on will work, but I have to work with the athlete to get them to that place. Pustilnik and her coach trusted the work we were doing in the mental space, and that allowed her to unlock her true ability level."
With Pustilnik, Price asked her to take advantage one of her strengths – strategy analysis. He recommended that she approach practice like a coach, even to the point of sharing that approach with her teammates.
"What (Price) did was asked me where I was in a non-judgmental way and provide me with some resources and initial strategies," Pustilnik said. "I started communicating more about what was happening at practice and utilizing my strengths to help me work on my weaknesses."
Price, who played football at the University of Pittsburgh and holds Masters degrees from both the University of Maryland Johns Hopkins University, founded Elite Minds in 2000 and has since worked with a wide range of athletes that includes collegiate and professional kickers, amateur tennis players, golfers of all levels, basketball players, gymnasts, hockey players, lacrosse players, soccer players, ice skaters, field hockey players and track and field athletes.
Elite Minds is a mental performance coaching and consulting service that works with athletes to help them reach and exceed their potential on and off the field. Through proven mental skill techniques, athletes are led to more consistent performances even in the face of adversity.
"(Working with Elite Minds) has 100% contributed to me being more successful," said Pustilnik, who placed 1st in Junior Women's Foil at the 2019 Eden World Cup in London and 1st in Cadet and Junior Women's Foil at the 2018 Junior Olympics. "(Price) has been extremely supportive and patient with me as well as very innovative and creative. He's taught me that mental recovery is just as important as physical recovery, and he's taught me a lot about myself."
Price has received training in Mindfulness Meditation at the University of Miami under Dr. Amishi Jha and achieved a Level III Master Resilience Trainer from the University of Pennsylvania. He is also a certified therapist using Eye Movement Desensitization and Reprocessing (EMDR) certified by EMDRIA and a licensed clinical professional counselor in the state of Maryland and Georgia.
Visit the Elite Minds website to learn more about Elite Minds LLC and Robert Price or schedule a consultation.