A local high school student/athlete became the first bass fisherman from his school to earn a scholarship thanks to his skills in the classroom and with a rod and reel. Matthew Gunn, a Savannah Christian Preparatory School senior, committed last week to bass fish at Erskine College, which was announced on the SCPS Twitter page. Matthew has competed on the Raiders Bass Fishing Team for five years, according to SCPS Bass head coach Brian Gunn.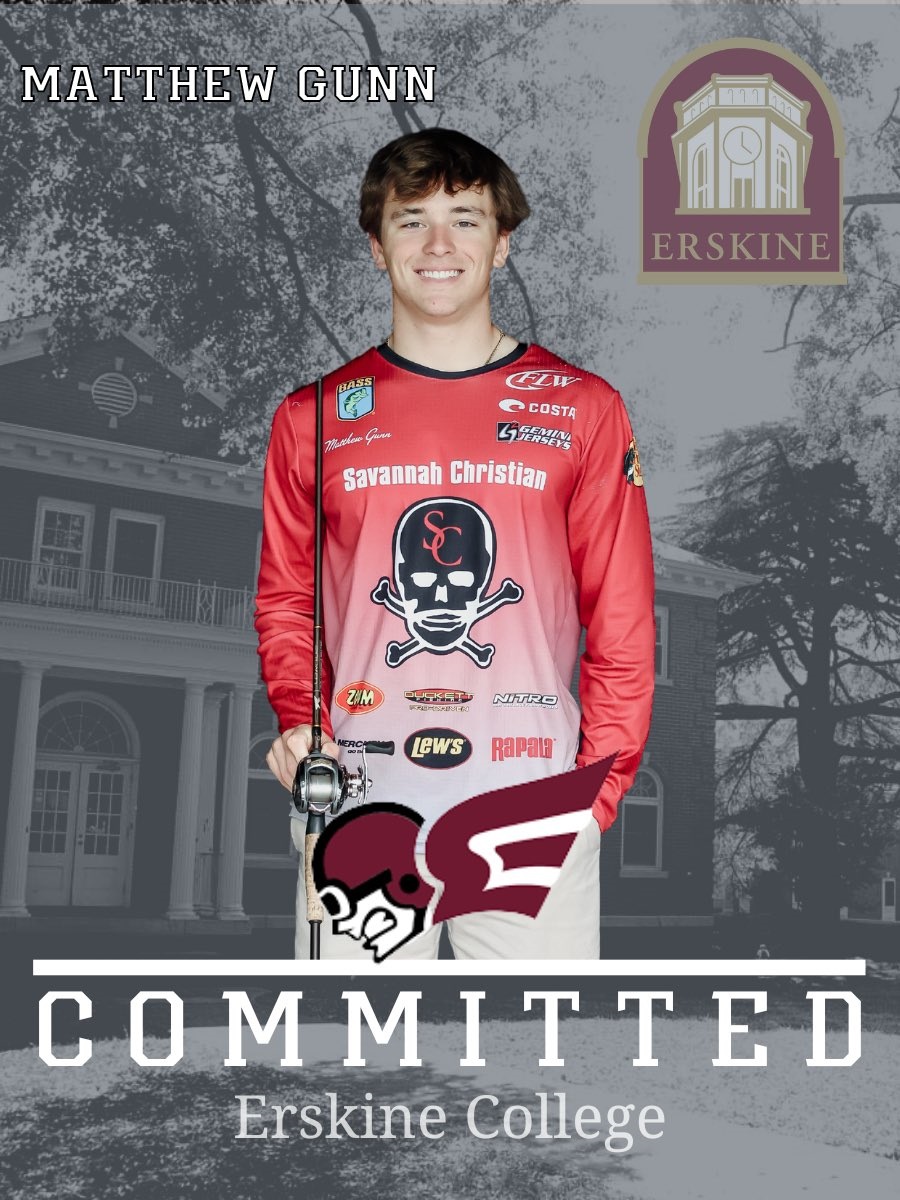 "Matthew is the first Raider to get a bass fishing scholarship. I started the club at Savannah Christian in the fall of 2018 and we began competing in GHSA high school tournaments in 2019. He was in 8th grade then but had an older high school partner, making them eligible. This is his fifth season fishing high school tournaments," stated Gunn.

Matthew discussed getting the offer to bass fish at the next level on the Karl DeMasi Sports Report Internet Show with his brother Luke as the Wetherington Chiropractic Clinic Athletes of Week on March 11, 2023.
The Karl DeMasi Sports Report Channel - A little bass fishing & rugby on the Karl DeMasi Sports Report 03.11.23
"I got in touch with Eskrine because of football, and they wanted me to play football there. I knew, I mean, and I love football and all, but it wasn't my goal or passion for college, and ever since I was in middle school and heard about college bass fishing, that's what I wanted to do. I talked to the coach on the phone and introduced myself. I sent him my tournament resume of all my bass tournament finishes over the past four years, and he said he liked it. So then we talked again and Eskrine College Head Bass Coach Jason Williamson offered me the scholarship and I was committed," said Gunn.
Matthew was an honorable mention selection to the Savannah Morning News all-area football team. Head football Coach Baker Woodward, the SCPS faculty representative for bass fishing, praised Matt and said, "Matthew has played varsity football since he was a freshman. He has been our starting punter since his sophomore year; this year, he was also our starting defensive cornerback. Since I have been at Savannah Christian, Matthew has been playing football. Matthew works extremely hard at whatever he does, whether in the classroom, in weight-room training for football, and in the boat practicing his craft for hours in preparation for a tournament. Fishing is in his genes since his dad Brian Gunn has been winning tournaments on the Savannah River and all over Georgia and South Carolina for the past 20 years."

Eskrine Head Bass Fishing coach, Jason Williamson, has noticed the same as Coach Woodward. "Matt has a lot of success on the water. We look for a kid with a lot of passion, and Matthew has a lot of passion. He also comes from a good family background. His father and Matt do a lot of fishing together. They are always on the water; academically, he has great grades and is committed to his academics. That is what we want in a college recruit," said Williamson.

Starting this fall, Matthew will enroll in classes at Erskine College in Due West, South Carolina
PHOTO CREDIT: SCPS Athletics Twitter page