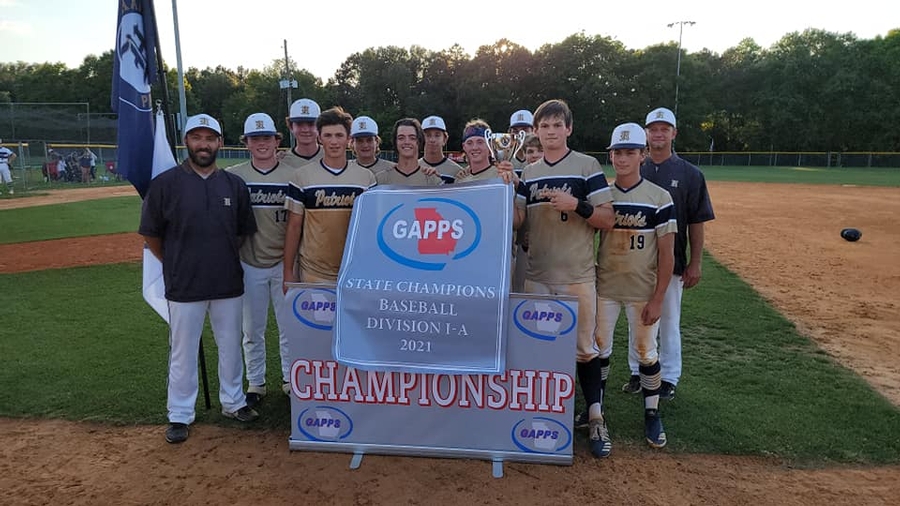 Habersham School Baseball Dominates in State Championship Sweep
By Travis Jaudon/For the Prep Sports Report | May 17, 2021
Share This Story
The Habersham School swept Vidalia Heritage Academy in dominating fashion last weekend in Vidalia to claim the program's first ever state title.
In the Georgia Association of Private & Parochial Schools (GAPPS) Division A best-of-3 series, the Patriots won the opener 14-1 in five innings before an 11-1 victory (six innings) sealed the deal in Game 2.
The Patriots won game one 14-1 in five innings and game two 11-1 in six innings. THS (21-6) was led by a group of five seniors who were with the program during its inaugural season four years ago. During the two games combined, the Patriots rattled off 23 hits in total.
Game 1
THE HABERSHAM SCHOOL 14,
VIDALIA HERITAGE ACADEMY 1
(5 Innings)
Habersham scored six runs in the third and six more in the fifth frame to run away from VHA, setting the tone for the afternoon.
Thomas Tift was 3-for-4 with three runs scored and four batted in to go with a homer from the leadoff spot. Jack Hogan was 2-for-4 behind him in the 2-hole and Luke Rowland launched a fifth inning grand slam to cap off his 2-for-4 showing.
Vidalia Heritage got a JT Cofield solo homer in the first and never scored again against Rowland, the Habersham starter on the mound. Rowland allowed three hits and one run over five innings, striking out four and walking one.
Mason Beacham took the loss for Vidalia. He was roughed up for nine runs on nine hits over four innings of work. He struck out three.
Game 2
THE HABERSHAM SCHOOL 11,
VIDALIA HERITAGE ACADEMY 1
(6 Innings)
The Patriots scored in all six frames, including three-run efforts in the second and fourth-innings to complete the series sweep in easy fashion.
Hogan earned the win as the starter for Habersham on the bump. He tossed six innings of one-run ball, scattering five hits and striking out seven. He didn't walk a batter. Hogan also doubled, stole a base, and drove in three runs while finishing 2-for-4 at the dish. Tift stole four bases and scored four more runs atop the Patriot lineup.
Cofield took the loss for VHA. He lasted five ⅓ innings but gave up 12 runs and 11 runs.
Rowland was 3-for-4 with three runs scored and two RBI.
Photo courtesy of Ed Yannett.
Follow Travis Jaudon on Twitter and Instagram @JaudonSports and contact him at travisLjaudon@gmail.com.