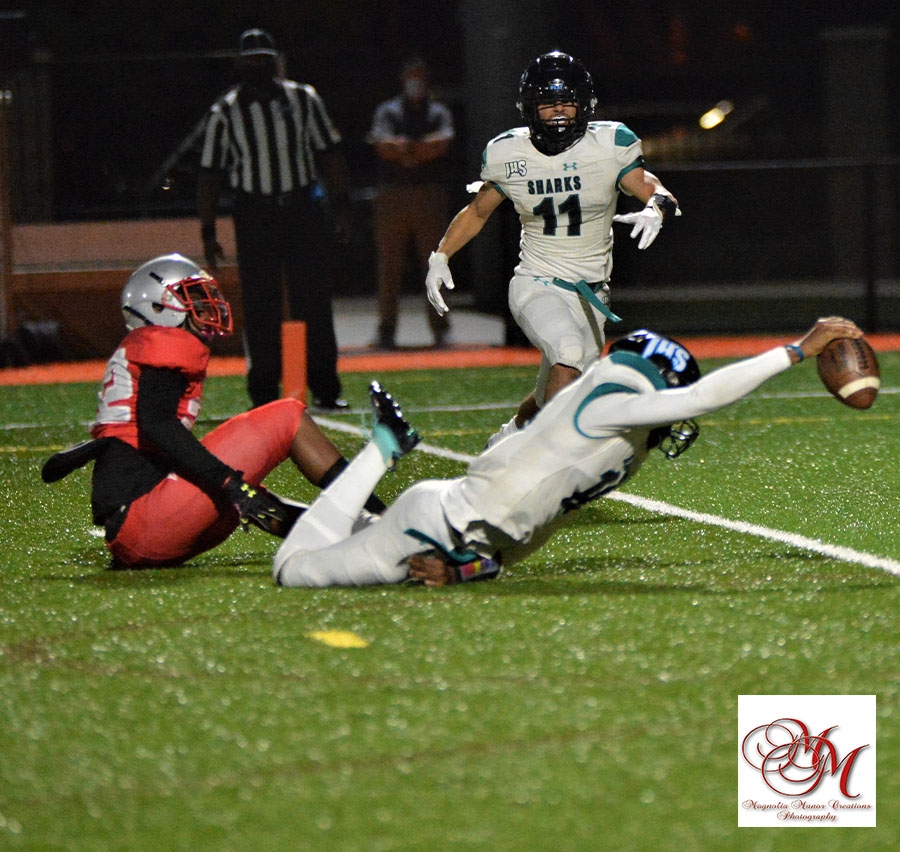 Islands beats Jenkins for first time in program history
By Travis Jaudon/For the Prep Sports Report | October 4, 2020
Share This Story
Islands High School began its 2020 football season with a historic 26-8 victory over rival Jenkins Friday night at Memorial Stadium.
The Sharks (1-0) had never beaten the Warriors (0-1) in seven previous tries and Jenkins entered the game as the No. 8 team in Class 4A in the Week 5 Atlanta Journal-Constitution preps poll.
It was the first game for new coaches on both sides. Deshawn Printup took over the reigns at Islands while Gene Clemons is leading Jenkins.
Each team was stopped on fourth down in their opening drives, but it was Islands which got on the board first thanks to senior quarterback Jadon Adams. With six seconds remaining in the first, Adams kept on a read-option play and dove in for a touchdown to give the Sharks an 8-0 lead after one.
Adams finished the game with 91 rushing yards and two scores and was nine of 15 passing for 181 yards and two scores.
For Jenkins, not much went right on either side of the ball. The Warriors couldn't ever get the pair of stars which make up their backfield going despite trying desperately to do so. Quarterback Patrick Blake was hurried and sacked all night, thanks mostly to the excellent performance out of senior nose tackle Damonte Smith.
Blake finished 11 of 23 for 130 yards passing including an 8-yard TD toss to Khalil Marshall late in the first half. His backfield mate, running back D'Mazzio Harris, finished with just six yards rushing on 14 attempts.
Jenkins rushed for -18 yards in the first half and 19 yards in total. Smith had 11 tackles for loss and three sacks for an IHS defense which delivered on its promise to be a big-hitting unit from start to finish.
Both sides were sloppy, even considering it was the first week of the season for Savannah Chatham County Public School System teams. In all, 27 penalties (15 HVJ, 12 IHS) were called in the Region 3-4A contest.
Neither team punted in the game, although Islands tried to punt with Adams in the second half before the snap and attempted punt were mishandled. Jenkins declined to punt, despite facing several first-half situations which called for kicking it away, typically.
With 1:26 on the clock in the first quarter and the game still tied, Jenkins went for it on fourth-and-26 from its own 22. Blake was hurried and forced left before throwing an incomplete pass down the field.
After the game, Clemons confirmed to Dennis Knight of the Savannah Morning News that his Warriors would not be punting at all this season.
Each team will try and rebound on a short week before non-region games Thursday night to begin GHSA's Week 6.
Islands faces Johnson at the newly opened Islands Stadium and Jenkins takes on the Beach Bulldogs at Memorial Stadium. Both games are set for 7 p.m.
Follow Travis Jaudon on Twitter @JaudonSports and contact him at travisLjaudon@gmail.com.
IHS-8-12-6-0—26
HVJ-0-8-0-0—8
Records — HVJ 0-1; IHS 1-0.
Next — HVJ vs Beach(10/8); IHS vs SCJ (10/9).
Week 6 Schedule
10/8
Beach at Jenkins (MS), 7 p.m.
Johnson at Islands (I), 7 p.m.
10/9
Richmond Hill at Bradwell
South Effingham at Effingham
Benedictine at Ware County
Savannah High at Windsor Forest (I)
New Hampstead at Groves (GC)
Screven County at Bryan County
Calvary Day at Strong Rock Christian
Mt. de Sales at Savannah Christian (P)
Stratford Academy at Savannah Country Day
Hilton Head Christian at Bethesda (Daffin Park)
Memorial Day at Thomas Jefferson
photo by David Humphries of Magnolia Manor Creations Photography