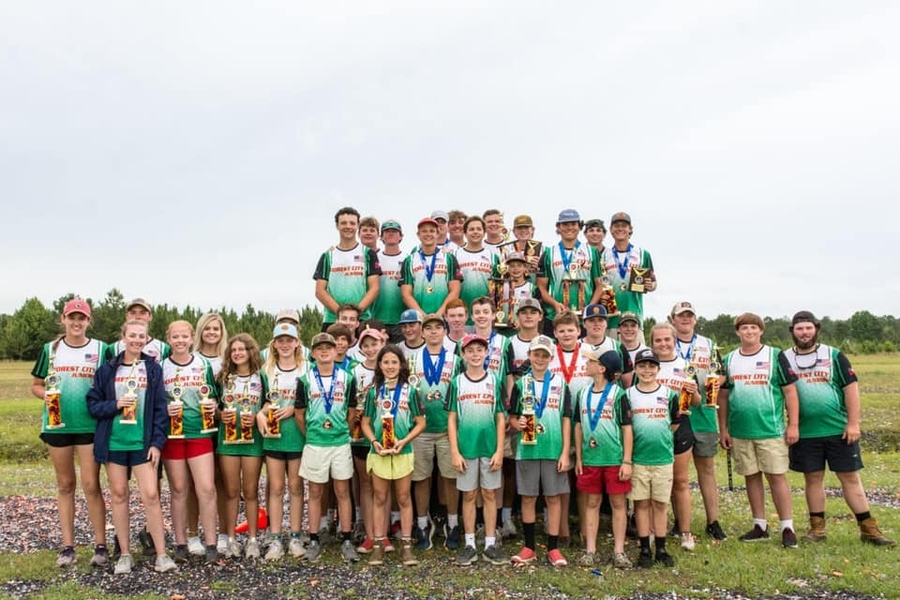 Not One, Not Two, But A Three-Peat - Forest City Gun Club Juniors Clay Sport Team Georgia State Champs!
By Special to the Prep Sports Report | June 22, 2021
Share This Story
The Forest City Juniors put on a show the weekend of June 4, 2021, and that may be an understatement. Over 500 competitors came to the Club hoping to dethrone the Champs. They all left disappointed except for the home team. The scoring system takes the Top 5 individual scores from Sporting Clays, Trap and Skeet for the overall Team Score out of 1500. The Forest City Juniors topped the podium with a score of 1,456, with the following scores:
Skeet
Dawson Williams 100
John Neely 100
James Daters 100
Ross Rambo 99
Nathan Porter 99
Sporting Clays
Rich Pazderski 99
Jake Kinlaw 97
Owen Haas 93
Dawson Williams 90
Jackson Ferland 90
Trap
Dawson Williams 99
Rich Pazderski 98
Nathan Porter 98
Elliott Cribbs 97
Owen Haas 97
Individually, Rich Pazderski finished 2nd HOA by 1 target with a weekend total of 294/300, with Dawson Williams finishing 5th with a 289 and Owen Haas 7th with a 288. Ella Whitley finished 7th in Ladies HOA with a 263. At the Collegiate Level, Mitchell Kent finished tied for 2nd with a 289 and Jake Summerford finished 7th with a 284. Gracie Whitley was Ladies Collegiate HOA runner-up with a 263.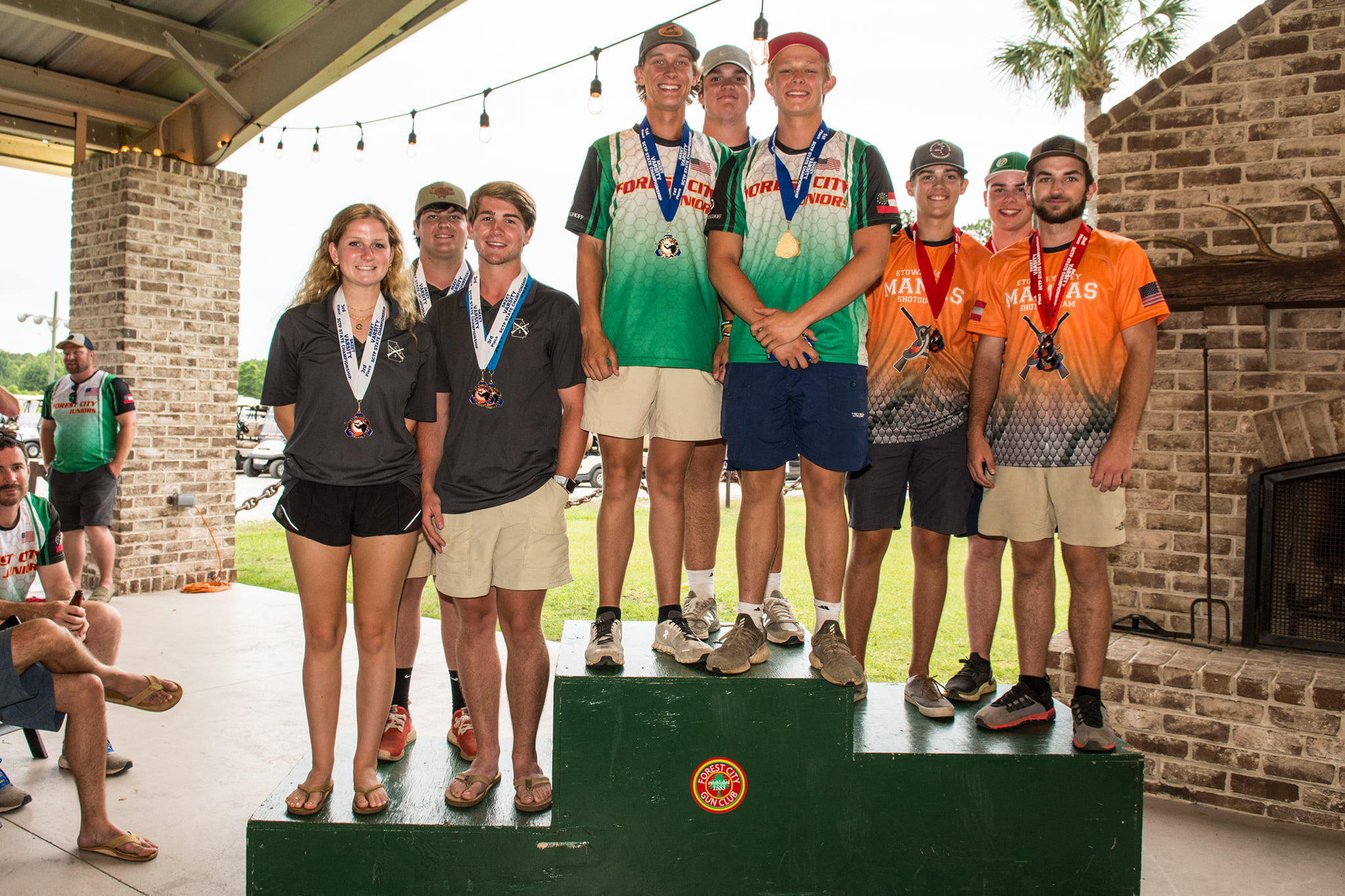 All told we had 35 shooters shoot 90 or better in Skeet across all divisions. If you want to know how stiff the competition is, Senior Captains Greyson Kennedy, Ella Whitley and Elliott Cribbs all tied for 14th place in Varsity with a trio of 98s.
Varsity Champions with a first ever in State history 300/300 were Williams, Neely and Daters.
Junior Varsity also took the top spot by led by 99s from Ross Rambo and Jackson Ferland and a 98 from Charlie Moody. Rambo took stop spot individually with Ferland 2nd and Moody 4th after tiebreakers. Gracelyn Cobb was Ladies JV champion with a 91 and Anna Loren Dekle finished 5th with an 88.
The Intermediate Advanced Squad of Jim Reynolds Morrison (94), Drake Cooper (93) and Ayden McKenzie (92) finished 4th with Ayden McKenzie claiming 1st Place in the Ladies Division.
Our Intermediate Entry Skeet squad claimed 1st Place with Lucas McKenzie (94), Marshall Kent (92) and first year shooter Mills Hollis (91). McKenzie finished 2nd individually with Kent 3rd and Hollis 5th. Newcomer Emaline Haddad finished 2nd in the Ladies Division.
Our Rookies are starting to get a reputation . . . they walked away with the Skeet competition led by Grady McKenzie (91), Wylie Adams (74) and June McKenzie (69). Grady and Wylie finished 2nd and 3rd and June won the Ladies Division followed by Bella Grace Baker in 2nd place.
Coming out of the Retirement home, our Collegiate Skeet squad of Jake Summerford (97), Douglas Williams (96) and Mitchell Kent (95) finished 4th in a Who's Who of Georgia SCTP Legends, with Gracie Whitley claiming 1st in the Ladies Division with a 95 as well.

Sporting Clays
Head Coach Zac Guerrettaz didn't take it easy on anyone this weekend on the North Course, where he set a very technical and demanding course. There were a few scores in the high 90s, but that was the exception, not the norm. That said, Rich Pazderski wasn't intimidated and won the Varsity Division with an incredible score of 99 to lead the Varsity squad of Pazderski, Jake Kinlaw (97) and Owen Haas (93) to the Varsity Championship. Kinlaw's 97 was good for 3rd Place and he and Pazderski received All State honors.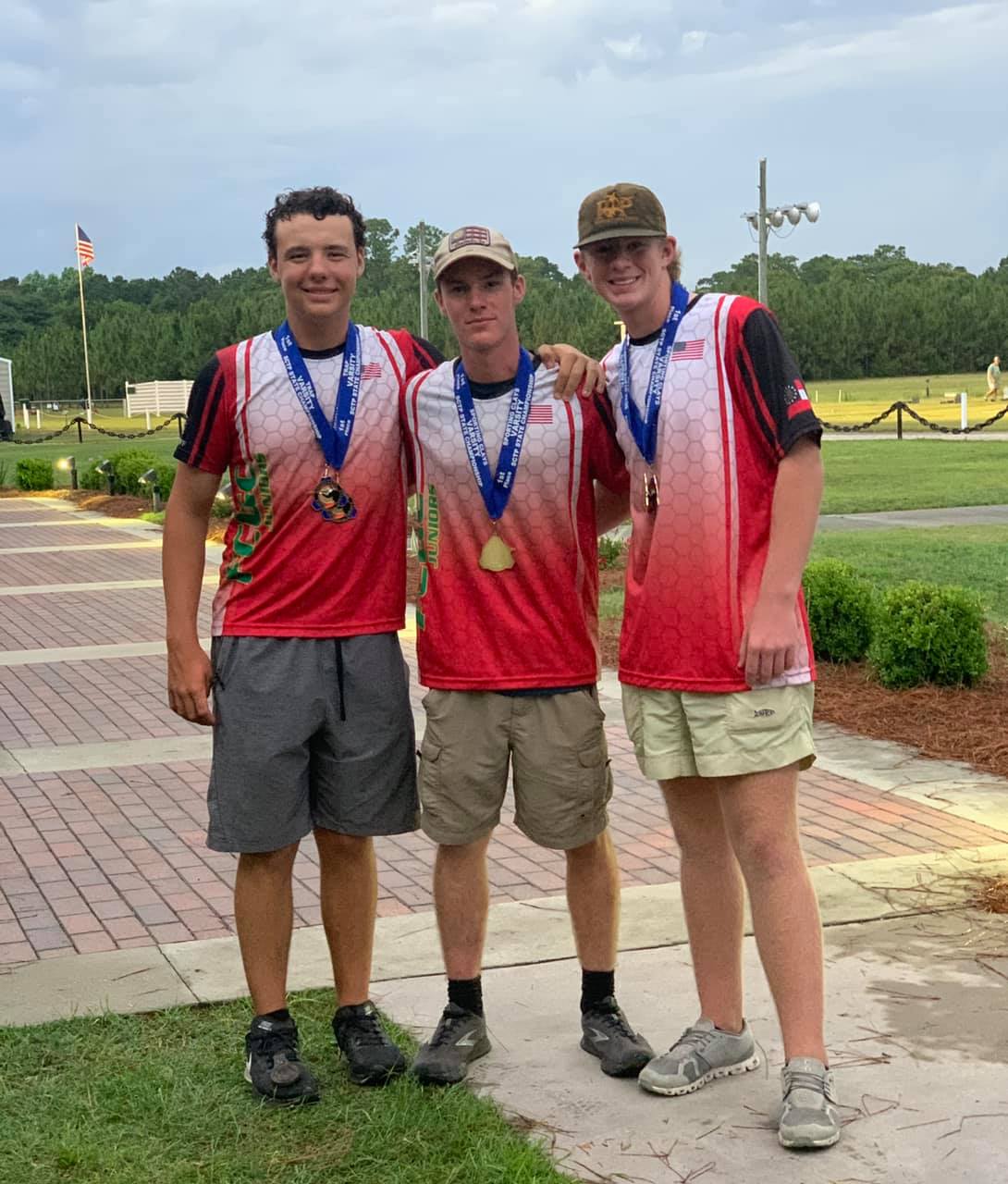 The Junior Varsity squad was led by Jackson Ferland who shot a 90 and finished in third place. Ferland combined with Pericles Lelos (82) and Abi Pazderski (81) to finish in 3rd place. Abi Pazderski as the Ladies JV Champion and teammate Gracelyn Cobb was 2nd Place with a 75.
The Intermediate Advanced squad of Miles Carson (89), Jim Reynolds Morrison (85) and Jackson Ezelle (82) were the IA Champions with Carson winning the individual title. In the no surprise category, Ayden McKenzie won the Ladies Division with a 79.
The Intermediate Entry level Champions were Marshall Kent (84), Lucas McKenzie (82) and David Butler (67), with Kent and McKenzie taking 1st and 2nd individually. Emaline Haddad took 2nd in the Ladies Division.
The Rookies took the top squad spot in Sporting Clays as well with Grady McKenzie's 74 putting him atop the individual podium as well alongside cousin June McKenzie in 2nd with a 68 which was also good for Ladies Division champion. Jimmy Adams was the 3rd man on the championship squad and Bella Grace Baker finished 2nd in Rookies Ladies.
At The Collegiate level, Mitchell Kent finished 2nd with a 96 and Jake Summerford tied for 4th with a 92.
Trap
Our Varsity made it a clean sweep of the main 3 disciplines by also winning the trap competition in dominating fashion with a 489/500. Dawson Williams (99), Rich Pazderski (98), Nathan Porter (98), Elliott Cribbs (97) and Owen Haas (97) played a symphony on the front line. Dawson finished 5th individually.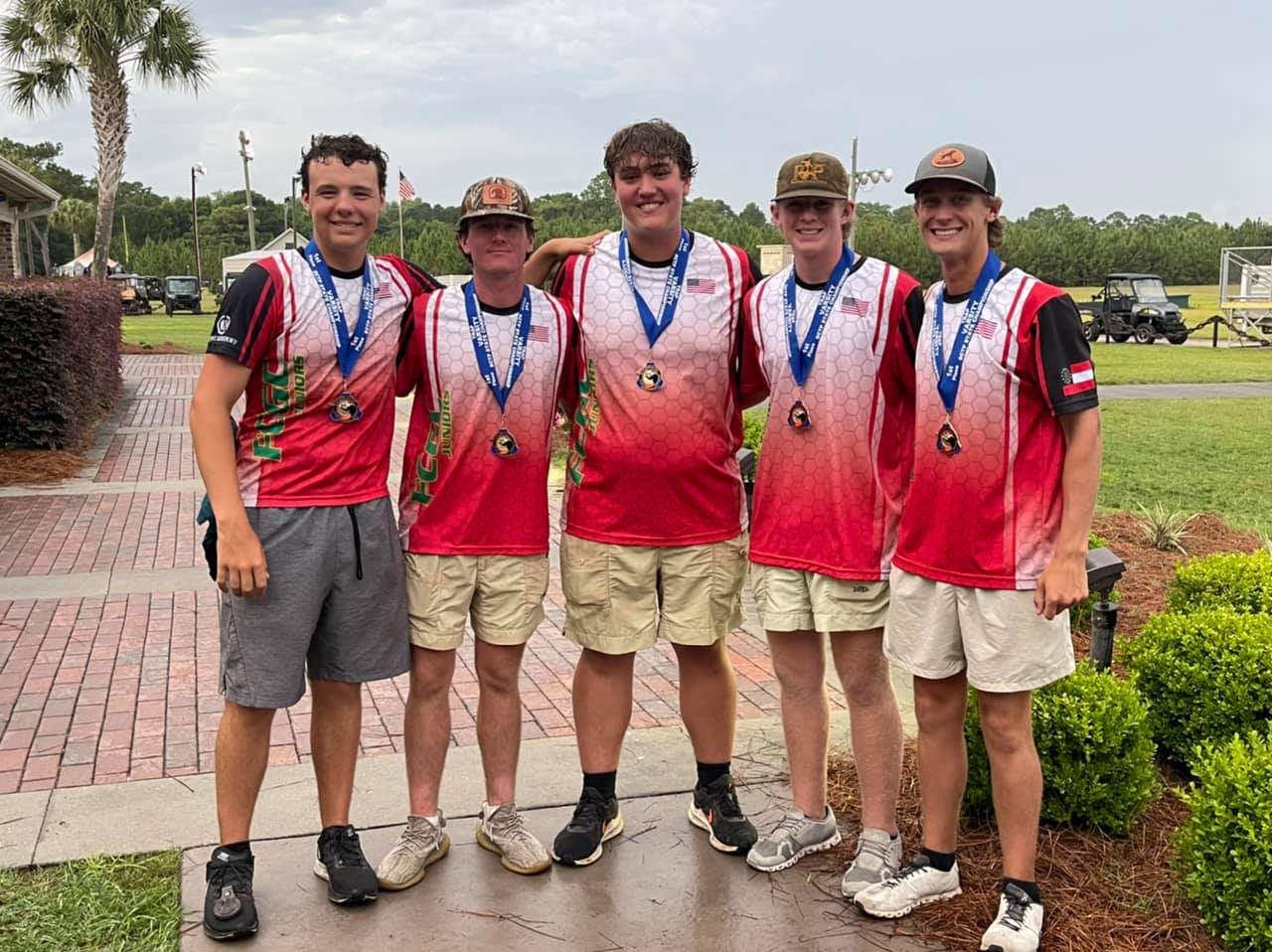 Our Junior Varsity ladies did extremely well taking 3 of the top 5 places with Abi Pazderski in 1st, Gracelyn Cobb in 4th and Anna Loren Dekle in 5th.
Our Intermediate Advanced team won 2nd Place with Chase Buerger (91), Jackson Ezelle (89), Ayden McKenzie (88), Drake Cooper (85) and Miles Carson (82). Want to guess who won the Ladies Division? How about Ayden McKenzie!
Our Intermediate Entry team won 3rd Place with Mills Hollis (90), Luas McKenzie (83), Emaline Haddad (80), John Adams (79) and David Butler (78). Hollis finished 3rd individually and Emaline finished 1st in the Ladies Division.
Our Rookies, like our Varsity, made it a clean sweep winning the Trap Division by 58 birds with Grady McKenzie, June McKenzie, Bella Grace Baker, IV Fetterman and Wylie Adams. Grady finished 2nd individually and June and Bella Grace finished 1st and 2nd on the Ladies side.
The College "Original Gangsters" were also fun to watch, with 5 former National Champions on one field playing sweet clay-crushing music. They won the Collegiate division with a handful of great scores led by Douglas Williams (99), Mitchell Kent (88) , Colin Davis (96), Jake Summerford (94) and Gracie Whitley (94). Douglas tied for 2nd, Mitchell was 4th and Gracie was the Ladies Collegiate Champion.
Super Sporting
Super Sporting is a variation of Sporting Clays which is shot with a 5 Stand type menu (singles, report, true) on a sporting course. It's shot as a 50 target side event at many SCTP shoots, but does not count toward the HOA championship. Zac and Chip set up a 100 foot lift by the dove tower and so the 3 shots at that station were the dove tower coming over head and then 2 70+ yard targets off the big tower. It was a "separator station" from Hell.
At the Collegiate level, Gracie Whitely (37) finished 2nd in the Ladies Division and Douglas Williams (45) tied for 4th.
At the Junior Varsity level, Jackson Ferland (43) tied for 2nd, Abi Pazderski finished 3rd in Ladies with Anna Loren Dekle in 5th.
IA Shooter Jackson Ezelle shot an incredible 47 to tie for the lead and lost by 1 in the tiebreaker (scorecard settle, not shootoff). Jackson led the IA team to 2nd Place along with Miles Carson (40) and Jim Reynolds Morrison (38). Ayden McKenzie is just greedy hitting a Grand Slam to win all 4 events she entered in the Ladies IA division.
The Intermediate-Entry team led by Individual Champion David Butler (41) claimed 1st Place along with Lucas McKenzie who tied or 3rd (40) and Marshall Kent (35). Teammate Emaline Haddad claimed the Ladies Division with a 34.
The Rookies completed their own Squad Grand Slam of 4 State Championships for the weekend led by Runner-up Grady McKenzie and Lady Champion June McKenzie (with a Grand Slam of her own) and IV Fetterman.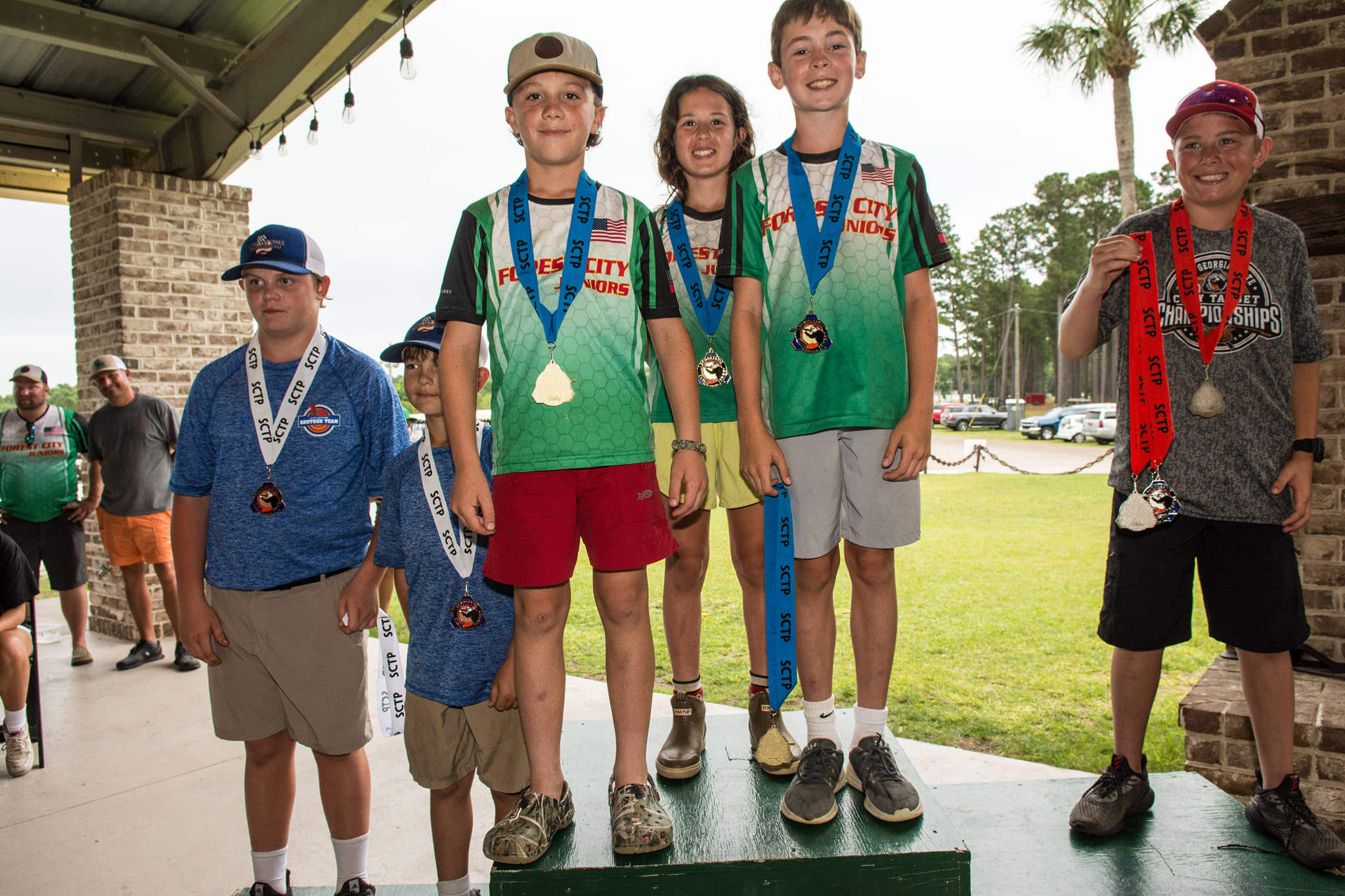 Those are your winners, and if you made it this far, you see there are a lot of them. Our coaching staff has done an amazing job this season leading these 70 kids to the top – we truly are training Champions every week. We also couldn't do it without the support of all these great families, and if you happen to come by to see the Rookies chasing the College Kids on Dexter Elliott's lawn Sunday afternoon, you'd know that we are not just a team, we are a family.
A couple of other highlights for me was when one of our Rookies who shot a 22 on the Sporting Clays course grinning from ear to ear and yelling "Thanks for signing me up for this Mr. Summerford!" He and another Rookie teammate shot a 6 and a 10 in Skeet at the Regional tournament six weeks ago, but care to guess what their Skeet scores were Sunday? How about a pair of 62s!!! You know what those boys are? Champions.
Note - At the 2020 SCTP National Shooting Championship in Columbus, Ohio, the Forest City Juniors claimed the National Championship. The Forest City Juniors were represented in Ohio last year by 41 shooters ranging in age from third grade to college. The SCTP Nationals for 2021 returns to Columbus, Ohio, from July 14th through July 17th.