RICHMOND HILL -- Roy Jones was new in town, having moved from Gwinnett County to work at Richmond Hill High School as a mathematics teacher.
One day in that summer before the 2021-22 school year started, the golf enthusiast was walking past the practice range at Richmond Hill Golf Club when a golfer caught his attention for her powerful drives.
"I saw her swing a golf club and I wondered what college she went to," Jones recalled.
He was off by a couple of years. Hannah Barrett was then a rising junior – in high school. She also was new to town that summer of 2021.
"She wasn't even part of the Richmond Hill golf team at that point, hadn't been in school yet," said Jones, now in his 17th year of coaching at the high school level and first year as the Wildcats' head boys golf coach.
"Being a high school golf coach, I'd never seen a high school golfer -- and I've had some good high school golfers, males and females -- but I've never had one with a swing like hers."
It's not like Barrett went around introducing herself as one of best girls golfers her age where she was from in Carlisle, Pennsylvania, and that she has excelled in junior golf in that state and now in Georgia.
Her family moved to Richmond Hill and joined the local golf club. Then actions spoke louder than words, and word traveled fast.
"I kind of showed them who I was," Barrett, 17, recalled Wednesday at Richmond Hill High School. "I won the club championship like two months after I moved here. Just meeting people, not saying anything about my game but showing them on the course."
Barrett immediately became the top golfer on the Wildcats girls team, and in May 2022, she became the top golfer in the GHSA Class 6A state girls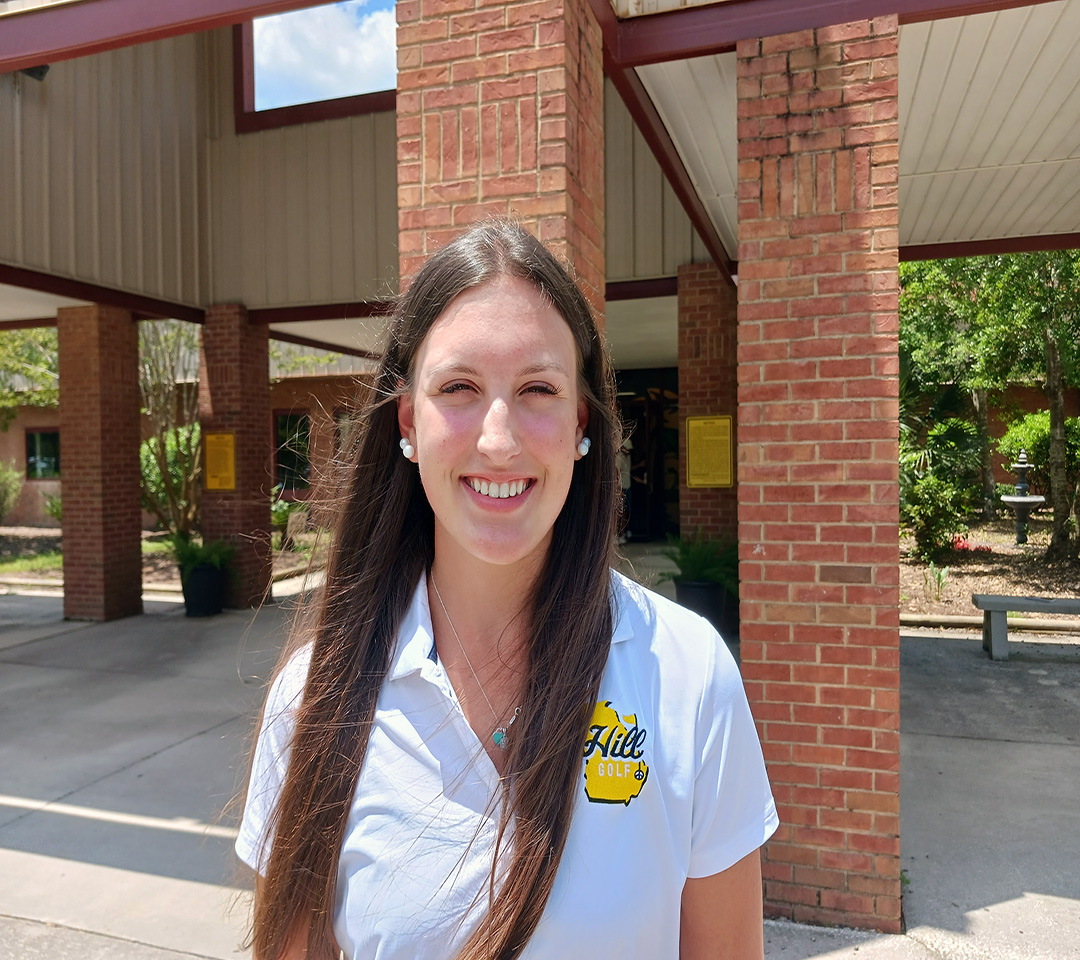 tournament.
She won by seven strokes at 6-over par (74-76) as the team placed fourth at Jekyll Island. The "rookie" had showed she belonged and could not only compete in one of the state's largest classifications, she could win.
"It gave me the confidence," Barrett said. "At the same time, it drove me to be better and prepare myself more mentally, especially, and put in the work, and realize the work is how I'm going to succeed. What I put in is what I'm going to get out of it."
The senior, who averaged 72.4 strokes for 18-hole events and 37 for nine holes, will not have the opportunity to defend her title as Richmond Hill moved up to Class 7A this school year. Thomas Swilley, in his first season as the Wildcats' girls golf coach, said expectations haven't increased for Barrett or any of her teammates. They remain the same: be the best players and team they can be.
The RHHS girls qualified for the 7A state tournament on May 22-23 at Sunset Country Club in Moultrie in Colquitt County. Barrett shot 75 at the Area 1-7A tournament as the team snagged the second of two state qualifying berths by four strokes over third-place Carrollton.
The top three girls score, with freshman Amanda Puchales carding an 84 and senior Sofia Raye an 87. Tatum Wood, a junior, shot 117 and sophomore Savannah Macomber 119.
Swilley said Barrett's strengths include her putting, her short game and "she can smoke the ball off the tee. On top of that, it's her ability to keep her cool."
And that's not all.
"What Hannah brought to the table more than her golfing ability this year was her leadership ability," said Swilley, noting her input on team aspects such as uniforms, practice time, travel schedules and warm-ups. I've never really had a player want to take that much on. They just want to play golf and shoot low scores. She wants to do that on top of what else she's doing; that was really huge."
Barrett said this year's team "meshes together" better than in her debut season.
"We've supported each other no matter what, always have each other's back, always make sure everyone got to practice," she said. "We're holding each other accountable."
She had a busy weekend ahead, with the Class of 2023 graduation ceremony on Saturday at Glynn County Stadium in Brunswick, then the girls team traveling Sunday for a practice round at Sunset Country Club, and the two-day state tournament slated for Monday and Tuesday.
Barrett signed in November to play college golf, as Jones presumed, at the University of West Georgia in Carrollton. She would then like to attend medical school.
Richmond Hill boys qualify
Jones' first season as the head golf coach at RHHS continues as the boys qualified for the 12-team Class 7A state tournament at Kinderlou Forest Golf Club in Valdosta.
The Wildcats' fourth-place finish at the Area 1-7A event – where the top two in each area advance to state – meant another chance at the statewide sectional tournament, where they captured the fourth and final berth with a fourth-place finish by two strokes over Mill Creek.
Cooper Reid, a junior, led the way with a 76 as the top four boys' scores count.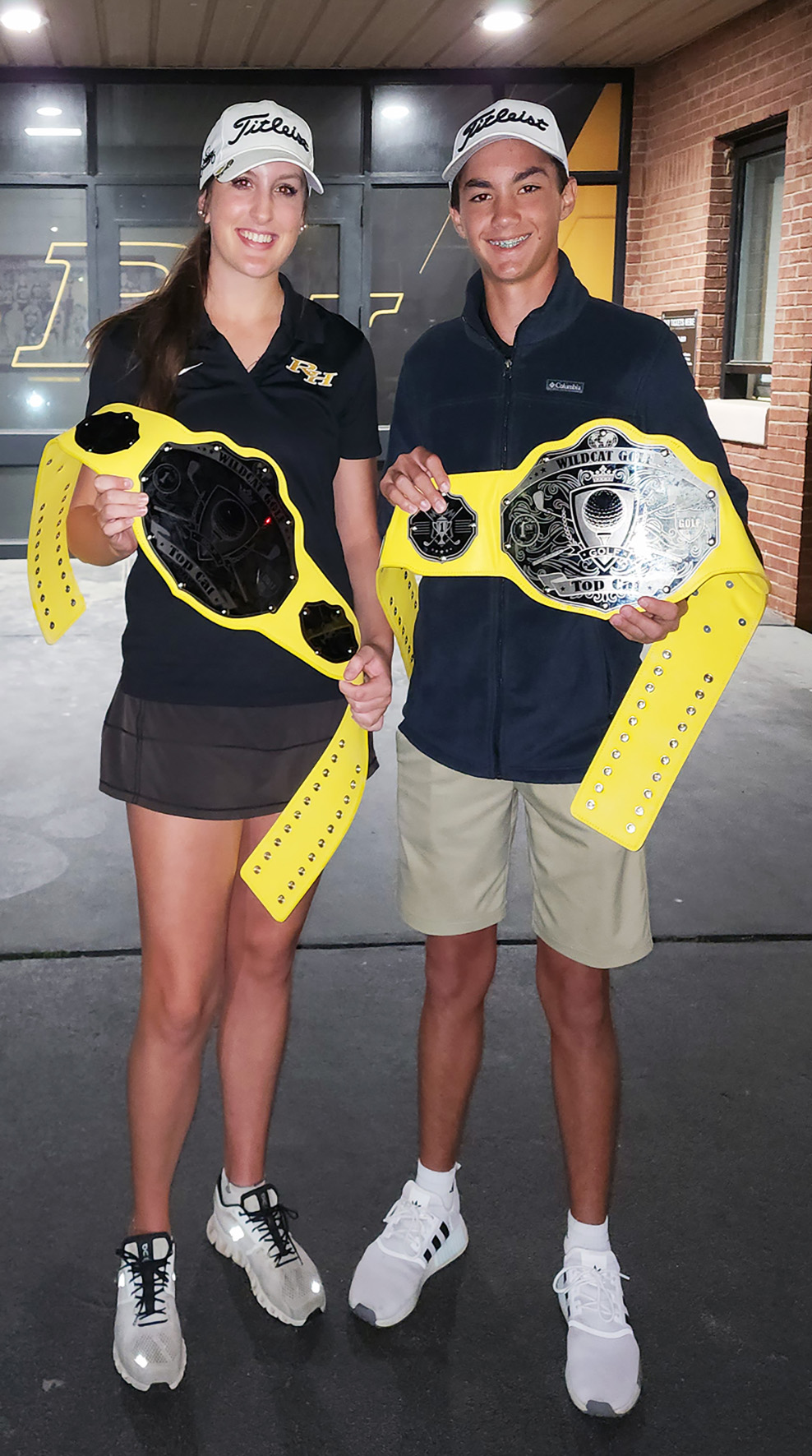 Reid was followed by freshmen Mathew Reynolds (77), Ledger Conley (78) and Patrick Mahaffey (82); senior Samuel Reynolds (82) and junior Porter Fabre (83). Conley, a rising standout on the junior circuit in the state, had posted the team's best individual score (79) at the Area 1-7A tournament and led the team in season scoring average (76.6 for 18 holes, 37.4 for nine).
Jones said that no matter what happens at state, the boys squad exceeded "high hopes but moderate expectations" in moving from 6A to 7A. He called competing at state a "huge accomplishment" after emerging from the area and sectional rounds.
"I have not seen from my boys this year all that they are capable of doing in one tournament," he said. "I have very high hopes for the state tournament; whether we're competitive in a win or top-three situation, I don't know.
"We may be the last team going in, but I don't think we'll be the last team going out."
Leading scoring averages for 2023 (provided by coaches):
Richmond Hill girls
Hannah Barrett, 37 for nine holes, 72.4 for 18; Sofia Raye, 42, 81.5; Amanda Puchales, 42, 81.9; Tatum Wood, 45, 85.2; Savannah Macomber, 50, 110.
Richmond Hill boys
Ledger Conley, 37.4, 76.6; Mathew Reynolds, 37.7, 86; Porter Fabre, 41.1, 82; Cooper Reid, 41.6, 83.1; Patrick Mahaffey 42.7, 81.3; Will McNeely, 42.8, 82.5; Tim Nelms, 42.6, 89; Samuel Reynolds, 43.2, 89.
PHOTO CREDIT: Richmond Hill High School Golf team
FOLLOW Prep Sports Report on Twitter @PrepSav, Instgram savannahsportsreport, contact PSR at https://prepsportsreport.com/Contact
Optim Orthopedics supports Benedictine Military School, Calvary Day School, Richmond Hill High School, Savannah Country Day, South Effingham High School, and St. Vincent's athletics. Benedictine Military School's team doctor is Dr. David Sedory. Dr. David Palmer is the team doctor for Calvary Day School, South Effingham, and Richmond Hill. Savannah Country Day and St. Vincent's team doctor is Dr. Thomas Alexander. Remember, Optim Orthopedics gets you back into the game.