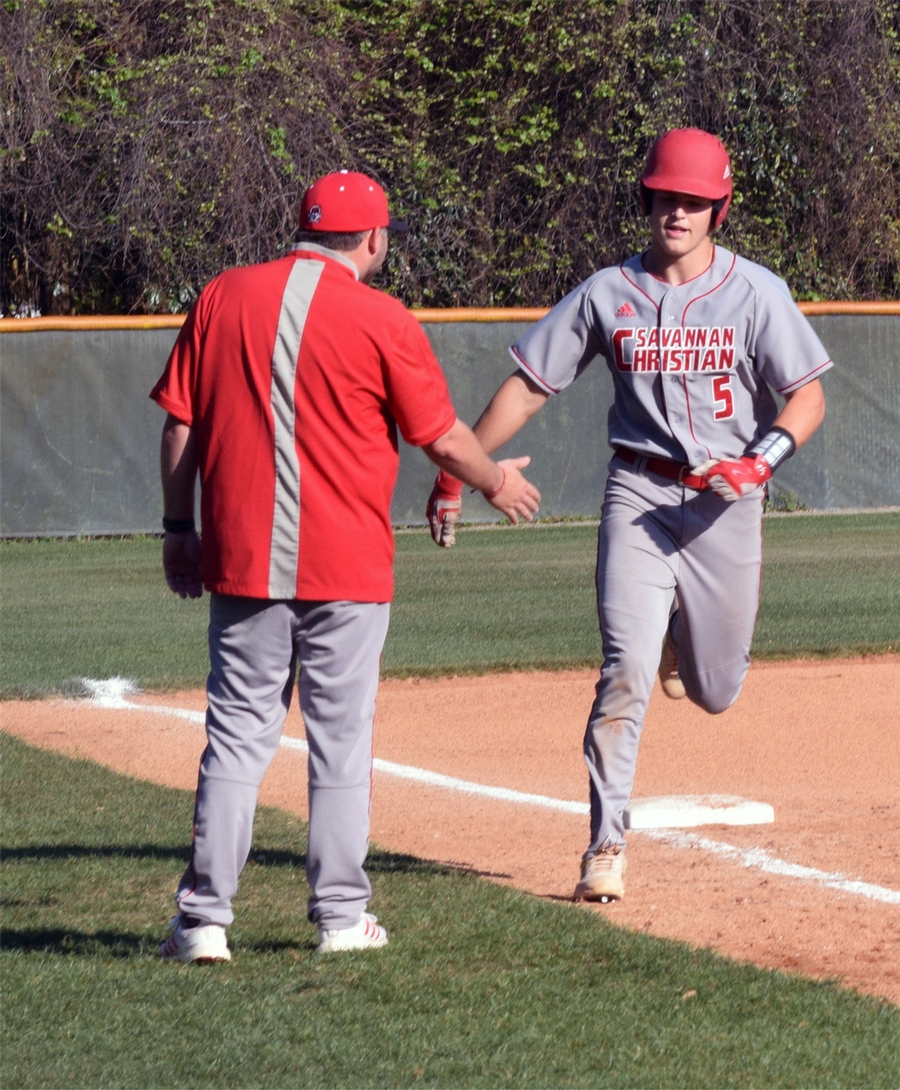 Savannah Christian Baseball on a Roll Winning 9 Straight
By Prep Sports Report Staff | April 7, 2021
Share This Story
Today in a Georgia High School Association Class A Private Region 3 baseball matchup coined on social media as the region championship series. Savannah Christian and Savannah Country Day came into the series, both with identical 5 and 1 region records tied for first place. Calvary Day sits in third with a 5-4 record.
The Raiders traveled across town to take on their region rival, the Hornets. This year, the region plays a three-game series. Usually, the first game is played at one site on Friday and then a doubleheader at the visitor's location the next day on Saturday. Due to a conflict for one of the teams. The series will continue as a doubleheader at Savannah Christian on April 17, 2021.
The Raiders came out strong, never looking back, and took a commanding 13 to nothing lead after two innings over the Hornets. The game went five innings, with Savannah Christian taking game one 15-0. Highlights for the Raiders are scoring 15 runs on nine hits, with three players having multiple hits Joey Gates, Joey White, and Ely Brown.
In the second inning, the Raiders would score nine runs to break open the game. The big hitter in the inning and on the day was Joey Gates. Gates went 2 for 4 on the day. Joey's two hits drove in five runs, a double in the first inning and a grand slam in the second. Gates knocked in five runs on the day.
Leadoff hitter Joey White went 2 for 3 with a two-run home run in the second inning, four runs scored, and three runs batted. White would pitch the first inning to earn the win.
Ely Brown was the other Raider with two hits on the day, going 2 for 3 with a run batted in and scored three times. Cooper George, Daegan Strickland, who had a double, and Jerrod Miller each had one hit.
On Monday, the Georgia Dugout Preview released its week seven poll. The Raiders moved up in GHSA Class-A private from number 6 to number 5. Savannah Christian, on the week, improved their overall record to 17-6. The Raiders have won nine straight. On Monday, Savannah Christian hit the road and had a big win over the number 3 ranked team in GHSA, Class-A Public, the Metter Tigers. The Raiders came back to Savannah with a 6-0 victory. After today's game, Raider Head Coach Matt Oglesby said, "We are playing to our potential."
Photo Credit - Prep Sports Report Staff
Optim Orthopedics supports Benedictine Military School, South Effingham High School, Richmond Hill High School, and Savannah Country Day School athletics. Benedictine Military School's team doctor is Dr. David Sedory. The team doctor for Richmond Hill and South Effingham is Dr. David Palmer and Dr. Thomas Alexander is the team doctor for Savannah Country Da. Remember, Optim Orthopedics gets you back into the game!