The St. Vincent's Academy Air Rifle Team continues its streak of qualifying for the Georgia High School State Association state Riflery Playoffs. According to Head Coach Gary Ogden (23rd year as head coach), this year marks the Saint's (all female team) 17th consecutive GHSA State Riflery Playoffs appearance in this male-dominated sport. It is also the 8th time St. Vincent's has hosted a riflery sectional.
During the 2021-2022 season, the Saints finished in the area in third place behind first-place Camden County High School (11-0) and second place Ware County High School (10-1). The Saints host a sectional match against Dalton High School on Thursday, March 24, 2022, at 1:30 pm.
Ogden stated this is the first time in 10 years that Ware County hasn't won the area. How close was it? "Two points separated these teams. Camden County defeated Ware County 1152-1150 out of a possible 1200 points to win the title," said Ogden. St.Vincent's finished the season 9-2, with only losses coming to Camden and Ware. The Saints have beaten arch-rival Benedictine for 14 straight years.
St. Vincent's will be led by three seniors Addisen Kameron who shoots an average of 281 out of a possible score of 300, followed by Mallory Mesaros (273 avg) and her twin Madeline Mesaros (272). The two other shooters Ogden will count on are sophomore Isabella Keating (275) and freshman Autumn Wolff (275).
Dalton comes into the match with a team average of 1099 points out of 1200 per match. "As a team, we have only scored under 1100 twice this season. Dalton is a good team to reach this point in the season. The girls are ready for the playoffs," said Ogden.
Furthermore, spectators are welcomed, and the match will take place in St. Vincent's Academy gymnasium. If attending you will need to enter through the gym lobby.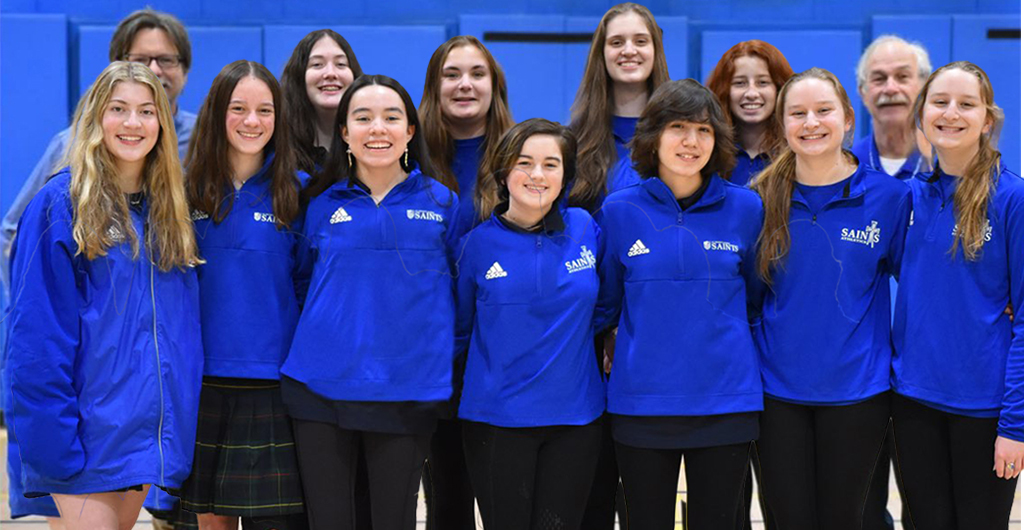 2021-2022 St. Vincent's Academy Riflery Team
Back Row (l-r): Bill Wilson, Megan Beasley, Kyleigh Wheeless, Addisen Kameron, Isabella Keating, Gary Ogden
Front Row (l-r): Rachel Spinks, Nicole Sapone, Aryana Pfeifer, Kathryn Scorza, Autumn Wolff, Madeline Mesaros, Mallory Mesaros
Photos - St. Vincent's Academy Athletic Department
Optim Orthopedics supports St. Vincent's athletics. The Saint'a team doctor is Dr. Thomas Alexander. Remember, Optim Orthopedics gets you back into the game!