As problems go, this was a good one to have.
The Georgia Southern baseball team had scored so many runs – a team-record 35 on a record-tying 27 hits -- that the victory over ULM became a test of stamina as the host Eagles basically ran laps around the bases.
"Honestly, that was crazy," junior third baseman Jarrett Brown recalled May 8 of the 35-8 rout on April 29 in Statesboro. "My legs were absolutely dead by the seventh or eighth inning."
Brown, a 2019 Savannah Christian graduate, had a career game that day, batting 6-for-8 with eight RBIs and three runs scored. He homered, doubled and had four singles as the cycle remained elusive.
"It's always on the mind when you're a triple away but just couldn't get it done," he said.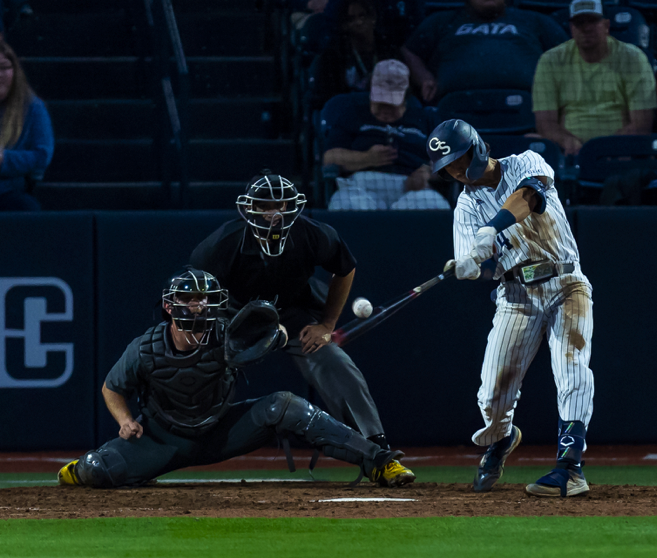 Not that he's complaining. In fact, Brown has spread his career day across the entire season to this point. If his breakout season of 2022 was viewed as a hard act to follow, Brown is delivering an even better campaign in 2023.
Brown either leads or is in the top two batters on the team in most offensive categories for Eagles with the minimum number of plate appearances and percentage of games played. Showing strength and speed, he also has the most stolen bases (seven in 10 attempts through 47 games).
Starting every game, Brown led GS through May 9 in at-bats (194), doubles (13), RBIs (64), total bases (114), slugging percentage (.588) and sacrifice flies (five).
He was second on that date in batting average (.325), runs (49), hits (63), home runs (12) and hit by pitch (12). He's third in on-base percentage (.426).
"Jarrett Brown just continues to improve and get better," Eagles head coach Rodney Hennon said. "He has been an extremely hard worker who has developed into a well-rounded, complete baseball player that can impact the game with both his glove and bat.
"His physical and mental maturity at the college level has led to consistent improvement with each year. He has terrific instincts on the field, and he has yet to reach his ceiling as a player," the coach continued. "More importantly, Jarrett Brown is a high-character young man who has grown into an outstanding leader within our program."
The hard-hitting righty actually was tied for the team lead in homers (12) with veteran slugger Noah Ledford before Ledford unleashed a 470-foot moon shot that helped GS (24-23, 14-10 Sun Belt Conference) beat host Troy on May 7 for Hennon's 900th career coaching victory.
Ledford, a redshirt senior, is listed at 6-foot-1 and 252 pounds. Brown's specs are 6-1, 179 (he says 180). Brown had four homers in 2022.
"I'm trying to catch him but it's hard. He's a big guy," said Brown, who figures Ledford has him by "probably close to 90, 80 pounds" in reality. "I'm just the little speed guy."
So how does he do it? Savannah-area baseball fans can recall Brown was a standout hitter, shortstop and pitcher for the Raiders. As a sophomore, he had the walk-off RBI hit to complete Savannah Christian's sweep of Tattnall Square and secure the 2017 GHSA Class A Private state championship.
The four-year varsity letterman enrolled at Georgia Southern, but his freshman season barely got started (the Eagles were 11-5) when the COVID-19 pandemic shut down sports and normal life in the spring of 2020.
Brown, who had played in eight games and started three, tried to think long term and "soak in every moment." His first college hit, a home run in his first game against Ball State, was one of them.
He has adapted to the college game.
"I came in kind of timid at first. That kind of held me back a little bit," said Brown, who with the COVID year has another season of eligibility. "Then just going out there and playing, not being afraid to fail. That's going to happen. That's just the sport."
He also has adjusted his swing. Being late on the fastball hurt his offensive production and helped hard-throwing opposing pitchers bulk up their statistics. Brown led the team with 63 strikeouts 210 at-bats in 2022; he has 44 in 194 this season.
"Last year, I was never on time for the fastball. I'd always miss it," Brown said. "The main thing I've changed is to be on time for the heater and just kind of react to the offspeed (pitches) and shorten up my swing.
"Just the weekend people (starting pitchers), we're seeing 96, 97 (mph). These guys are unreal nowadays with the velo (velocity)."
He credits his offseason work, including playing last summer for the High Point-Thomasville HiToms, then a rival of the Savannah Bananas' collegiate team in the Coastal Plain League. Brown appeared in 25 games, hitting .247 and collecting four homers and 14 RBIs before being slowed by a wrist injury.
Summer league experience has meant more repetitions and a greater comfort level, resulting in better preparation and play to benefit his college squad.
Showing a leadership quality that his coach lauded, Brown happily credits his teammates for their contributions and for making him a better player. He called it an "honor to be out there with them boys."
His college career highlight didn't come in the blowout win over ULM. He said it's being part of this team.
"Just getting to know a group of guys and playing by them, it's amazing," said the player nicknamed "J-Bizz," but he had no explanation. "People would kill to be in my shoes. It's just super special to play next to a group of guys that care about you."
PHOTO CREDIT: AJ Henderson/Georgia Southern Athletics