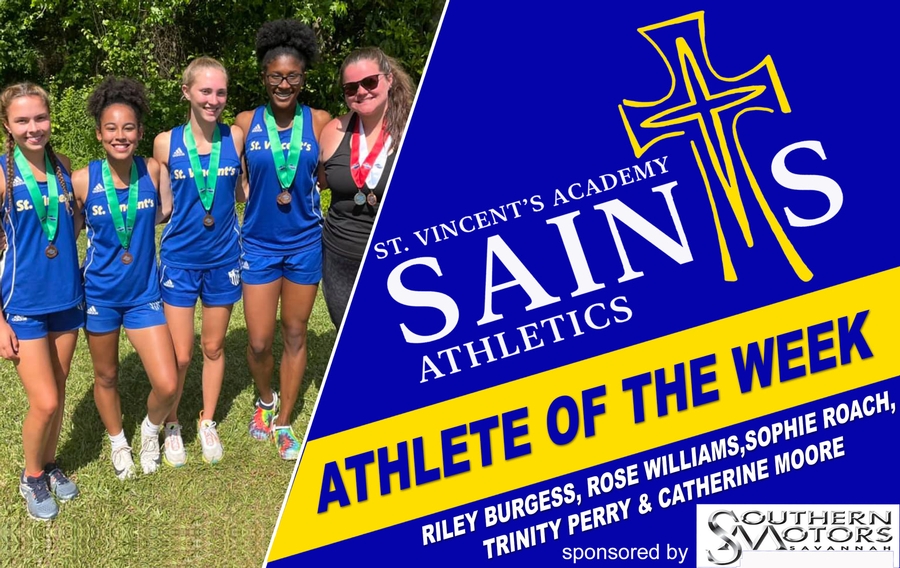 Five Lady Saints Run Away with the St. Vincent's Athlete(s) of the Week
By Special to the Prep Sports Report | May 24, 2021
Share This Story
Savannah, Georgia - Congratulations to this week's Southern Motors of Savannah Athlete of the Week: Riley Burgess, Rose Williams, Sophie Roach, Trinity Perry, and Catherine Moore
These five girls made it to the Finals at the State Championships.
Our 4x400 team (Sophie Roach, Rose Williams, Riley Burgess, and Trinity Perry) set a new season record of 4:14.11, taking 6th place in State.
Trinity Perry took 7th place in the 200m and set a NEW school record in the 400m, running it in 59.59!
Catherine Moore took 3rd in the discus, setting a NEW school record in the discus, throwing 113-2, and runner up in the shot put, throwing a new personal record of 36-9!
These girls scored a total of 20 points, ranking us at 9th overall in State!
"This team has been through SO MUCH. To achieve as much as they have after the struggles we had with practicing and facilities is amazing. I am so proud of these ladies!"
Nichols St. Louis, Head Track and Field Coach
Optim Orthopedics supports St. Vincent's Academy athletics. Dr. Thomas Alexander is the team doctor for St. Vincent's Academy. Remember, Optim Orthopedics gets you back into the game!