Forest City Gun Club Juniors Repeat as the Scholastic Clay Target Program (SCTP) 2021 Nationals Champions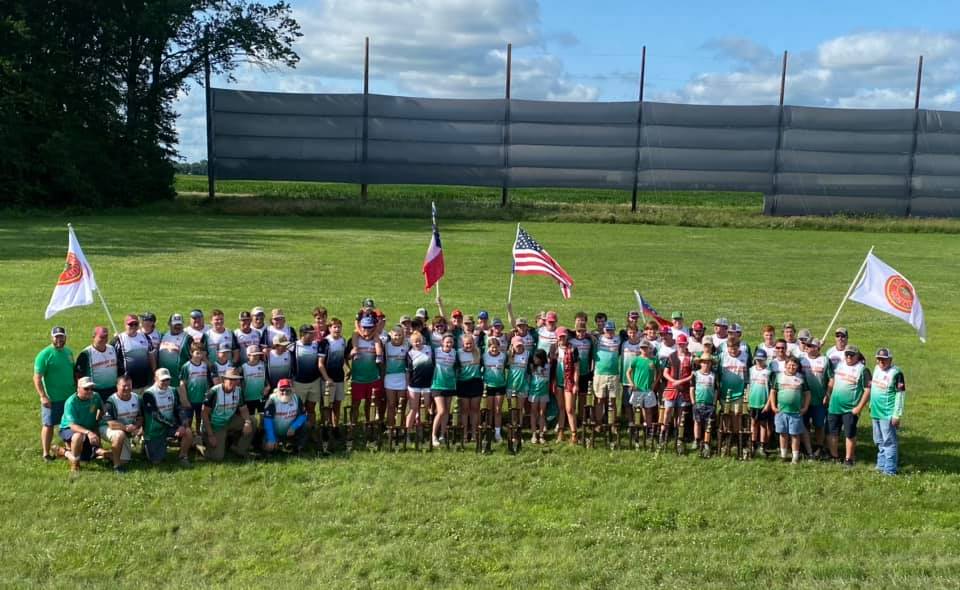 2021 SCTP Nationals Report – Final
The National Championship Main Event High Overall Award (HOA) is based on the top squad of 3 skeet shooters, 3 sporting clays shooters and 5 trap shooters who shoot 200 targets in eaxh event. After the close of skeet and sporting, we were down 8 targets to the Etowah Valley Mambas from North Georgia and ahead of the Allen Eagles out of Texas by 2.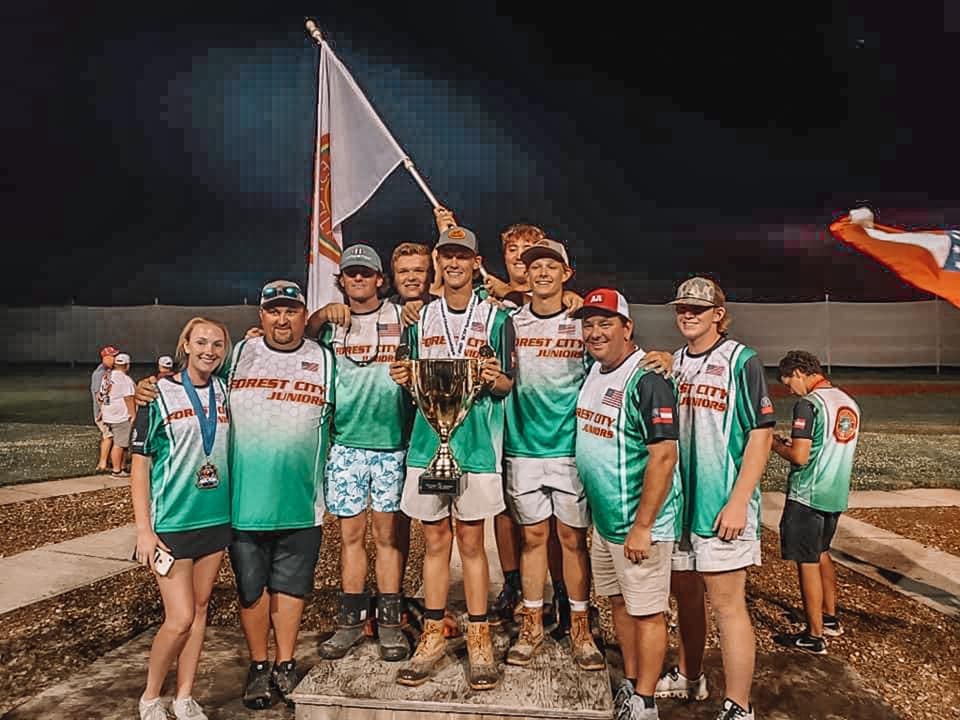 Our Varsity Trap Squad of Dawson Williams, Rich Pazderski, Elliott Cribbs, Jackson Schaaf and Nathan Porter fired a 480/500 Friday to make up 9 birds giving us a 1 bird lead over the Mambas going into the final day. That's right, 1 bird!
We tell our shooters over and over that every shot counts, and what better example than a 1 bird lead after 1700 targets. The meaning behind that is that we are a team and you can't give up if you are having a bad day or you miss a few. Your team is relying on you to stick with it and go after every target.
After raining all night Friday night, the rain continued throughout the day on Saturday. We shot at 3 and 3:30 and the Good Lord must've known because the weather broke at 2:45 and even a little bit of sunshine came out for us.
The Varsity boys hit the field and we didn't know the number, but had heard the Mambas had shot well. We started good, but not great dropping 6 in the first round. The next round was better as they only dropped 3. Meanwhile Zac and Doug and I are hitting refresh on our phones every 3 seconds to see how the Mambas finished. As the third round started, we saw the number. They had missed 21 for a 479, so we had to shoot 479 or better to preserve our one target lead. 12 targets out of the last 250 was all we had to give. Another good round and we headed into the final box with a 6 target margin. The crowd was gathering as others finished their rounds. No one was breathing. Pull. Bang. Hit. Pull. Bang. Hit. Then a miss. Chests tightened with ever hit and miss. 4 misses. 5 misses. 6 misses and there was no more margin for error with nine shots to go. Every shot counts. 8 shots to go. Dead bird. Just breathe. Dead bird. Pull. Bang. 3 to go. Dead bird. Dead bird. Dead quiet for Nathan Porter. Pull. Bang. Dead bird! Quiet. Is it enough? I screamed "ya'll won!" and the crowd erupted!
Seven months of work and we did it! Back to back HOA National Champions! 1 bird out of 2200. 2106 to 2105. Incredible. What a moment for these kids, this team, this Club!
We also had an individual National Champion in Ayden McKenzie who was Ladies Intermediate National Champion, a Runner-Up HOA for Varsity Shooter Rich Pazderski who shot an amazing 589/600 for the week, and a 3rd Place Rookie HOA finish for Grady McKenzie.
At the College level, the top four individual places were Forest City Juniors:
1 Colin Davis
2 Douglas Williams
3 Walker McDonald
4 Jake Summerford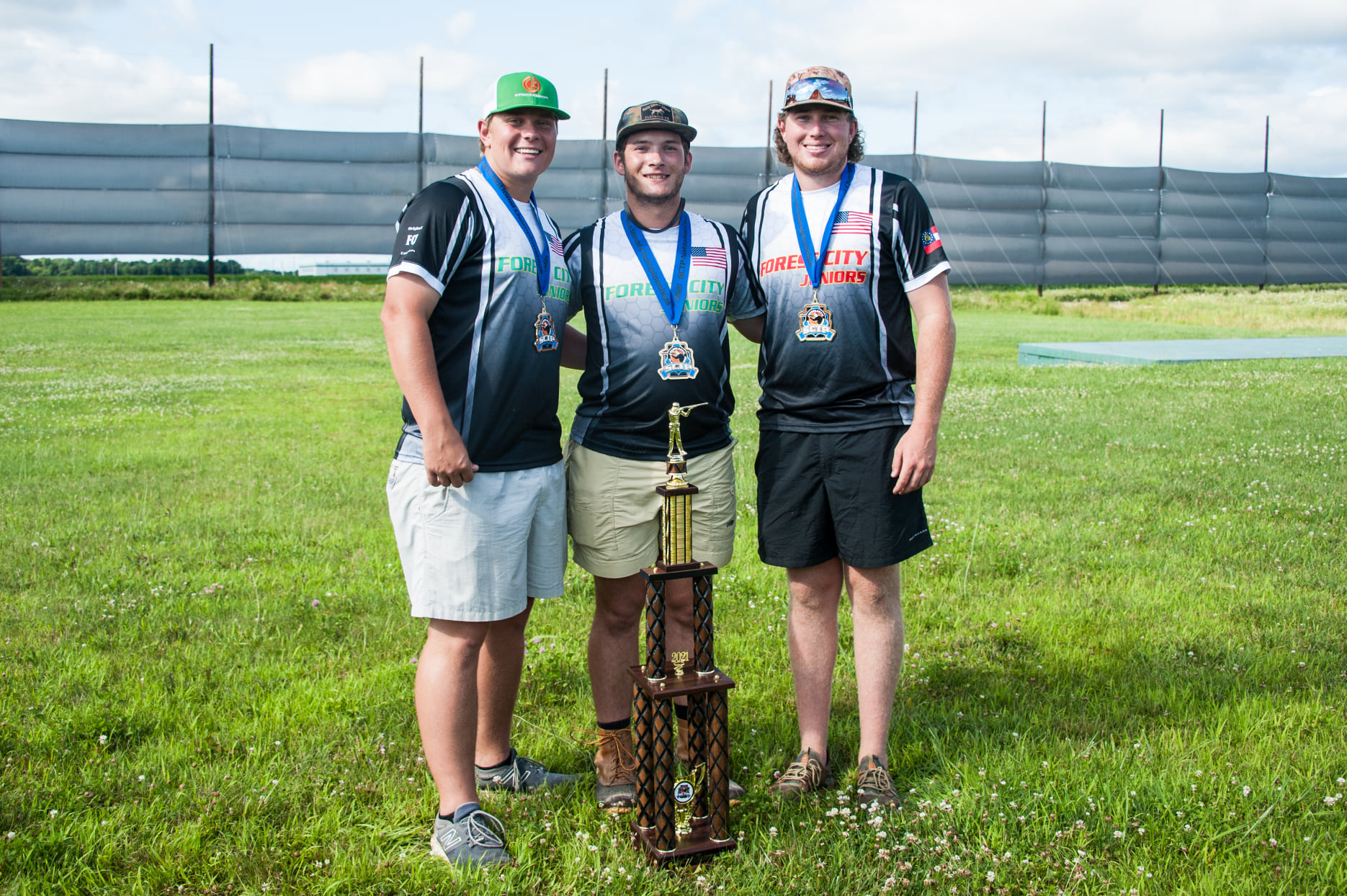 What an incredible week we've had in Ohio. Lifetime memories for the best group of kids you can imagine. We totally dominated at every division from Rookie to Collegiate. 18 National Championships including the granddaddy of them all the Main Event HOA Team Award. We may have to add a wing to the Clubhouse for all these trophies!
Thanks so much to all the great families who share their kids with our great coaching staff. Thanks to the coaches who really make this happen, and thanks to the Board and the Club who make it all possible. Thanks most of all to all these great kids who do the shooting and make it all worth it for us.
2021 SCTP Nationals Report – Day 3
Friday started under cloudy skies, but the rain held off as we shot our first round of Trap and then the Doubles Skeet competition.
Trap continued the theme of 100 straights with three of them. Two of our Original Gangsters, Douglas Williams and Jake Summerford shot their first ever 100 straights in Trap standing right beside each other, and it was a great moment for these old warriors to share together. Not to be outdone, first year JV shooter Jackson Ferland put up his own kind of magic with his first 100 straight. Rich and Abi Pazderski made it a family affair with a pair of 99s that had their mom smiling from ear to ear.
Our College team finished with an impressive 492/500 led by Williams and Summerford's 100s followed by Colin Davis with a 98, Walker McDonald with a 97 and Gracie Whitley with a 94. That puts them in good position to win their 3rd Team National Title of the week.
At the Varsity level, Pazderski and Elliott Cribbs fired 99s, Jackson Schaaf had a 97, Dawson Williams a 93 and Nathan Porter a 92. Their 480 puts the Juniors right in the hunt for the overall National HOA Championship, so be sending good vibes to Ohio at 3:30 tomorrow afternoon as they head to the line to defend their title.
We also have several ladies and young men who are chasing the podium for individual National Overall Championships in their respective divisions.
All told we had 21 rounds of 90 or better and over 40 25-straights, and Trap ain't even our game!
After 2 days of doing work on the Skeet fields, we went back down for a victory lap in the Doubles Skeet event. Our rookies got it started with our 14th National Championship of the week by Grady McKenzie, June McKenzie and Wylie Adams. These kids are hard to beat. Grady finished 3rd individually and June finished 2nd in the Ladies Rookie division.
The Intermediate Entry squad of David Butler, Lucas McKenzie and Marshall Kent claimed the Doubles Skeet National Championship (15), and their teammates Mills Hollis, Gavin Walmsley and Emaline Haddad claimed 3rd Place. Lucas McKenzie finished 7th and Emaline Haddad finished 4th in the Ladies Division.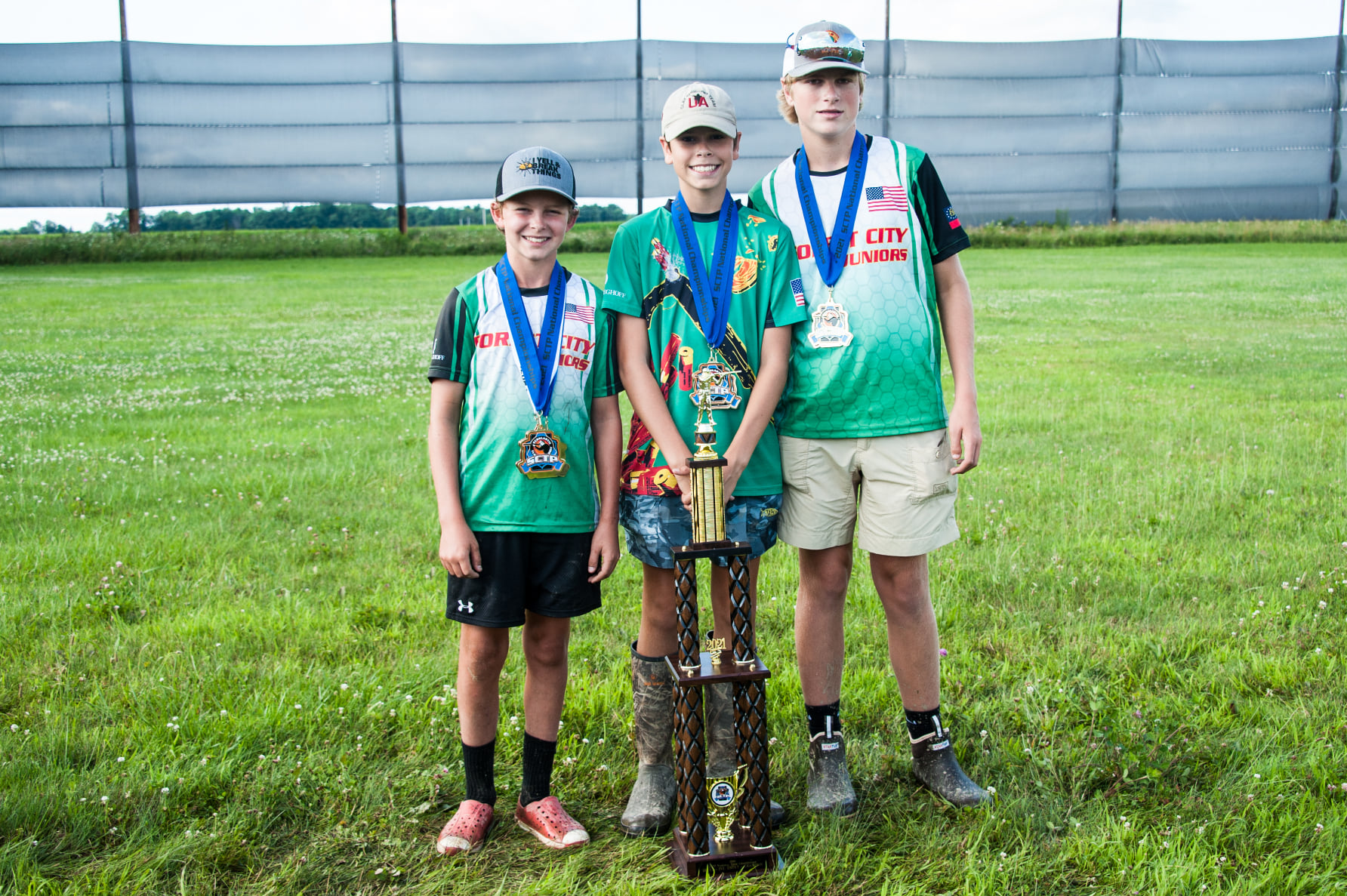 The Intermediate Advanced team of Ayden McKenzie (87), Drake Cooper (88) and Chase Buerger (87) finished in 3rd Place as a team and Ayden McKenzie finished 4th in Ladies.
The Junior Varsity team of Abi Pazderski (93), Jackson Ferland (89) and Pericles Lelos (85) finished 4th.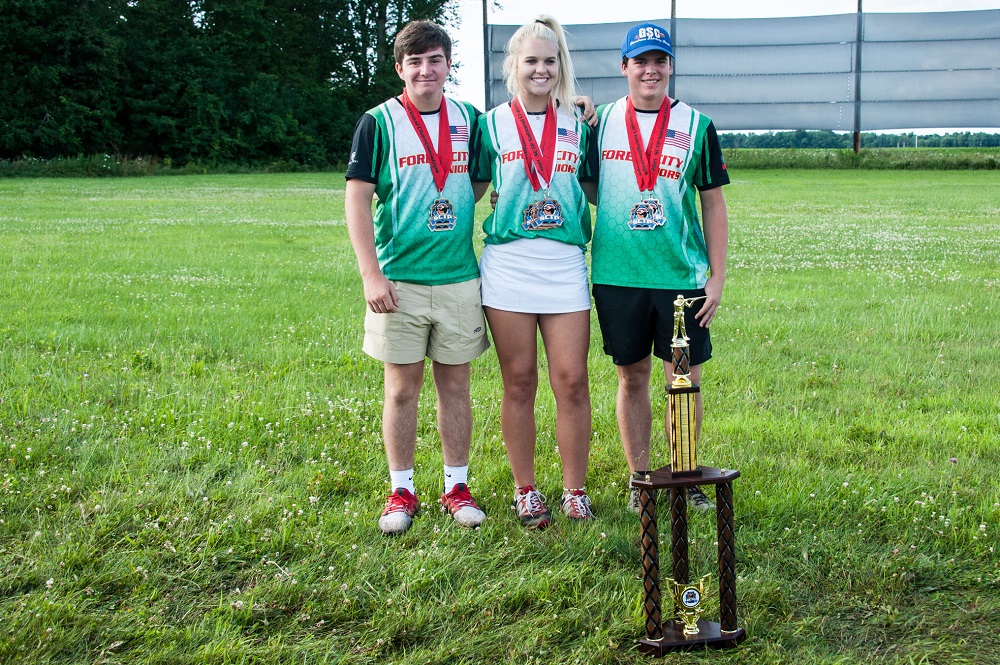 The Varsity squad of Dawson Williams (96), Jackson Schaaf (93) and John Neely (95) finished in 3rd place. Owen Haas and Rich Pazderski both tied for 4th with a pair of 98s. Ella Whitley tied for 4th in the Ladies Varsity Division with a 92.
Unfortunately bad weather threatened the complex and rained out the Skeet and Sporting Clays awards, but we secretly think the Yankees who run the show at SCTP just didn't want to spend their evening passing out awards to all the Georgia kids again this year. We will force their hand tonight!
It's been a great week and we've had a crazy amount of fun on and off the competition field. We have taken over the Hilton in a grand fashion and are having a blast. Tomorrow afternoon we go back to work to cap off another wonderful season. We will be bringing back a lot of hardware to Savannah and, if all goes well, we hope to be bringing back the HOA Trophy to where it belongs.
One thing is for sure, the national youth shooting community knows who the Forest City Juniors are, and they know that we come to win. They also see that we compete with respect for our competitors and the sport and that we honor our Club in all that we do. As Coaches, we could not be more proud of our kids not just for the way they compete, but the way they represent all of you and our club.
2021 SCTP Nationals – Day 2
Thursday was the wrap up day for Sporting Clays and Skeet, and what a day it was for the Forest City Juniors.
I told you yesterday that we had four 100 straights in Skeet on Wednesday, well we only had SIX 100 straights on Thursday, with two of them leading to 200 straights by Owen Haas and Nathan Porter. The other 100s were by Collegiate shooter Jake Summerford, Varsity Shooters Rich Pazderski and John Neely, and Junior Varsity shooter Jackson Ferland. The 200 straights tied the mark set by Douglas Williams several years ago and put them in a 4 way tie for first place. After a long shootout, Owen Haas finished 2nd and Nathan Porter finished 4th. That's right, the competition is so elite that you can not miss for 2 days, shoot 200 straight and end up in 4th Place. Teammate Rich Pazderski's 199 put him in 5th Place based on tiebreaker with ties that included John Neely who finished 6th and other big Varsity finishes by Will Rambo with a 198, James Daters with a 197 and Jackson Schaaf with a 196.
Now, before I go further, let me back and up and set the stage a bit. The SCTP is the largest youth shooting organization in the World and our kids are competing in the National Championships. Shooters compete in their age divisions as 3-man squads for Skeet and Sporting Clays and 5-man squads for Trap. The emphasis is on the squad awards as it is a team sport, but they also give out Men and Ladies individual awards in each age groups. The Overall Team National Championship – which we won last year – is the combination of each team's top Skeet, Sporting and Trap squads. This year there are around 2,900 competitors from over 250 teams across the Country. That's a lot of kids.
We are traditionally very strong in Skeet and Sporting Clays. The last two days our kids moved the needle from very strong to incredibly strong.
Starting in the Rookie Division (5th Grade and below), let's start the National Championship Count with 1 with the Squad of Grady McKenzie (183), June McKenzie (154) and Wylie Adams (148) claiming the title by 21 birds. Grady finished 2nd individually and June finished 4th in the Ladies division.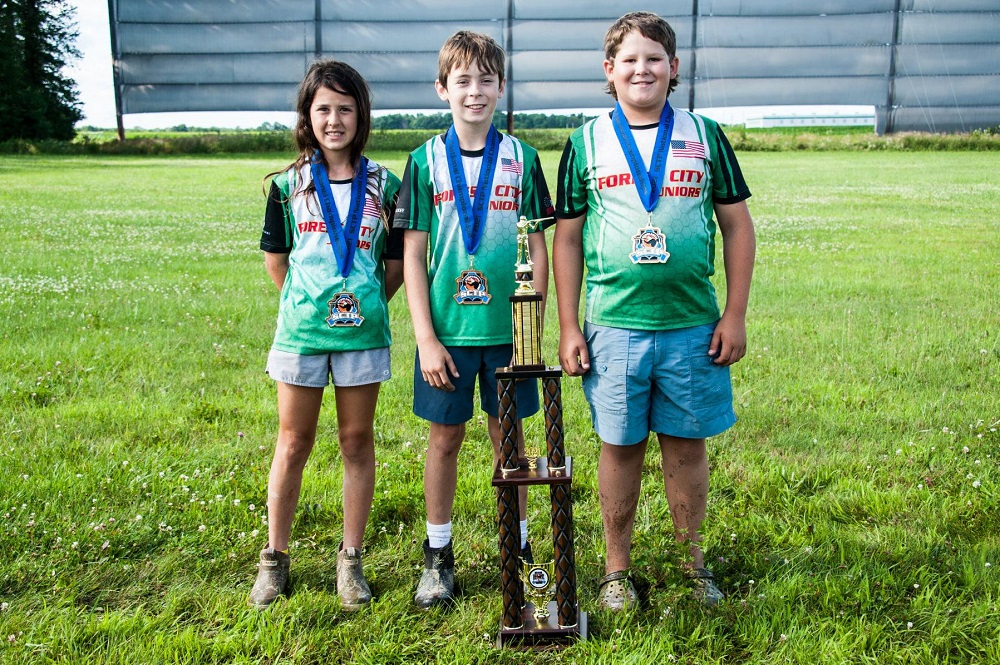 The Intermediate-Entry (IE) Division is for first year Middle School shooters, and they won our 2nd National Championship of the Week with the Squad of Marshall Kent (191), Lucas McKenzie (186) and David Butler (163). First year shooters Mills Hollis (181) and Gavin Walmsley (179) had great Nationals debuts as well. Marshall Kent's 191 was good for 2nd Place and Lucas finished 7th.
At the Intermediate-Advanced (IA) level (2nd and 3rd year shooting in Middle School), the Squad of Jackson Ezelle (191), Sam Anderson (191) and Jim Reynolds Morrison (180) finished in 3rd Place. 7th Grader Ayden McKenzie claimed the IA Ladies National Championship (#3) with an incredible score of 193.
The Junior Varsity team of Abi Pazderski (194), Jackson Ferland (192) and Pericles Lelos (182) finished in 2nd Place and Abi finished 3rd in the Ladies JV competition.
You read above about the strong individual finishes at the Varsity level, but what you don't know is that not only did we win the Varsity National Championship as a squad (#4), but we had another squad as Runner-Up and yet another as the 3rd Place squad. That's right, we swept the top 3 spots outclassing 150 other squads all just hoping to place somewhere. Just downright greedy.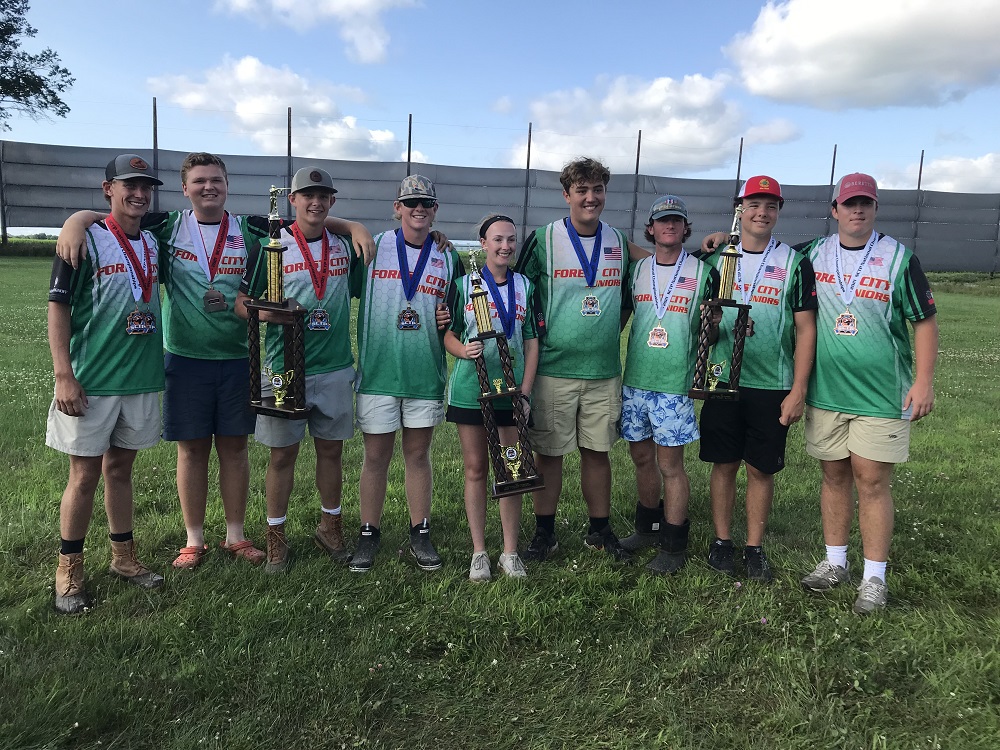 The winning squads were:
1st Place: Nathan Porter 200, Rich Pazderski 199, Ella Whitley 192
2nd Place: John Neely 199, Jackson Schaaf 196, Dawson Williams 193
3rd Place: Owen Haas 200, James Daters 197, Elliott Cribbs 190
That is unprecedented dominance.
Last but not least, the College Division which takes the Top 3 scores from our college shooters and led to our 5th National Championship when Walker McDonald (198), Jake Summerford (197) and Colin Davis (197) dropped just 8 targets over 6 rounds to tie the Pella Eagles out of Iowa. After waiting all afternoon, they made quick work of the Eagles winning the shootoff on the first station to claim the title. Collegiate Gracie Whitley shot a pair of 98s to win the Ladies Collegiate National Championship. That's right, six different National Championships in Skeet alone. It was good couple of days in the corn and bean fields of Central Ohio.
Moving on the Sporting Clays, we will start with the Original Gangsters in the College Division. They also won the National Championship (#7) in Sporting Clays on some pretty tough courses led by Douglas Williams, Colin Davis and Walker McDonald. Douglas and Colin tied at the top spot with a pair of 190s and will shoot it off for the Championship later in the week (#8).
Varsity shooters Rich Pazderski, Dawson Williams and Jackson Schaaf finished 3rd with Pazderski's impressive 98-96 putting him in 2nd Place. Dawson's 94-93 tied him for 5th.
At the Junior Varsity level, Jackson Ferland won the National Championship (#9) with a 91-87 combo, and his squadmate Abi Pazderski finished 3rd with a combined 168. Together with Pericles Lelos, they finished in 2nd Place by just 4 birds.
The IAs did well with 2 of the top 6 squads. In 4th Place was Jackson Ezelle, Ayden McKenzie and Jim Reynolds, and in 6th Place was Drake Cooper, Miles Carson and Jack McKenzie. Cooper finished 4th with a 179 and Ezelle 5th with a 175. News Alert: Ayden McKenzie can shoot and she is not just a one-trick pony as she claimed her 2nd National Championship of the day (#10) with a combined 167 to win by 1 bird. As we like to say, every shot counts. Way to go Ayden!
Keeping it in the family, Ayden's brother Lucas McKenzie (159) finished 3rd in the IE division and led his squad with Marshall Kent and David Butler to the IE Sporting Clays National Championship (#11). Emaline Haddad finished 3rd in the IE Ladies Division.
Last, but never least, our Rookie squad of Grady McKenzie, June McKenzie and Wylie Adams doubled up to win their second squad National Championship (#12) of the day. June defended her 2020 Rookie National Championship with another one this year bringing the total National Championship count to 13. Unbelievable!
This morning we start with Trap at 9AM and then shoot Doubles Skeet at Noon, then a little rest before the Skeet and Sporting Awards ceremony where we get to claim the fruits of our labor, and load down Coach Dan DeGood's trailer!
2021 SCTP Nationals – Day 1
We have Ammo!!!
Juniors Back in Ohio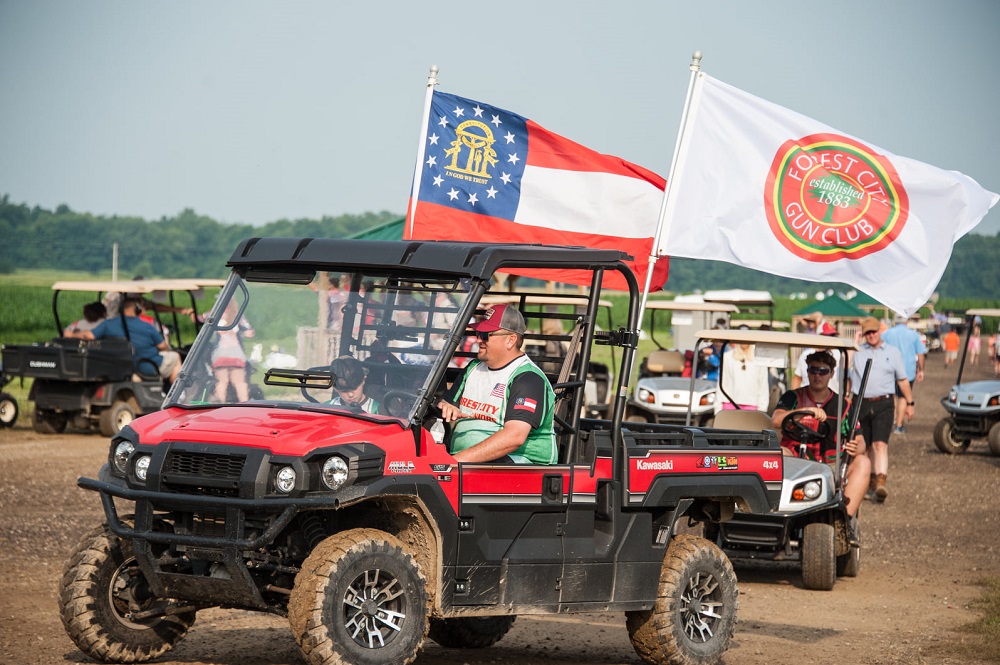 55 of your Forest City Juniors and their families and coaches are back in Columbus Ohio to defend their National Championship at the 2021 Scholastic Clay Target National Championships. The team made the trip on Tuesday and started shooting Wednesday with 100 rounds of Skeet and 100 rounds if Sporting Clays. They will do the same today starting at 8am and then finish with Trap and Doubles Skeet on Friday and Saturday.
Skeet started out in unprecedented fashion with not one, not two, not three, but four 100 straights by Collegiate Mitchell Kent and Varsity shooters Nathan Porter, Will Rambo and Owen Haas. We also had eight 99s by James Daters, Colin Davis, Walker McDonald, John Neely, Rich Pazderski, Jackson Schaaf, Dawson Williams and, last but certainly not least, 6th Grader Marshall Kent! Your Pro Shop Princesses Gracie and Ella Whitley threw in a pair of 98s for good measure and Rookie 5th Grader Grady McKenzie shot an incredible 94. All in all we had 40 shooters with 90 or better and an amazing 61 different 25 straights!
On the Sporting Clays Course we had some great scores on a tough course led by Rich Pazderski with an amazing 98 followed by a strong 96/95/94 squad of scores from Collegiate shooters Colin Davis, Douglas Williams and Walker McDonald.
The Skeet and Sporting competitions wrap up today and Forest City is in prime position for multiple Squad National Championships across the divisions from Rookie through College and everywhere in between with several individuals gunning for their own National Championships