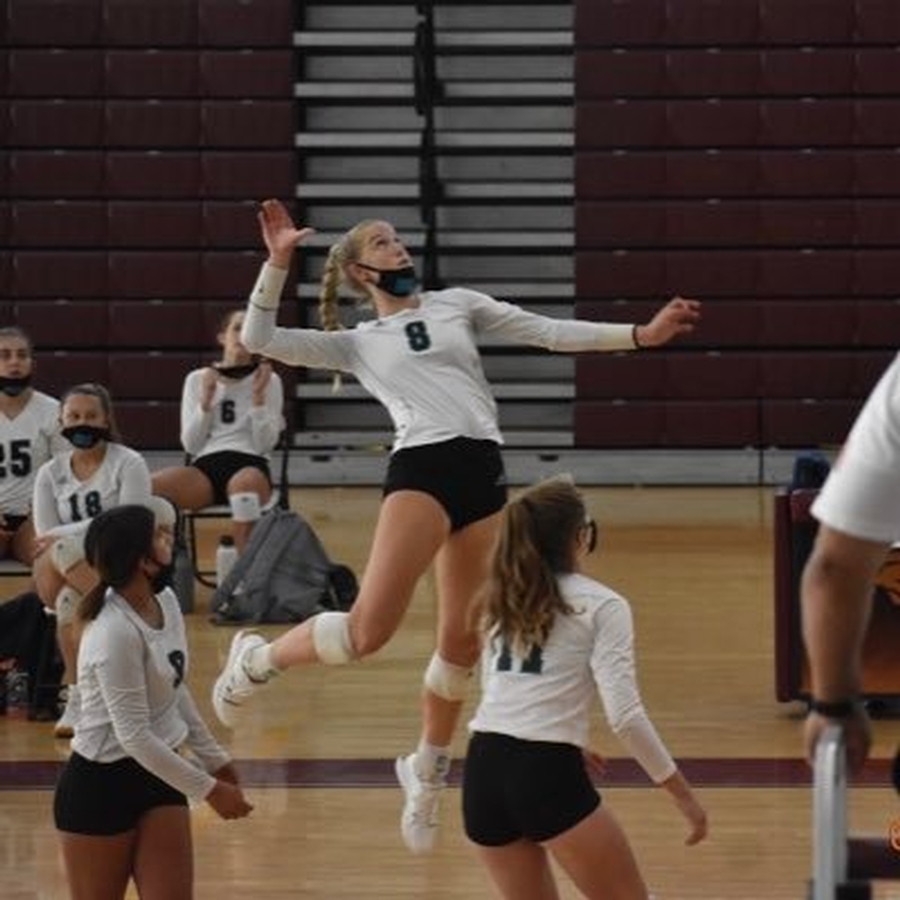 Islands High School's Sierzant Spikes the 29th Hollis Stacey Award
By Prep Sports Report Staff | May 17, 2021
Share This Story
It's another first for Islands High School and the Hollis Stacey Award. Veronica Sierzant is the winner of the 2021 Hollis Stacy Award. The award has been announced for 29 straight years and after Savannah native and World Golf Hall of Fame member Hollis Stacy. Sierzant is the first ever sophomore and Islands High School athlete to win this prestigous award.
How did Sierzant do win the award? The Hollis Stacey award recipients must be a three-sport athlete and nominated by respective local schools. Who votes? The Savannah Chatham county athletic directors of all private and public schools and media members from local tv stations WJCL, WSAV, WTOC, and the local newspaper, the Savannah morning news.
The Islands High School Shark excels in volleyball, basketball, soccer, and track and field. Sierzant is a force on the court. Whether it is the basketball court or volleyball court for the Sharks, she has been named All-State, All-Region, and All-Greater Savannah in volleyball and basketball. Here are the stats and accolades.
Veronica, a 6-foot-1 sophomore, has already received a basketball scholarship offer from Savannah State. In hoops, Sierzant was the GHSA Region 3-4A Player of the Year. Sierzant averaged 15.4 points, 12.8 rebounds, 3.1 blocks, 2.1 assists, and 1.6 assists per game. She is also drawing interest from college recruiters in volleyball.
As a volleyball player, Veronica is an all-region first-team player. Veronica had 196 kills, 221 digs, and 127 aces to help lead the Sharks volleyball team to the GHSA Elite -Eight Class 4A round. In soccer and track, Sierzant is a member of the 4X800 relay team that qualified for state and as a soccer player is a starting defender on the region champion and state elite eight soccer team.
Other recognitions include the Savannah Morning News Best of Preps first teams for volleyball and basketball player as a sophomore. Also, Sierzant was named a second-team all-state basketball player by Sandy Spiel.com. A widely recognized website for prep basketball in the state of Georgia.
The Hollis Stacy trophy will be presented on Tuesday, May 18th, at Islands High School at 2 pm by the award coordinator Gary Moses.
Hollis Stacy Award winners
2021 — Veronica Sierzant, Islands
2020 — BryAnn Pound, Jenkins
2019 — Basia Peragine, CDS, and Elizabeth Winders, SVA
2018 — Anna Bolch, SCD
2017 — Stewart, SVA
2016 — Sarah Stewart, SVA
2015 — Amari Oliver, SCD
2014 — Ewaldsen, SCPS
2013 — Chandler Ewaldsen, SCPS
2012 — Alicia Lawton, Savannah High
2011 — Jasmine Perrett, Jenkins
2010 — Sonny Canady, Calvary
2009 — Katie Covington, Calvary
2008 — Katherine Dotson, SCD
2007 — Christine Phan, Windsor Forest
2006 — Haley Reese, SCD
2005 — Lisa Gray, St. Vincent's Academy
2004 — Sprague, SCD
2003 — Lizzie Sprague, SCD
2002 — Anne Carson, SCD; Kristen Kelly, SCPS
2001 — Caroline Griner, Calvary
2000 — Erin Shields, SCD
1999 — Brooke Cornwell, Savannah Christian
1998 — Arden Wilson, SCD
1997 — Kamesha Mabry, Jenkins
1996 — Booker, SCD
1995 — Catherine Booker, Savannah Country Day
1994 — Susie Kleinpeter, Calvary Day
1993 — Joy Brown, Beach