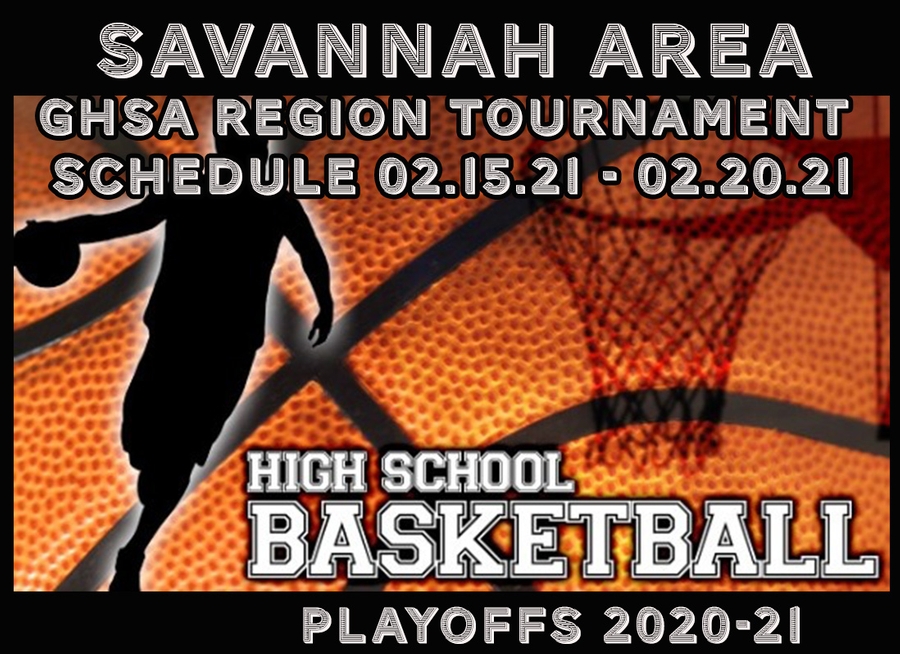 It's GHSA Region Playoff Time - Who Plays Who? Where? When?
By Prep Sports Report Staff | February 15, 2021
Share This Story
The regular-season schedule concluded on Saturday for GHSA schools. Region 3-A played their region tournament last week, with Savannah Country Day sweeping championships.
Country Day Hornets Sting Region Titles - Boys First in 51 years
Regions 3-6A tipped off their region tournament last Thursday, Friday, and will continue this week. Class 4A, 3A, and 2A will jump into its region tournaments this week. Here are the GHSA region results and upcoming dates and times for region playoff games.
GHSA Tournaments Completed
Region 3-A Private Boys At Savannah Christian
Friday (2/12)
#3 Savannah Country Day 58, #2 Calvary Day 50
#1 Savannah Christian 53, #4 Aquinas 34
Saturday (2/13)
Consolation: #2 Calvary Day vs. #4 Aquinas, 4:00
Championship: #3 Savannah Country Day 54, #1 Savannah Christian 32
Region 3-A Private Girls At Savannah Christian
Tuesday (2/9)
#4 Savannah Christian 69, #5 Aquinas 50
Friday (2/12)
#2 Savannah Country Day 56, #3 St. Vincent's 25
#1 Calvary Day 71, #4 Savannah Christian 59
Semi-final Recap by Travis Jaudon

Saturday (2/13)
Consolation: #4 Savannah Christian 66, #3 St. Vincent's 46
Championship: #2 Savannah Country Day 44, #1 Calvary Day 37
GHSA Tournaments This Week
Region 2-2A Boys
At Higher seeded team
Tuesday (2/15)
#7 East Laurens vs. #6 Toombs Co. 6:00
Wednesday (2/17)
#6/#7 Winner vs. #3 Vidalia 6:00
#5 Jeff Davis vs. #4 Bacon Co. 6:00
Friday (2/19)
#6/#7 Winner vs. #3 vs. #2 Woodville 6:00
#5/#4 Winner vs. #1 Swainsboro 6:00
Saturday (2/20)
Championship #1/#4 Winner vs. #2/#3 Winner 6:00
Consolation #1/#4 Loser vs. #2/#3 Loser 6:00
Region 2-2A Girls
At Higher seeded team
Monday (2/15)
#7 Jeff Davis vs. #6 Bacon County
Tuesday (2/16)
#6/#7 Winner vs. #3 Vidalia
#5 Toombs Co. vs. #4 Swainsboro
Thursday (2/18)
#6/#7 Winner vs. #3 vs. #2 Woodville
#5/#4 Winner vs. #1 East Laurens
Saturday (2/20)
Championship #1/#4 Winner vs. #2/#3 Winner
Consolation #1/#4 Loser vs. #2/#3 Loser
Region 3-3A Boys
Wednesday (2/17)
At Beach
#3 Groves vs. #6 Savannah, 5:00
#4 Beach vs. #5 Southeast Bulloch, 7:30
Thursday (2/18)
At Windsor Forest
#2 Johnson-Savannah vs. #3 Groves/#6 Savannah, 5:00
#1 Windsor Forest vs. #4 Beach/#5 Southeast Bulloch, 7:30
Friday (2/19)
At Higher Seed
Consolation,
Championship, 7:30
Region 3-3A Girls
Tuesday (2/16)
At Beach
#6 Southeast Bulloch vs. #7 Groves, 6:00
Wednesday (2/17)
At Liberty County
#4 Savannah vs. #5 Windsor Forest, 5:00
#3 Liberty County vs. #6 Southeast Bulloch/#7 Groves, 7:30
Thursday (2/18)
At Beach
#2 Johnson-Savannah vs. #3 Liberty County/#6/#7, 5:00
#1 Beach vs. #4 Savannah/#5 Windsor Forest, 7:30
Friday (2/19)
At Higher Seed
Consolation,
Championship, 5:00
Region 3-4A Boys
Wednesday (2/17)
#1 New Hampstead at #4 Islands, 6:00
#3 Benedictine at #2 Jenkins, 7:30
Friday (2/19)
At Jenkins
Consolation
At Islands
Championship, 7:30
Region 3-4A Girls
Wednesday (2/17)
#3 New Hampstead at #2 Jenkins
Friday (2/19)
Championship: #1 Islands vs. #2 Jenkins/#3 New Hampstead
Region 2-6A Boys
Friday (2/12)
#5 Brunswick 59, #4 Glynn Academy 49
#3 Effingham County 76, #6 Bradwell Institute 42
Tuesday (2/16)
At Statesboro
#2 Richmond Hill vs. #3 Effingham County, 6:00
#1 Statesboro vs. #5 Brunswick, 7:30
Thursday (2/18)
At Statesboro
Consolation, 6:00
Championship, 7:30
Region 2-6A Girls
Thursday (2/11)
At Richmond Hill
#5 Glynn Academy 39, #4 Bradwell Institute 31
#3 Richmond Hill 42, #6 South Effingham 39
Monday (2/15)
At Statesboro
#2 Brunswick vs. #3 Richmond Hill, 6:00
#1 Statesboro vs. #5 Glynn Academy, 7:30
Wednesday (2/17)
At Statesboro
Consolation, 6:00
Championship, 7:30