It's been a while since Memorial hung a state championship banner in the school's gym, the Matadome, but a second-year head coach and a group of international players may carry the Matadors all the way to the finish line this season.
Memorial (19-4) will play First Preparatory Christian Academy on March 2 in the Georgia Independent Athletic Association Class A final four at the University of West Georgia in Carrollton. The Matadors earned a bye in the first round and then handled Thomas Jefferson Academy, 62-22, in the second round to advance.
Memorial relies on a trio of international students and some key homegrown players, led by Zsolt Boros, a 6-foot-1 senior guard from the Slovak Republic who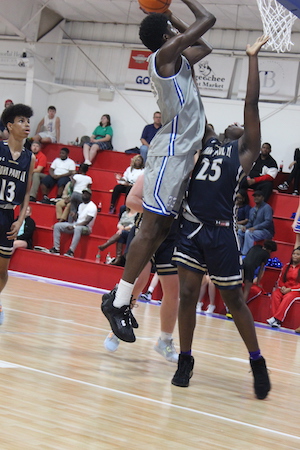 is averaging 14 points per game.
"(Boros) is a very talented player, and a lot of coaches tell me he's one of the two best players in the city of Savannah," said Memorial second year head coach Dale Mock. "He's the guy you have to stop, and if people don't stop him, they're not going to stop us. People think he's maybe a linebacker because of the way he's built, but he's a very skilled point guard."
The supporting cast includes seniors Edwin Carter, and All Region selection who averages 5 points per game, and Jake Vendetti, who contributes 9 points per game. Like all the other Matadors, Carter and Vendetti play intense defense and make the hustle plays that often mean the difference between a win and a loss.
Memorial split two games against Bryan County High School, and played a competitive game with Jenkins High School in a holiday tournament as well. In addition to Boros, Mock can count on 6-foot-7 Matt Aidietis, a junior power forward from Lithuania (6 foot 7) who averages 12 points per game and shoots about 40% from beyond the three-point line.
And then there's the big man - 7-foot 1 sophomor, KC Edgecombe, from the Bahamas, – who averages 13 points, 14 rebounds and 4 blocks per game. When those three are playing well and being complimented by the homegrown talent surrounding them, Mock likes his team's chances agains anyone.
"Most nights we have two players from Savannah who start and then the three international kids, and the chemistry is pretty good," Mock said. "It's a fairly good mixture of kids from different places who didn't really know each other until they got here."
There's no secret to the Matadors' success. Mock knows his team thrives on its defense, and defending the scorers from First Preparatory Christian will ultimately determine Memorial's fate in the seminfinal.
"We're pretty much a defensive minded team, and our best offense is our defense," Mock said. "We have easily eight or nine 9 guys who can play, and we play them all. We try to play good man to man defense, and there's nothing fancy about it."
Memorial has already beaten First Preparatory Christian twice this season, but Mock knows their opponent on Thursday has three really solid players who can engineer an upset.
"Being completely honest, if we play good defense we will win," Mock said. "We've got enough offense that we can win, but if we don't play good defense we're not going to win. Our kids play hard, and when we play good defense we win."
*Photo credits: Memorial Day School