Benedictine Military School is rich in traditions, but BC Lacrosse has a tradition that you may not know much about. The "Number 10" jersey tradition is one of the school's most heartwarming.
It all started with a talented Lacrosse player named Richard "Ricky" McAllaster, who wore the number 10. On January 1, 2010, Ricky was rushing home. He lost control of his vehicle, resulting in a fatal accident that tragically took his life. Ricky was known to the community as an excellent lacrosse player and a good friend. His father said Ricky could be wild and crazy at times, but he was an exceptional athlete who always looked out for the team and had an amazing work ethic.
After that fateful day, the school coordinated with the McAllaster family to retire and frame Ricky's number 10 jersey in the gym. After much thought, Ricky's parents decided that "Ricky wouldn't want to be behind glass in a dusty gym because that wasn't Ricky."
The question became what to do to keep his legacy alive. That's when family friend Marty Hogan suggested that they pass down the number 10 jersey to a deserving senior.
Ricky's family selected the first jersey recipient, Cadet Hunter Hebert. Hunter was Ricky's best friend and an easy choice for the family. Mr. McAllaster would drive Ricky and Hunter to all of their tournaments. Each recipient since Hunter has been selected by the Cadet currently holding the jersey, with no input from the team, coaches, or Ricky's family. The recipient is selected based on skill level and, more importantly, selflessness and leadership ability.
The McAllasters have been advocates for young driver safety. They have worked with the "Arrive Alive" program for 13 years, talking to students about driver safety. They first participated in BC's driver safety program in March 2010 and now provide annual funding for the program at BC, St. Vincent, and surrounding schools. Their goal is for no other parents to go through what they did.
The McAllasters also set up the Ricky Foundation, which is responsible for forming most of the lacrosse programs in the area. The Foundation helps teams with buying equipment. A school will raise some of the money, and the Foundation will match it.
Lacrosse is so much more than a game to Mr. McAllaster, who was back out on the field coaching the season after his son tragically passed. He said it was therapy for him, and he wanted to ensure that lacrosse in Georgia was started the right way.
Mr. McAllaster said that tradition is very important because all great teams are built around tradition. "The tradition creates consistency and builds more respect for the team," and "It helps set a standard and attracts more athletes." He said, most importantly, "it keeps Ricky's legacy alive."
The current coach of the BC lacrosse team is coach Dustin White, who himself was a recipient of the number 10 jersey. Coach White was the first Cadet to receive it after Hunter. He said the jersey helps you understand that you are playing for "something greater than yourself." Coach White said, "nobody knows who's going to get it, and you are standing shoulder to shoulder with your brothers, and then you hear your name called."
He said, "You're filled with a sense of humility, and it felt even better to pass it down than it did to receive it." He said that after Ricky passed, Mr. McAllaster became like a father figure to all the teammates.
The number 10 jersey gets passed down each year to an incoming senior during the halftime of the senior night game. Coach White remembered that night, there were nine goals scored at halftime, and after being named the recipient of the number 10 jersey, he scored the 10th goal of that game fittingly.
Coach White explained, "The traditions last not because you know the people who started it, but because you know the importance and what it stands for." He said the jersey means a lot because "it reminds you why you are playing. You play for those who can't."
The current number 10, Kyen Argentinis, said that it means a lot to carry on the tradition, and the fact that other people saw the qualities in him to hold the jersey is very motivating. He explained you truly do not know you are receiving the honor until the day of the presentation. He found out with everybody else. Kyen said he has been playing since the 5th grade, and he is going to continue his lacrosse career as a preferred walk-on (PWO) at Salisbury University in Maryland.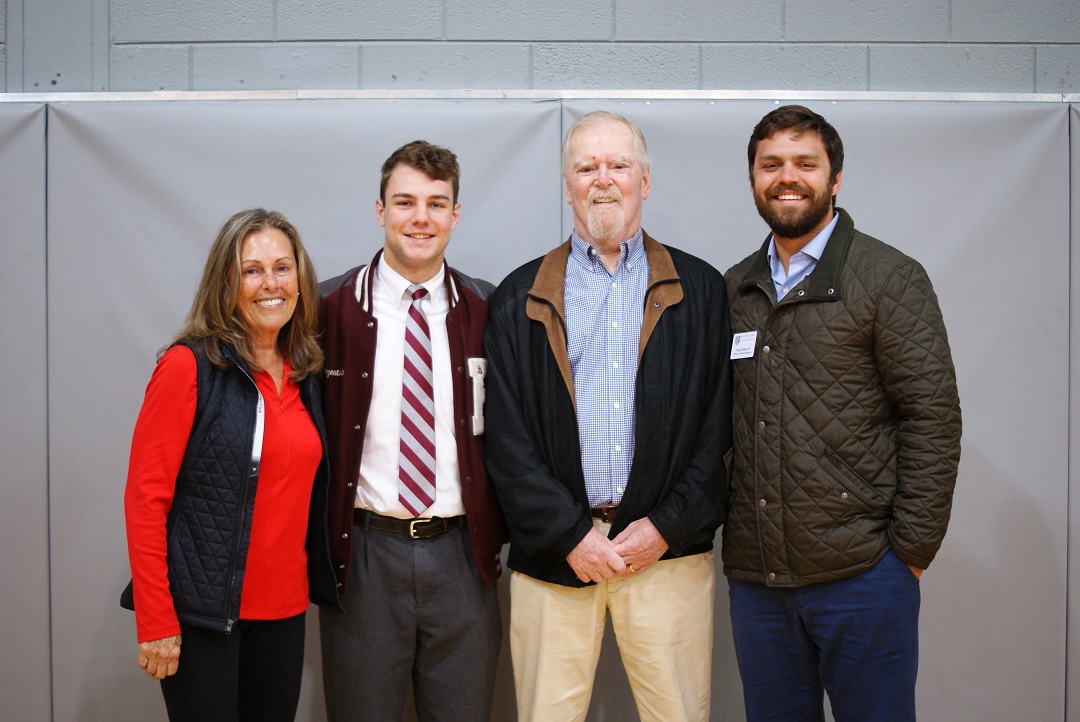 Pictured (left-right): Mrs. Elison McAllaster, Kyen Argentinis, Mr. Richard McAllister, BC Lacrosse Head Coach Dustin White
Before he goes off to college, he will have to pass down the number 10 jersey to the next recipient. He claims he is still thinking about who to give it to.
If you are interested to see who will be the next number 10, the jersey will be passed down on senior night on April 7 during halftime at Fr. Albert Field at Benedictine Military School.
Optim Orthopedics supports Benedictine Military School athletics. Benedictine Military School's team doctor is Dr. David Sedory. Remember, Optim Orthopedics gets you back into the game!.
Cover Photo - Benedictine Military Lacrosse Facebook page
Group photo - AJ Balbo