Las Vegas, NV June 24-July 3, 2022
Earning 20 medals: Savannah's Coastal Empire Weightlifters were among a record-breaking number of athletes competing at the 2022 USAW Nationals Week powered by Rogue in Las Vegas, NV. Below are the results!
*PR-personal record best
*click on athlete's name to view competition video
YOUTH ATHLETES (age 14-17yrs old)
Alexis Tayler (14-15/55kg) Silver Medalist
Congratulations PI Champion, Alexis Taylor (14-15) lifting in the 55B session in Las Vegas at the 2022 USAW Nationals Week
Alexis completed a PR total of 83KG on the national stage! Snatching 38kg, Clean & Jerking 45kg
Corey Robinson(14-15/+89) 2022 National Champion & Team USA member (2022 Team USA 15U Pan American Team)
Winning his second national title, Corey lifted his way to podium with PR lifts of : Snatch -115kg (PR). Clean and Jerk-146kg (PR) Total- 261kg (PR)
Kaiya Bryant (16-17/55kg) GOLD & TEAM USA member
Bryant conquered her 5th Youth National Title!!!
Bryant lifted personal records of : Snatch-76kg Clean 7 Jerk -102kg
Total 178kg - sweeping GOLD across the board.
Kaiya Bryant is completing her last year in the 17U division as a highly decorated national and international level athlete in Olympic Weightlifting. Her accolades are as follows:

• 2016 Youth National Champion – 11U/45kg best female lifter/ *national record holder
• 2018 Youth National Champion – 13U/45kg & 49kg best female lifter/ * national record holder
• 2019 Youth National Champion - 14-15/49kg best female lifter/ * national record holder
• 2019 Team USA Youth World Championships /Silver in CJ, Bronze in total *broke 3 national records
• 2019 Youth Pan American Championships- Gold Medalist (49kg)
• 2020 Youth National Champion (55kg)
• 2021 Youth Pan American Team USA member (55kg) (2nd place)
• 2022 Youth Pan American Team Member (55kg) (postponed)
• 2022 Youth National Champion (W16-17/ 55kg)
Kaiya will return to training next week with her focus on setting new national records in the W16-17/55kg division by the end of 2022 with a focus on being successful in the Junior division in 2023.
Kaiya Bryant is a Junior at Jenkins High School.
Milan Brown (16-17/+81) Bronze medalist
Congratulations to PI Champion, Milan Brown (16-17/81+) on her 3rd place finish in her first USAW National Championships in Las Vegas, Nevada on Monday, June 27, 2022. New to the sport, Milan lifted PRs to earn her way to podium at the 2022 USAW Youth National Championships. Snatch-67KG (PR)
Clean & Jerk- 91KG (PR) Totaling 157kg (PR)
Milan improved he competition total by 6kg!
Milan Brown is a junior attending Savannah Early College
JUNIOR ATHLETES (18-20yrs of age)
Nia Walker (+87) and TEAM USA athlete, Nia Walker clutched 6 SILVER Medals in the both the Junior Division & 25U division Thursday, June 30th. This was Walkers final Junior division competition as she moves into the Senior (21+) division in 2023.
ScoreBoard: Snatch 97kg Clean & Jerk 118kg Total: 214kg
Nia reflects on her beginning in weightlifting and the accomplishments she has earned as she focuses on the next level of competition: Nia Walker, age 20, +87kg division.
My mom signed me up for Performance Initiatives when I was 10 years old due to being overweight. I was not happy at first but after traveling to compete for the first time I found that I really enjoyed the sport. I have accomplished a lot throughout the years.

• Won over 80 medals
• 3x Youth National Champion (2016, 2018, 2019)
• 2012 Jr. Olympic Champion
• 3x State Champion
• 2017 youth national record holder
• 2x TEAM USA member (2018 Youth Pan Am Team, 2019 Youth World Championship Team)
• 2019 IWF Youth World Championships-Congratulations Nia Walker,+81kg, Team USA, lifter 5 for 6 in her first Youth World Championships :
Snatch: 81,83,86 3rd place
CJ: 106, 110, -115. Second place
Total 196kg. 3rd place
Competition PRs all around!

• TEAM USA- 2019 IWF Youth Pan Am Team member
• 2020 JR National Champion (+87)
• 2020 JR Pan Am Team member
• 2021 North American open Series-East (+87kg/Silver medalist)
• 2022 USAW JR National Championships (+87/Silver Medalist)
• 2022 USAW U25 National Championships (+87/Silver Medalist)

Walker is a sophomore studying psychology at Brewton Parker College.
SENIOR ATHLETES (age 21+)
Janiah Jones(81kg/25U)
Snatch:65kg (10th)
CJ: 85kg (9th)
Total: 150kg (9th)
Na'Erykah Goodwin (87/25U) PI Champion, Na'Erykah Goodwin wins GOLD in Las Vegas, NV at the 2022 USA Weightlifting 25U Championships Thursday, June 30th in the 87kg division.
Na'Erykah is a Junior at Brewton Parker College studying law.
Goodwin Snatch- 73kg (4th) Clean and Jerked -94kg Totaling -167kg
Tayon Vereen (+109/SR)
Tayon won Silver overall with lifts of:
Snatch 155kg
Clean & Jerk - 195kg
Total with 350kg
Tayon Vereen is a Senior at Brewton Parker College, studying accounting on a weightlifting scholarship.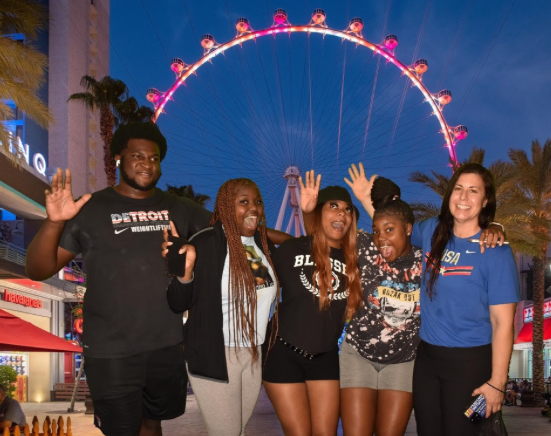 Photo (l-r): Tayon Vereen, Nia Walker, Na'Erykah Goodwin, Coach Kerri Goodrich
Performance Initiatives is a not for profit 501 (c)3 organization founded in 2005 in Savannah, Georgia. We work hand in hand with Coastal Empire Weightlifting. The purpose of the organization is to educate and mentor youth and adults mentally, physically and spiritually by using athletics and fitness, with olympic-style weight lifting as the base.
Positive character traits are nurtured in participants in the youth programs – aiming for those who have possibly never have seen hope or encouragement in their life.
Location: 2653 Causton Bluff Savannah, GA 31404
email: info@pifitness.org
phone (912)507-7106
Cover photo (l-r): Corey Robinson, Kaiya Bryant, Alexis Tayler, Milan Brown
Photos credit - Performance Initiatives