Guatemala City, Guatemala - The 17U Youth Team USA competed in the annual Pan American weightlifting championship this past weekend, November 25-27, in Guatemala City. First-time member Corey Robinson (Performance Initiatives) from Savannah, Georgia took home three gold medals and breacking three records.
Robinson, a member of the Coastal Empire Weightlifting Club (CEW), took gold in both Snatch and Clean/Jerk and gold in his combined lift total. Robinson, fifteen competing in the 15 and under, +102 Kilogram category set three new Pan American records: 118 kg in Snatch, 148 kg in Clean and Jerk, and 266 kg combined total, a personal best for Corey.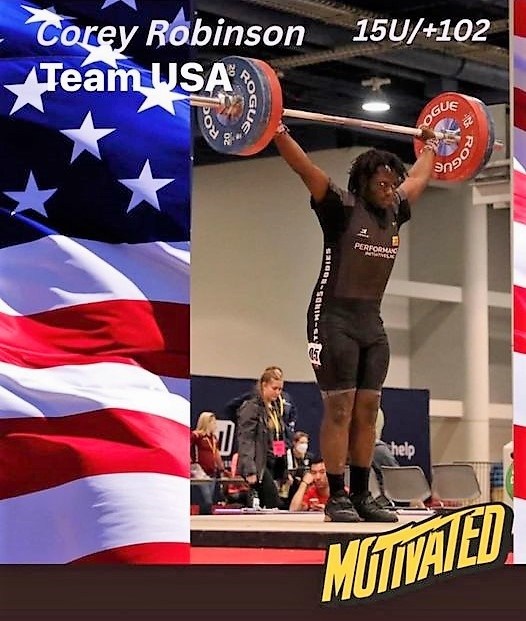 His introduction to weightlifting started in 2017 when he was enrolled in Performance Initiatives (PI) after-school programs at age 10. Corey, a student at Savannah High, said, "The program at Performance Initiatives is part of my family and motivates me."
Robinson's humble beginnings started with attending the after-school program at PI, benefiting from a volunteer-run tutoring program combined with physical activities that include opportunities for weightlifting and, for some, like Corey, a chance to compete on the world stage.
"It's amazing to see someone like Corey, who is humble and quiet, excel to the level he did this past weekend," said executive director and Head Coach Kerri Goodrich. "He was walking off the platform as they started announcing the three records he broke with such humility and focus."
Robinson and several other youth athletes from Performance Initiatives are set to compete this coming weekend in a 2023 World's qualifying event in Atlanta, GA. These opportunities to travel create experiences that positively impact the youth in our programs by meeting others from around the world and learning about new cultures.
The program at PI has a rich history of helping youth in Savannah with opportunities after school that include help with school work, dinner provided by Second Harvest's Kids Cafe program, wellness programs, counseling/life skills programs, physical fitness programs, and more.
The Performance Initiatives, a not for profit facility is supported by donations from individuals and businesses in our community. Please consider helping us support programs that help youth with opportunities in school, work, and athletics. www.PIFITNESS.org
NOTE: Performance Initiatives (PI), Inc strengthens the hearts, minds, and bodies of over 180 children annually through its after-school programs and partners with Second Harvest providing dinner at the Kid's Cafe. PI is home to Coastal Empire Weightlifting Club (CEWC) and CrossFit Savannah and provides classes for both adults and children. CEW is a United States Community Outreach Weightlifting (USAW) Athlete Training Center.
TO SCHEDULE INTERVIEWS OR ADDITIONAL DETAILS:
CONTACT: WILL DENT 912.257.5735 or KERRI GOODRICH 912.507.7106 or email them at info@pifitness.org
PHOTO CREDIT: Performance Initiatives