Savannah, GA - Join us for an evening of fun, laughter and philanthropy! Local funny folks Maureen McFadden, Nick Deffley, Dr. Christopher Pugh and Paul Meyer (MC) will be putting it all on the line with a stand up routine for at-risk youth in our community. They are running campaigns to raise the most funds and win the "Crack Up Crown" at this one-of-a-kind event and they need your help! Join them in supporting the kids of Performance Initiatives.
Where and What Time:
The Ballroom of the American Legion 1108 Bull St, Savannah, GA 31401.
Show starts at 6:30 pm on September 24th.
Want a Ticket or just to make a donation?
Tickets are $40 per person and include two drinks and heavy hors d'oeuvres.
If online you will receive the access code to a live Zoom performance via email.
In order to secure your ticket(s) just leave a message with how many tickets you are purchasing with your online donation
Want to be a sponsor?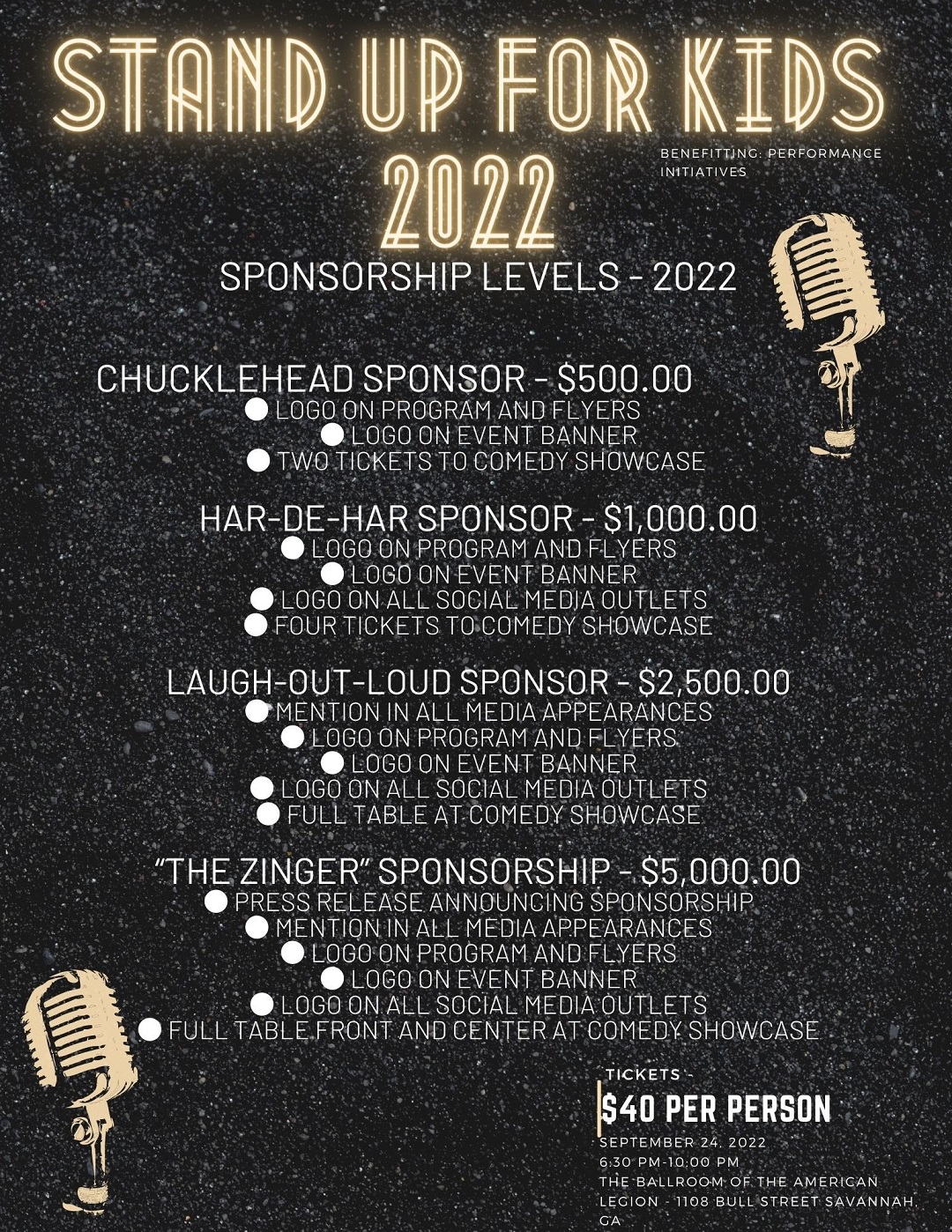 Want to support a specific comic? Find their links here:
Nick - https://pifitness.networkforgood.com/.../166872-nick...
Chris - https://pifitness.networkforgood.com/.../166859-manhood...
Paul - https://pifitness.networkforgood.com/.../165751-paul...
Maureen - https://pifitness.networkforgood.com/.../165675-maureen...
General Donation?-
https://pifitness.networkforgood.com/.../168044-pi...
Note: What is Performance Initiatives Gym?
Performance Initiatives is a not-for-profit 501 c3 organization founded in 2005 in Savannah, Georgia. We work hand in hand with Coastal Empire Weightlifting and CrossFit Savannah. The purpose of the organization is to educate and mentor youth and adults mentally, physically, and spiritually by using athletics and fitness, with Olympic-style weight lifting as the base.
Positive character traits are nurtured in participants in the youth programs – aiming for those who have possibly never have seen hope or encouragement in their life.
Who started Performance Initiatives? The founder and director, Kerri Goodrich has been coaching since 2002 and has taken student-athletes to weightlifting competitions throughout the world, including the Youth World Championships in Peru and Slovakia.
She was a member of the U.S. Women's Weightlifting National team. She is a graduate of Leadership Savannah and has provided leadership training and seminars for many organizations including the YMCA and the Frank Callen Girls and Boys Club.