After putting in hard work all year, the Richmond Hill High School competitive cheerleading team has themselves right where they want to be as they prepare for the Georgia High School Association state championship tournament at the end of this week.
The team finished first at the GHSA sectionals for division six and is now looking to win a championship. However, they have already managed to make school history this year. Coach Kaitlin Hutchinson commented on the goal the girls set, saying, "We set a goal every year to score higher than we did the year before. This year, we scored the highest in school history (105.5). We are always incorporating skills with higher difficulty ratings, more technical skills."
With this goal, the Lady Wildcats have put in endless hours all season but have also grown closer as a team. If there is no trust, it is much harder to build a routine that can show the full potential of each girl. When asked about the growth of the girls this season, Coach Hutchinson was able to proudly say, "Each girl on the mat serves a purpose. They are all valued and appreciated individually for what they contribute to the team. This team has grown together for the past few years, starting really in middle school, and is such a family. They encourage each other every day, and I have never seen them cut each other down. They are positive, motivating teammates, and I love that about this team!"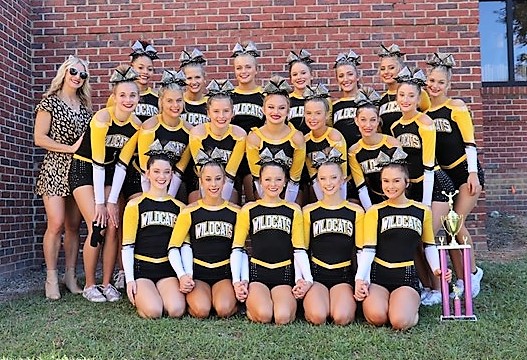 Front row (L-R): Skyler Roberts, Macy Fennell, Laurel Bixler, Madison Tuttle, Alayna Brazzell
Middle Row (L-R): Ava Hendren, Presley Cassady, Catherine Dority, Maggie Denton, Julia Parker, Mary Fawcett, Annabale Fulford
Back Row (L-R): Coach Kaitlin Hutchinson, Jayla Lawrence, Lizzie Shaw, McKenna Truax, Sadie Wright, Peyton Smith, Nia Woodworth, Jenna Ward
Coach Hutchinson has demonstrated this year that she understands how important it is for her team to be involved in the decision-making process of their routine. "I love to create opportunities for them to feel valued as a part of the process. I work with them on creative input and changes in the routine and give them a voice in what we do. I think that generating investment and ownership is the BEST way to inspire a team."
Even with their sectional win, the Lady Wildcats at Richmond Hill still practice hard and aim for a state title. While the program is still relatively young, only starting four years ago, the girls understand what it takes to be where they are and will not, as said by Coach Hutchinson, "settle for less than perfect."
With student leadership, continuous practice, a will to fight, and a great routine, we wish all the luck to these RHHS cheerleaders in their championship tournament this Friday.
The Lady Wildcats will compete this weekend for a state title at the 2021-22 GHSA Cheerleading State Championships on November 19 & 20, 2021 at the Macon Centreplex.
The Lady Wildcats will compete this weekend for a state title at the 2021-22 GHSA Cheerleading State Championships on November 19 & 20, 2021, at the Macon Centreplex.
Optim Orthopedics supports Richmond Hill High School. The team doctor for Richmond Hill High School is Dr. David Palmer. Remember, Optim Orthopedics gets you back into the game!