Both Savannah County Day tennis teams have a date in the Georgia High School State Association Class 3A championships against Wesleyan on May 13, 2023, at Berry College. The girls punched their ticket back on Thursday at Breman, and the boys did it today on the campus of Savannah Country Day, defeating Lumpkin County High School 3-2.
Henry Berg, Jake Fesler, and Nico Dascombe, all singles players, earned the points needed for the Hornets to move on. Number 1 singles player Henry Berg took care of his opponent 6-1, 6-2, as did number two Jake Fesler 6-2,6-1. The SCDS doubles teams dropped their matches by it was close. The number doubles team of Lawson Zhou, and Paxton Towe lost 6-2, 7-5, as number two doubles Wills Davis, and Finn Taylor lost 6-3, 0-6, 7-5. It came down to number 3 singles player Nico Dascombe to win, and he did.
Coack Lamar Kirkly stated, "The Match was tied at 2-2 with only Nico left on the court. He won the first set 7-6 in a tiebreaker. He was down the whole match, came back to tie it at 5-5, and won the set. It was a thriller in the second set, and Nico pulled it out 6-4."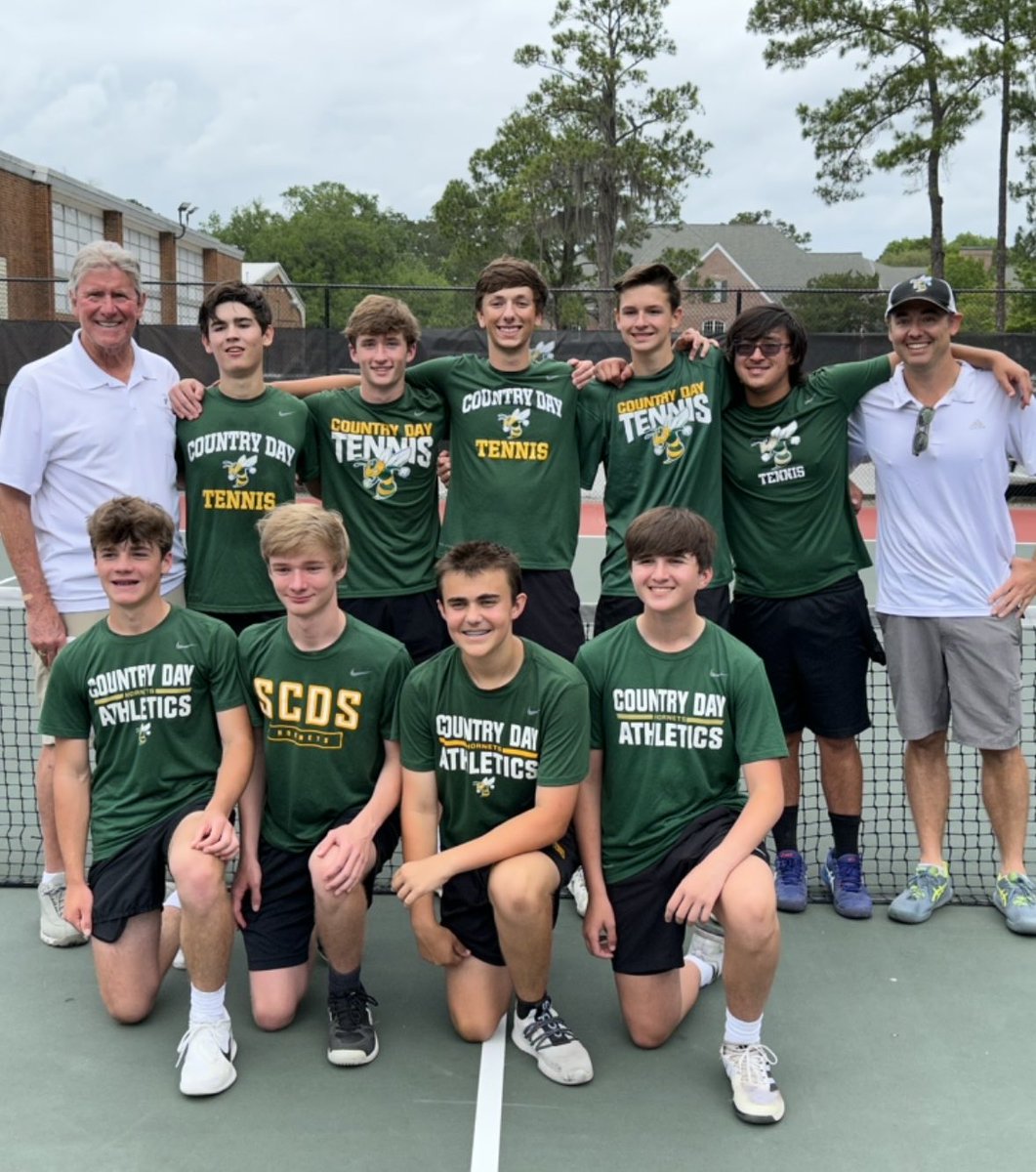 Both teams will play Wesleyan next Saturday, May 13, at the Rome Tennis Center at Berry College in Rome, Georgia. The Lady Hornet (23-2) will play at 9 a.m and the Horents (23-2) at 1 p.m.
PHOTO CREDIT: Savannah Country Day School Athletics Twitter page
FOLLOW Prep Sports Report on Twitter @PrepSav, Instgram savannahsportsreport, contact PSR at https://prepsportsreport.com/Contact
Optim Orthopedics supports Benedictine Military School, Calvary Day School, Richmond Hill High School, Savannah Country Day, South Effingham High School, and St. Vincent's athletics. Benedictine Military School's team doctor is Dr. David Sedory. Dr. David Palmer is the team doctor for Calvary Day School, South Effingham, and Richmond Hill. Savannah Country Day and St. Vincent's team doctor is Dr. Thomas Alexander. Remember, Optim Orthopedics gets you back into the game.