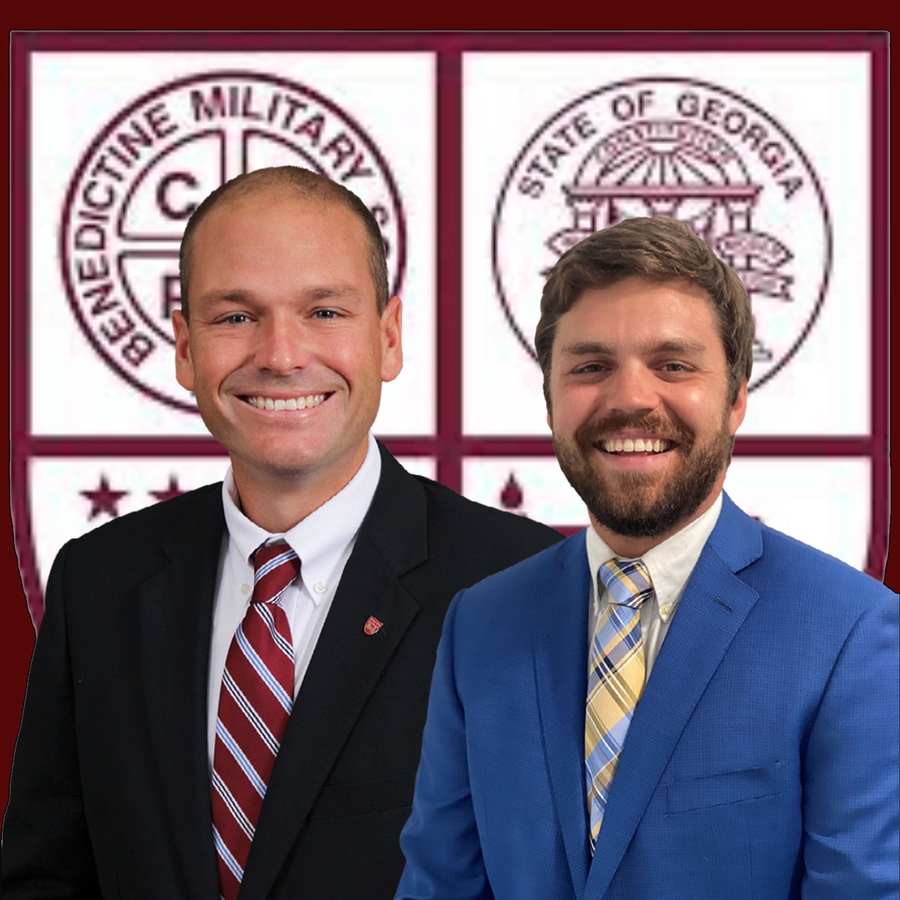 Two Former Benedictine Cadets to Lead Athletics and Alumni Engagement
By Special to the Prep Sport Report | July 26, 2021
Share This Story
SAVANNAH, Ga. – Benedictine Military School has appointed Mr. Jack Holland '03 Director of Athletics and hired Mr. Dustin White '14 as Director of Alumni Engagement, BC Principal Mr. Jacob Horne announced on Monday July 26, 2021.
Holland, 36, earned a bachelor's degree in sport management from the University of Georgia in 2008. He was hired full-time by BC in 2015 as the advancement coordinator. Holland has served as a baseball assistant coach since 2008. During the 2020-21 school year, Assistant Director of Athletics was added to Holland's duties. He was mentored by previous Director of Athletics Mr. Danny Britt, who now will serve as Assistant Director of Athletics and continue as football head coach.
"I have had the pleasure of working with Jack for over a decade," Horne said. "In every position that he has held at BC, he has far exceeded expectations. This past year, while serving as assistant athletic director, Jack brought his characteristic passion for all things BC every day. Athletics has always been an integral program for our Cadets, and Jack's depth of experience as an alumnus, and his breadth of interests as an educator, make him a superb fit. I look forward to working alongside Jack as he supports and develops BC's programs and coaches in the No. 1 boys' athletic program south of Atlanta since 2012."
White, 25, earned a bachelor's degree in global health studies from Mercer University in 2018. He will continue his coaching with BC's lacrosse program.
"There was a lot of interest in the director of alumni engagement position," BC Director of Advancement Mr. Greg Markiton '92 said. "We were fortunate to interview many incredibly qualified candidates. Dustin just seemed built for this role. His passion, energy level, and positive attitude made him an ideal fit for this particular position on the Advancement Team. The connection that our Benedictine alumni share with the school is very unique and uncommon. Dustin will expand our alumni engagement program to serve our graduates and involve them with our current students and the mission of the school. Passion is the price of admission on the advancement team and Dustin clearly understands our purpose. The members of the BC Advancement team are excited to be serving alongside him as we move BC forward."
Benedicitne Communications Department
Noell Barnidge
Communications Director
Phone: (912) 644-7008 office
Email: noell.barnidge@bcsav.net
Pictures - BC Communications Department (L-R Holland White)
Optim Orthopedics supports Benedictine Military Schooll athletics. Benedictine Military School's team doctor is Dr. David Sedory. Remember, Optim Orthopedics gets you back into the game!