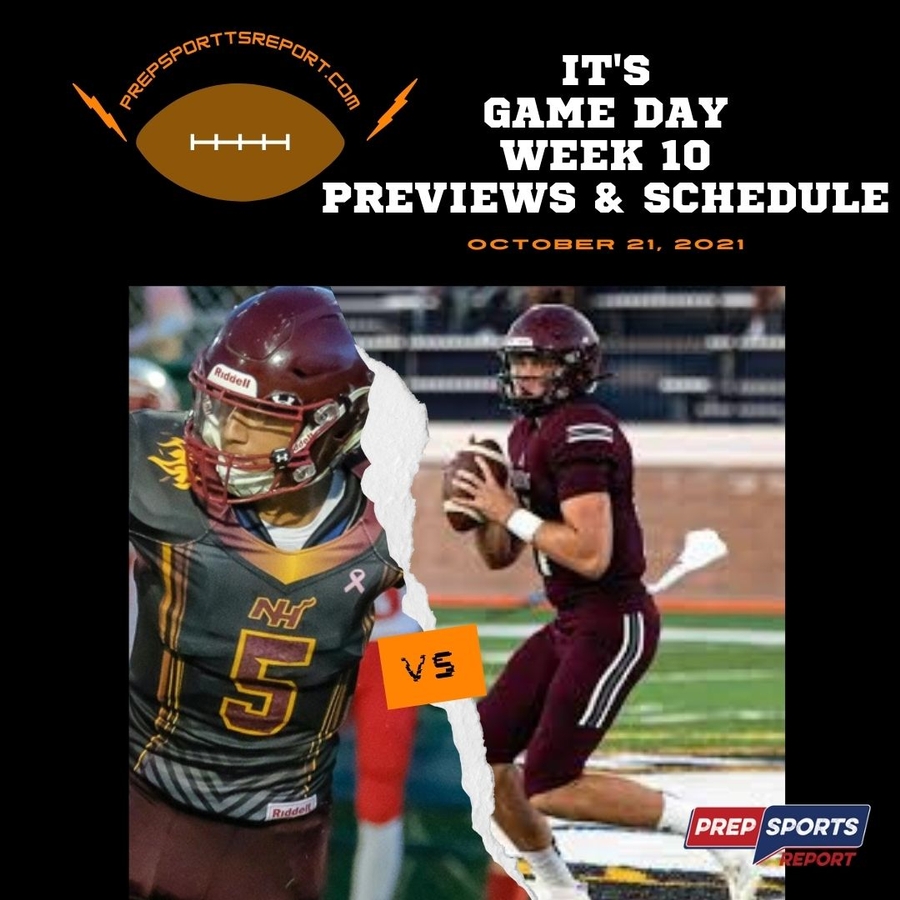 WEEK 10 PREVIEW: Benedictine vs. New Hampstead Region 3-4A Championship Implications on the Line
By Special to the Prep Sports Report | October 21, 2021
Share This Story
There's no time to fumble the ball this week. The most crucial games of the regular season will take place during the following two weeks. There's a lot on the line for Savannah-area clubs competing for postseason status.
Here's a look at four of the most important games for local teams on Friday, October 22.
NEW HAMPSTEAD (7-1, 1-0 Region 3-4A) at BENEDICTINE (6-2, 1-0)
This is a de facto Region 3-4A Championship game at Memorial Stadium, and it has all the makings of an exciting matchup for Savannah-area high school football fans. Two potential Division I quarterbacks plus scores of future college players on each sides make for terrific primary components; throw in a still-growing rivalry factor and the Public (school)-vs-Private (school) tale, and you've got yourself a battle.

The Atlanta Journal-Constitution ranked Benedictine as the No. 3 team in Class 4A this week, and the Cadets cruised 56-7 against South Effingham last week in non-region play. Danny Britt's team scored on each of its first five offensive drives, and Justin Thomas' pick-six touchdown return added insult to injury for the Mustangs.

Holden Geriner, an Auburn commit, has been a rock-solid quarterback throughout BC's current six-game winning streak. Thomas has been a steady running partner, and the combination has a strong case to be the top tandem in Georgia's 4A division.

This season, Geriner has passed for 16 touchdowns and run for six more. He has only thrown two interceptions in over 210 attempts, and one in the previous seven games.

Meanwhile, Thomas is scoring in almost every way imaginable. He has 20 touchdowns this season after adding a running touchdown to his interception return last week. The University of Georgia baseball pledge has 59 total touchdowns in his career, including 36 running touchdowns.

The Phoenix have a lot of firepower on their own. Kyle Hockman's squad has not-so-quietly proclaimed that it is ready to compete with the likes of Benedictine, and Friday evening will give the opportunity to do much more than merely compete.

Junior quarterback Pauly Seeley and senior wide receiver Toriano Bias of New Hampstead make an explosive one-two punch worthy of Benedictine's attention. Seeley has excelled at every level this season, throwing for 20 touchdowns and 1,374 yards (six interceptions), including two touchdown passes to Bias in last week's 32-9 victory at Islands. Bias has eight touchdown receptions in seven games, while running back Jamell Coast Jr. has six as well.

BC averages 45.3 points per game, while NHHS averages 42. Geriner has a 22-9 overall high school record, while Seeley is headed to a 12-3 start at New Hampstead.
CALVARY DAY (8-0, 1-0 Region 3-A Private) at SAVANNAH COUNTRY DAY (2-5, 0-1)
This season's match will be between two private school rivals that are headed in opposing ways. While Calvary is undefeated and ranked second in Class A-Private by the Atlanta Journal-Constitution this week, Savannah Country Day's 2-0 start has never felt further away.

Things aren't getting any easier for Country Day this week at Saunders Field, as the Cavs catch the Hornets on a losing skid, having dropped five straight games, including last week's 28-27 (OT) heartbreaker at Aquinas.

SCDS has lost its past four games by a combined score of only 4.5 points. The Hornets have lost two games in a row by one point, both on the road.

It's still a rivalry game, and it's high school football...

Anything is possible...

Right?

It's a tough assignment for Hornets head coach John Mohring and his injured team. SCDS is aware that it will face a difficult challenge against a powerful Calvary lineup led by Mark Stroud. Calvary hasn't lost at Saunders Field on the SCDS campus since 2006, when Stroud led the team to six straight victories.

Calvary leads the series 22-11, with SCDS' lone win in the previous ten games coming in 2019 (49-14), when the Hornets gave the Cavs their biggest home area defeat in seven years.

Last week, the Cavs defeated crosstown rival Savannah Christian 21-0 to kick up their area season. It was Calvary's final regular-season home game, and the team has not lost at home since September 2020. Calvary's freshmen are as good as any in the state. They do the most of the harm to opponents on both sides of the ball.

Last week, running back Donovan Johnson rushed for a score and 147 yards on 19 attempts against a tough Raiders defense, while fellow freshman Edward "Doopah" Coleman is becoming a much more important component of the offense as the season develops. Johnson has ran for 886 yards and seven touchdowns, while sophomore quarterback Jake Merklinger has also rushed for seven.

No other club in the Savannah region — and very few in the state — has a defensive unit with as much quality and depth as Calvary's.

Sophomore linebackers Troy Ford Jr. (9.3 tackles per game) and AJ Butts (9.3 tackles per game) are tackling machines with great edge ability on all three downs. Terry Simmons, a junior, is one of the greatest nose tackles in Class A. JuWuan Johnson, a defensive back, is a seasoned leader on the defensive end. Dayyan O'Neal is gaining steam as the season progresses, as the big guy got a massive pick-six last week against the Raiders.

After the season-ending injury to All-State wideout Kenny Odom in Week 2 this year, Savannah Country Day senior quarterback Barry Kleinpeter has discovered a new senior receiving target. Alex Wynn has caught five touchdown passes from Kleinpeter this year, including three last week, in Odom's absence.

Kleinpeter committed to play collegiate football at New Hampshire last Thursday through Twitter, and he has passed for nine touchdowns (one interception) while running for four and returning a kick for a touchdown earlier this month.

Michael Grandy, a junior running back, has been a bright light for the Hornets' newly emphasized running game. He has over 90 running yards per contest and has scored six touchdowns in seven games this season.
AQUINAS (5-2, 1-0) at SAVANNAH CHRISTIAN (4-4, 0-1 Region 3-A Private)
Augusta travels this week to face Savannah Christian Prep in a crucial Region 3-A Private matchup with playoff implications.

Last week, Aquinas defeated Country Day in overtime, 28-27, while SCPS was defeated by Calvary, 21-0.

The Raiders might utilize several quarterbacks again this week, but all indicators point to David Bucey getting the majority of the snaps under center, as he has in the last two games (1-1). Junior Paulus Zittrauer started the first five games of the season before suffering an injury two weeks ago and playing only one snap against Calvary last week.

Senior Raider receiver George Futch might have a huge game this week after Country Day senior WR Alex Wynn had three touchdown catches last week.

Futch, a preseason All-State candidate, has 33 catches for 574 yards and six touchdowns this season while dealing with a revolving quarterback situation. Futch's receiving yards account for 54 percent of all SCPS receiving yards (1,065 yards).
JENKINS (3-4, 0-1 Region 3-4A) at ISLANDS (4-3, 0-1)
Both the Warriors and the Sharks will be looking to climb back to.500 in region play after dropping their first of three 3-4A games. The game will take place at Islands Stadium.
Jenkins defeated Beach 39-8 at Garden City Stadium last week, owing in major part to sophomore running back Joshua Pridgen's 160 rushing yards and three touchdowns, as well as receiver Tre Brown's touchdown and 116 receiving yards.
Head coach DeShawn Printup's Islands squad is led by quarterback Amare Bedgood and receiver Langston Lewis.
The game's winner takes exclusive control of second place in Region 3-4A. The region's top two seeds will host first-round state playoff games before potentially hosting games further in the playoffs.
WEEK 10 SCHEDULE
STADIUM KEY
MS — Memorial Stadium; P — Pooler Stadium; I — Islands; GC — Garden City Stadium.
Times: Thursday and Saturday games are 7 p.m.; all other kickoffs are 7:30 p.m. unless noted.
OCT. 21, THURSDAY
GHSA Region 3-3A
SE Bulloch at Beach (I)
Liberty County at Groves (GC)
OCT. 22
GHSA Region 2-6A
Effingham County at Bradwell
Glynn Academy at Richmond Hill
South Effingham at Statesboro
GHSA Region 3-4A
New Hampstead at Benedictine (MS)
Jenkins at Islands (I)
GHSA Region 3-3A
Windsor Forest at Johnson (GC)
GHSA Region 3-1A Public
Metter at Bryan County
GHSA Region 3-1A Private
Calvary Day at Savannah Country Day
Aquinas at Savannah Christian (P)
GISA
Frederica Academy at St. Andrew's
Memorial Day at Terrell Academy
SCISA
Thomas Heyward at Bethesda (Daffin Park)
Optim Orthopedics supports Benedictine Military School, Richmond Hill High School, Savannah Country Day and South Effingham High School athletics. Benedictine Military School's team doctor is Dr. David Sedory. The team doctor for South Effingham, and Richmond Hill is Dr. David Palmer. Savannah Country Day's team doctor is Dr. Thomas Alexander. Remember, Optim Orthopedics gets you back into the game!