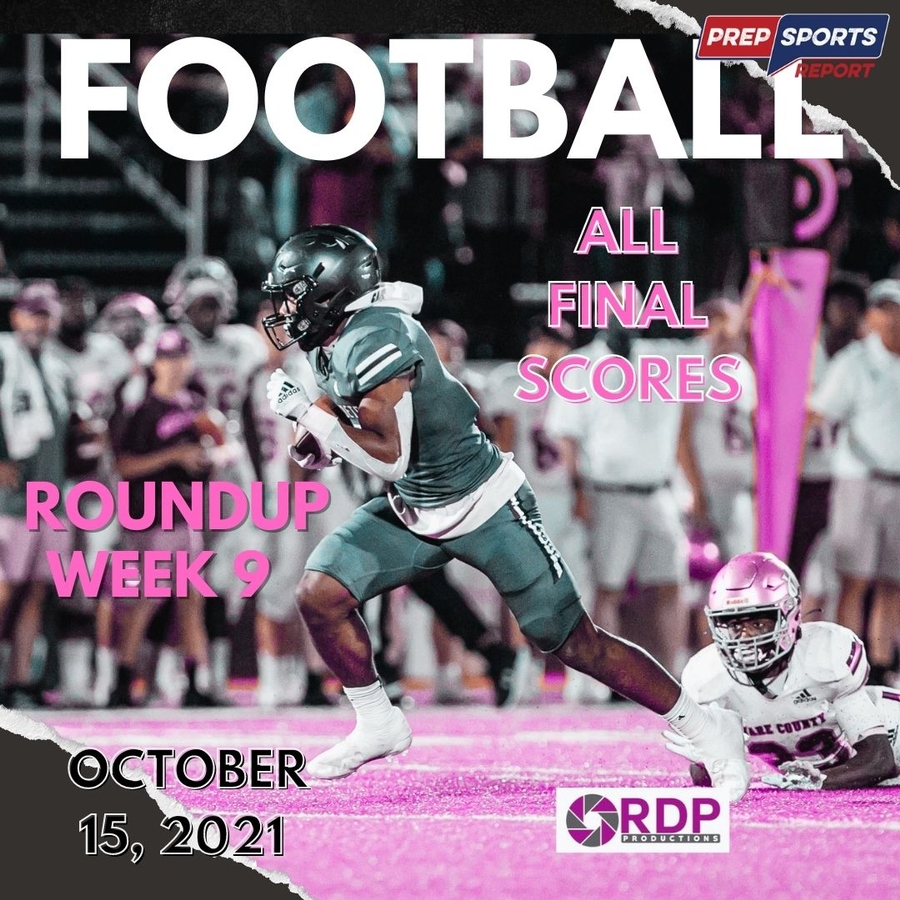 WEEK 9 ROUNDUP: New Hampstead, Benedictine win, setting up Region 3-4A showdown next week; SCDS, RHHS fall on the road
By Travis Jaudon/For the Prep Sports Report | October 16, 2021
Share This Story
While Savannah Christian and Calvary Day were matching up in midtown Savannah on Friday, October 15, plenty of other area teams were in action on the gridiron at fields across south Georgia. Check out the Prep Sports Report roundup of Friday night's games featuring area squads contending for playoff bids.
NEW HAMPSTEAD 32, ISLANDS 9
A Region 3-4A battle at Islands Stadium, New Hampstead avoided a "let-down" result ahead of its monumental region game with No. 3 Benedictine next week at Memorial Stadium.
The Phoenix (7-1, 1-0 3-4A) led 8-0 after one quarter but Islands (4-3, 0-1) never went away thanks to a Langston Lewis touchdown catch and a third quarter Cooper Bachman field goal. After Bachman's 24-yard boot with just under five minutes to play in the third, the Sharks trailed NHHS by a score of just 15-9.
From there, Pauly Seeley's long touchdown pass to Toriano Bias got New Hampstead back in gear as the Phoenix outscored Islands 17-0 in the final 16 minutes of game action.
NHHS plays Benedictine (6-2, 1-0) next week (October 22) in the biggest game of its season without question.
BENEDICTINE 56, SOUTH EFFINGHAM 7
GUYTON — The Cadets notched their sixth consecutive victory as the Mustangs became the latest team to fall victim to the No. 3 ranked team in Class 4A.
Perhaps one of the hottest teams in the state regardless of classification, Benedictine (6-2, 1-0 Region 3-4A) earned the non-region win by racing out to a 28-0 lead through one quarter before tacking on 21 more points in the second stanza.
Seniors Justin Thomas and Holden Geriner each had three touchdowns in the victory, as did backup quarterback Luke Kromenhoek. One of Thomas' touchdowns came on an interception return as the state Player of the Year contender has tallied 21 total TD's through eight games this year.
BRUNSWICK 42, RICHMOND HILL 7
BRUNSWICK — The No. 4 Pirates continued their red-hot rampage through Region 2-6A as Brunswick pasted the visiting Wildcats from the beginning.
Richmond Hill (2-5, 2-2 Region 2-6A) trailed 42-0 before Caleb Easterling's touchdown run late in the third. The Wildcats are 0-5 on the road this season.
Brunswick (8-0, 4-0) led 14-0 through one, 28-0 at halftime, and 42-7 through three.
The Wildcats got four catches and 59 yards from Ravon Grant while quarterback Ty Goldrick was 7-of-13 passing for 77 yards in total. Bodie Custer had seven tackles and Isaac Novinski six for RHHS.
AQUINAS 28, SAVANNAH COUNTRY DAY 27 (OT)
AUGUSTA — The Hornets lost another heartbreaker for their fifth straight setback, and this one coming in Region 3-A Private play against the solid Fighting Irish (6-3, 1-0 3-A Private).
SCDS (2-5, 0-1) trailed 14-0 early and 14-7 at halftime. Three passing touchdowns from Barry Kleinpeter to Alex Wynn guided Country Day to the closing moments of regulation when the game was tied 21-21 after four quarters.
Aquinas went up 28-21 with a rushing touchdown, but a Michael Grandy rushing score for Country Day made it 28-27 with an extra point pending. The Hornets and head coach John Mohring elected to go for the win and a two-point conversion, but a penalty on SCDS made it much tougher to succeed in the effort on a second try for two. Kleinpeter's jump-pass attempt fell incomplete on the retry, and Aquinas got revenge for last year's 29-28 loss at Country Day.
JENKINS 39, BEACH 8
The Warriors won the non-region game at Garden City Stadium thanks to a 22-8 advantage in the first quarter aided by the offense and a shutout by its defense for the last three stanzas.
Jenkins (4-4, 0-1 Region 3-4A) led the Bulldogs (1-5) 30-8 at halftime before cruising to the win.
WEEK 9 FINAL SCORES
FRIDAY OCT. 15
GHSA Region 2-6A
Glynn Academy 14 at Effingham County 20
Richmond Hill 7 at Brunswick 42
GHSA Class 6A/4A Non-Region Game
Benedictine 56 at South Effingham 7
GHSA Region 3-4A
New Hampstead 32 at Islands 9
GHSA Region 3-3A
Groves 7 at Windsor Forest 52
Johnson 15 at SE Bulloch 36
Savannah High 0 at Liberty County 37
GHSA Region 3-A Public
Jenkins County 34 at Bryan County 14
GHSA Region 3-A Private
Savannah Christian 0 at Calvary Day 21
Savannah Country Day 27 at Aquinas 28
GISA
St. Andrew's 14 at Trinity Christian 21
Memorial Day 27 at Pinewood Christian 37
SCISA
Bethesda 26 at Greenwood Christian 20

FOLLOW Travis Jaudon on Twitter/Instagram @JaudonSports. Email him at travisLjaudon@gmail.com.
Optim Orthopedics supports Benedictine Military School, Richmond Hill High School, Savannah Country Day and South Effingham High School athletics. Benedictine Military School's team doctor is Dr. David Sedory. The team doctor for South Effingham, and Richmond Hill is Dr. David Palmer. Savannah Country Day's team doctor is Dr. Thomas Alexander. Remember, Optim Orthopedics gets you back into the game!
Photo Credit - https://www.rdpproductions.com/