On April 10, 2022, the Georgia Southern University Cheerleading teams took home first in the all-girls division and third in the co-ed competition at the NCA cheerleading championships. A huge accomplishment for the Eagles down in Daytona, Fl. However, for one athlete, it gives us the chance to check up on her continued success since high school graduation.
Mallory Robinett, a Savannah Christian 2021 graduate, received her first championship win at the college level as a part of the GSU all-girl cheerleading team. "We got down to Daytona, and we're given a chance to practice Wednesday, then the first day of competition started Thursday. As a part of the all-girls team, we faced twenty other teams, which was definitely nerve-wracking." Said Robinett in an interview. While the athlete deemed day one not perfect, Southern still found themselves number one. When Friday morning came, Robinett talked of how the pressure was definitely on but was so proud to see how well her team came together and put on an even better performance than day one. A performance that won the championship.
With this massive accomplishment being obtained as a freshman for Ms. Robinett, she quickly remembered and accredited all of the help and guidance she received at Savannah Christian.
"I had known for a while that I wanted to pursue cheer at the next level," stated the daughter of two former co-ed UGA cheer partners. "My parents are the ones that taught me first to love cheer, and when looking for colleges, Southern was up high on my list because it was close enough, yet far enough, and my Coach at Savannah Christian had cheered there."
While Robinett was a part of the 2020 all-state cheerleading team, and a GCCA cheerleader of the year nominee, cheerleading was not the only thing she excelled at in high school. In her senior season alone, she placed top 20 in the state for assists and top 10 for steals; she played a crucial part in the team's 18-11 season. A four-year varsity basketball player, Robinett was described as a true leader whose legacy will live on by her former basketball head coach, Coach Gant.
She also found success on the court. "The dual enrollment program at Savannah Christian was eye-opening in helping me prepare for a college atmosphere, " said Robinett. Robinett mentioned how blessed she was for having the opportunity to go to a Christian school and grow in her relationship with Christ and many of her peers that would also be attending Southern. "My love for Jesus and His love for me and just having Him to lean on when I get stressed with my new environment has been so important to me," Robinett said without doubt.
Once a Raider, Always a Raider, Ms. Robinett deemed her senior season beating St. Vincent's in basketball and coming in second in the state for cheerleading to be two of her favorite memories. However, now as she looks to the future, her plans are clear. Ms. Robinett's goals include continuing to succeed in school and her chosen field of study, bringing back another ring next year, and having a lot of fun cheering on all of her fellow students as they excel in their sporting endeavors.

As a final message, Ms. Mallory Robinett emphatically expressed how proud she is of her team. Even though they faced injuries early on, they could come together in this final competition and perform to their best abilities.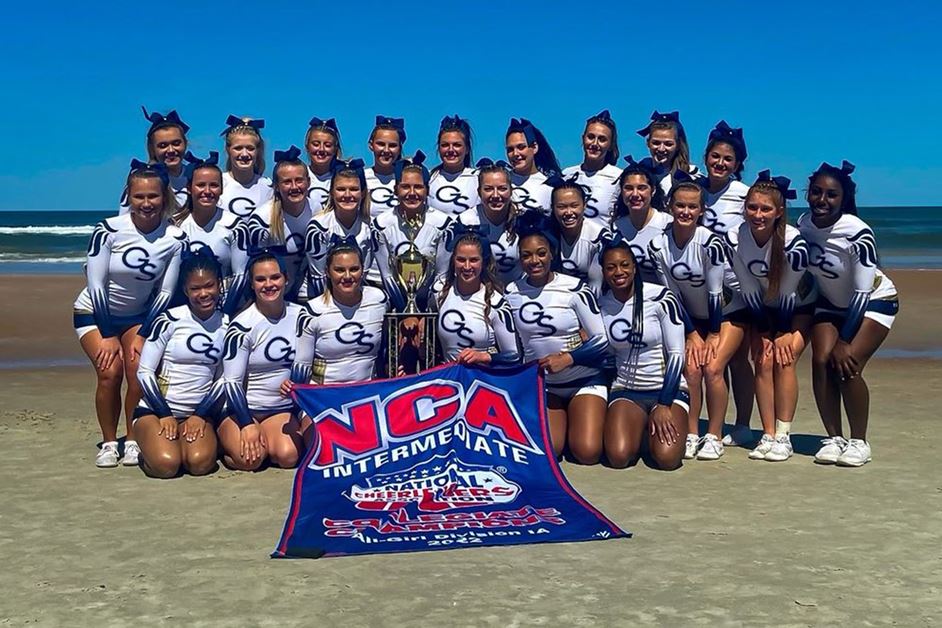 2022 National Champions Georgia Southern University All Girls Team
Photo - Georgia Southern University Athletics