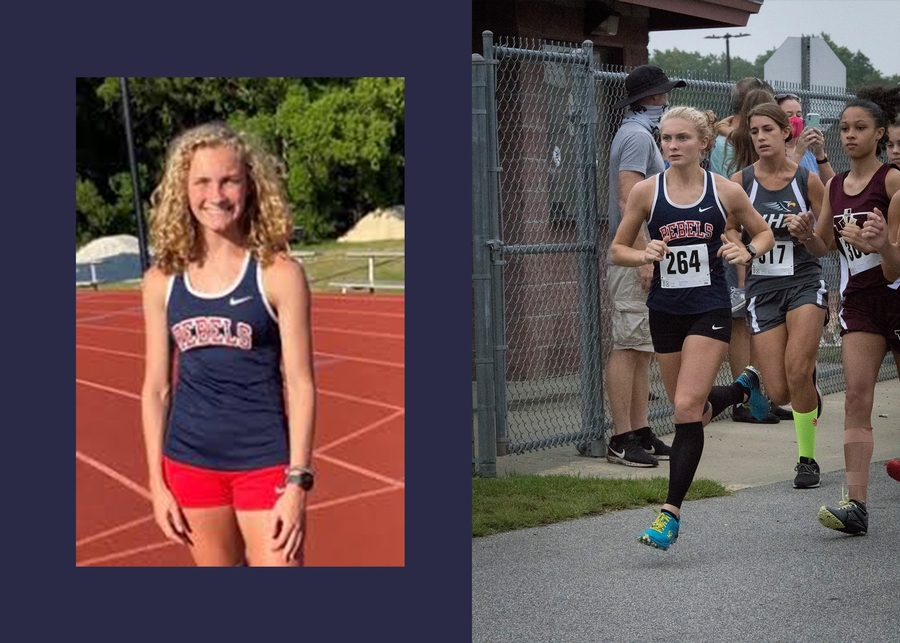 Effingham County High School's Candace Kieffer is on the Right Track
By Melissa Maikos/For the Prep Sports Report | November 27, 2020
Share This Story
Candace Kieffer is clearly on the right track, literally and figuratively. The Effingham County High School junior is a Cross Country Phenom. This year she's put up numbers that would make Steve Prefontaine do a double take.

She won the 6A region championship, she's won every local school event this season in Cross Country, and she broke the ECHS school record in the 5k with a time of 19:21. At the Meet of Champions for Georgia; she ran 19:08 which was a personal record (PR) and then she dashed through her own PR and hit 18:48.50 in the Running Lanes Cross Country National Championship in Huntsville, Alabama.

It all started when Candace went out for the middle school track team convinced that sprinting was her jam. However, as soon as she hit the track running, coaches noticed her ability and moved her to the 800. Candace, literally, just ran with it! And the rest as they say is history and plenty of hard work.

"I run year-round, I do cross training, I lift and do plyometrics and core work." Candace adds, "I work my whole body to get faster."
Candace has sprinted her way to the top of the classroom as well. She is currently 4th academically in her junior class of 500 students while taking all honor and AP classes. Between academics and athletics, Candace never stops moving. She spends late nights doing schoolwork and studying. "It gets overwhelming at times, but I try to manage time. It helps having a strong work ethic with running." Her efforts on and off the track have been a big key to her success. "I put forth my best effort no matter what."
You can measure Candace's athletic achievements with a stopwatch, championships, and split times; however, her leadership, character, and heart are immeasurable. Candace volunteers with CURE Childhood Cancer and social/community service activities with Interact Club locally. In addition, during her freshman year she noticed that some athletes were not as fortunate as her. Some athletes didn't have proper equipment, some couldn't afford the fees associated with playing sports, or something as simple as not being able to get a bite to eat after a game or event. "It was eye opening that some people did not have the equipment that they needed. Track is a relatively cheaper sport. I was upset about it." This was one race she was determined to win. So, she made her move.
With the help of her family, she started a fund through the athletic leadership committee at ECHS to raise money for "at risk" players of all ECHS sports. The Fund provides assistance to pay player fees and purchase needed shoes/equipment that will level the playing field and allow kids to participate that may not have otherwise been able to afford to do so. The first auction raised just under $4000. The 2nd auction is underway, and Candace's goal is to run those numbers up to $10-15k before graduating in 2022.
It's clear that Candace is not slowing down any time soon on the track or in life.
For more information on Candace's Charity, please visit: https://www.facebook.com/stacey.kieffer
Effingham County High School is supported by Optim Orthopedics. The team doctor is Dr. David Palmer. Optim Orthopedics gets you back into the game!