St. Andrew's School boys' basketball coach Mel Abrams knew he had a special group of players after last year's state championship, and the Lions can become legendary by winning a second straight Georgia Independent Athletic Association Class AAA state title.
The Lions (26-1 and Region 5 champions) will play Dominion Christian from Marietta at the University of West Georgia at 7:30 pm in Carrollton in the Class AAA semifinals. In addition to running rampant over GIAA opponents, St. Andrew's is 15-1 against opponents from the Georgia High School Association during the past two seasons as well, including wins this season over Islands High School, Jenkins High School, Centennial High School (Roswell), Hiram High School (Hiram) and Savannah Country Day.
Led by senior point guard Zyere Edwards, the Lions play an aggressive style intended to disrupt opponents and cause chaos that leads to points for St. Andrew's. Edwar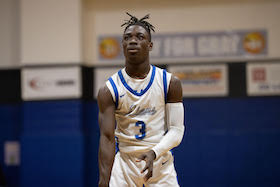 ds, who also starred for Atlanta travel team Pro Skills Basketball during the summer, is averaging 23 points and five assists per game for the Lions and has already committed to play college basketball for Augusta University.
"This team is a bunch of guys that have a very strong work ethic," said Abrams, in his eighth year at the St. Andrew's coach. "It's very rare to have a majority of players who are willing to go above and beyond what we do at practice and what's scheduled. These guys get up up early for player driven work outs, and they have all bought into understanding that nothing just happens. What we talk about a lot is if you want to see success, you have to contribute to it."
Additionally, Abrams said most of the players on the team have better than a 3.0 grade point average and a few have mainted a 4.0 GPA despite the team's rigorous schedule.
Edwards' younger brother, sophomore Zayden Edwards, has been a big part of this year's success, averaging 12 points and seven rebounds per game for the Lions. Other key contributors include senior Kaleb Lofton, who has gotten some interest from college programs, and sharp shooting junior Will Thompson, who transferred to St. Andrew's this year and has provided a deep threat for the Lions.
"We've tried to make our identity be on the defensive end," Abrams said. "We kow (Dominion Christian) will be up for us and come out with energy, play with confidence and play free. But we want to embrace the target on our backs and maintain a chip on our shoulder.
"Our guys still feel like they don't get enough respect, so our motivation is to continue to show people we're legitimate basketball program that's ready to roll and play with anybody."