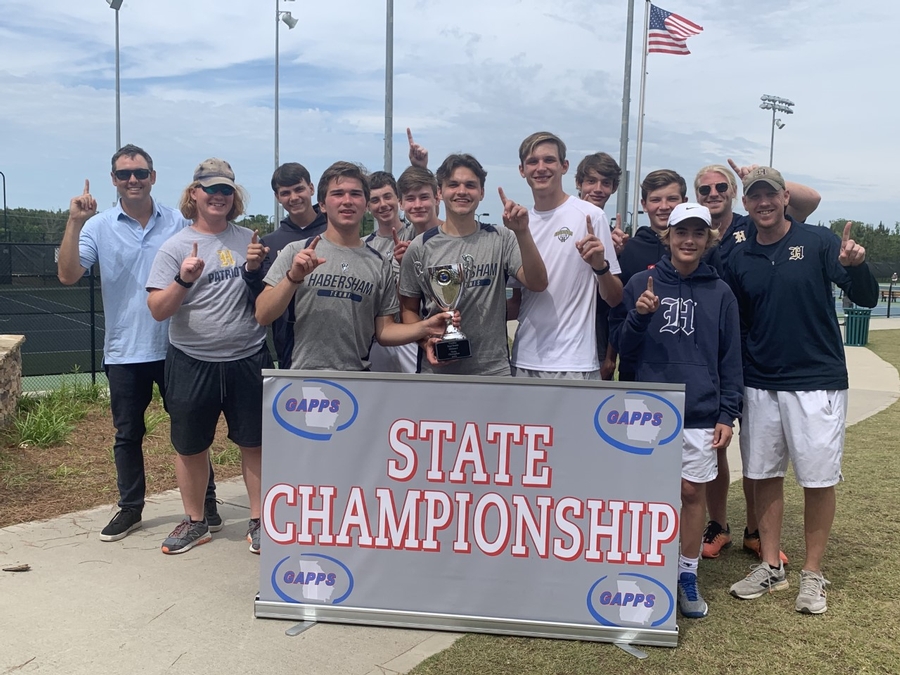 The Habersham School's Tennis Teams Smash GAPPS State Tennis Championships
By Special to the Prep Sports Report | May 12, 2021
Share This Story
The Habersham School Patriots claimed their first-ever Georgia Association of Private & Parochial Schools (GAPPS) State Championship in tennis yesterday at the Rome Tennis Center at Berry College. The boy's team defeated Rock Springs 3-0 in the quarterfinals, Fullington 3-1 in the semifinals, and Sherwood Christian 3- 0 in the finals to claim the crown.
The Habersham girls also made it to the championship round and brought home the 2nd place trophy, falling to Citizens Christian 3-2 in a hard-fought final round. In the individual competition on Monday, Habersham's number 1 girls doubles team of Peyton Burnsed and Charlotte Tucker also took 2nd in state.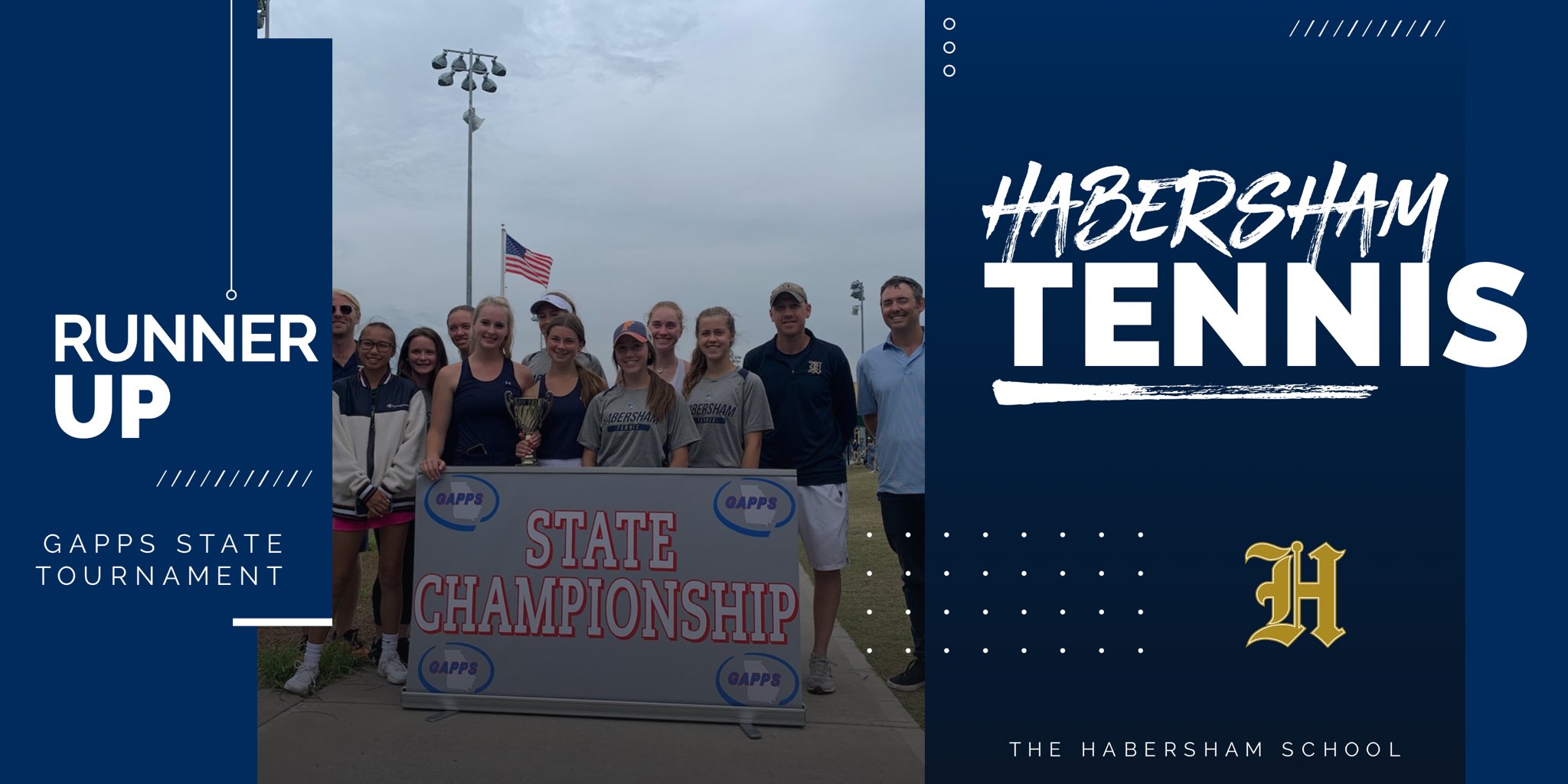 When asked about the performance of his boys and girls teams, Coach Cameron Hunt said, "We definitely came into the final as an underdog after several of our players were beaten by Sherwood in the individual tournament the day before. They wanted another shot at them, and the boys stepped up their game and played the best match of the season at the perfect time. Our girls came up just short but had an unbelievable season finishing 15-2 with several wins against GHSA opponents, and I am unbelievably proud of everything they have accomplished."
Results per Match - GAPPS State Tennis Tournament
Note - When a team won three matches the other matches did not have to finish (DNF)
Boys Quarterfinal
Habersham 3, Rock Springs 0
#1 Singles - Henry Brooks DNF
#2 Singles - Adam Barcello DNF
#3 Singles - Sam Peterson W
#1 Doubles - Grant Colley/Hamilton Colley W
#2 Doubles - Ike Barry/Wils Childress W
Boys Semifinal
Habersham 3, Fullington 1
#1 Singles - Henry Brooks W
#2 Singles - Adam Barcello W
#3 Singles - Sam Peterson DNF
#1 Doubles - Hamilton Colley/Grant Colley L
#2 Doubles - Wils Childress/Ike Barry W
Boys Championship Final
Haberhsam 3, Sherwood Academy 0
#1 Singles - Henry Brooks DNF
#2 Singles - Adam Barcello DNF
#3 Singles - Sam Peterson W
#1 Doubles - Hamilton Colley/Grant Colley W
#2 Doubles - Wils Childress/Ike Barry W
Girls Quarterfinal
Haberhsam 3, Rock Springs 0
#1 Singles - Cecilia Manley W
#2 Singles - Lucy Kelly W
#3 Singles - Alli Fields DNF
#1 Doubles - Peyton Burnsed/Charlotte Tucker DNF
#2 Doubles - Anna Thompson/Erin Lambert W
Girls Semifinal
Habersham 3, Sherwood 0
#1 Singles - Cecilia Manley W
#2 Singles - Lucy Kelly DNF
#3 Singles - Alli Fields DNF
#1 Doubles - Peyton Burnsed/Charlotte Tucker W
#2 Doubles.- Anna Thompson/Erin Lambert W
Girls State Final
Citizens 3, Habersham 2
#1 Singles - Cecilia Manley L
#2 Singles - Lucy Kelly L
#3 Singles - Alli Fields L
#1 Doubles - Charlotte Tucker/Peyton Burnsed W
#2 Doubles - Anna Thompson/Erin Lambert W
Photo credit - The Habersham School